Trump Detours Off Campaign Trail To Tout New Washington Hotel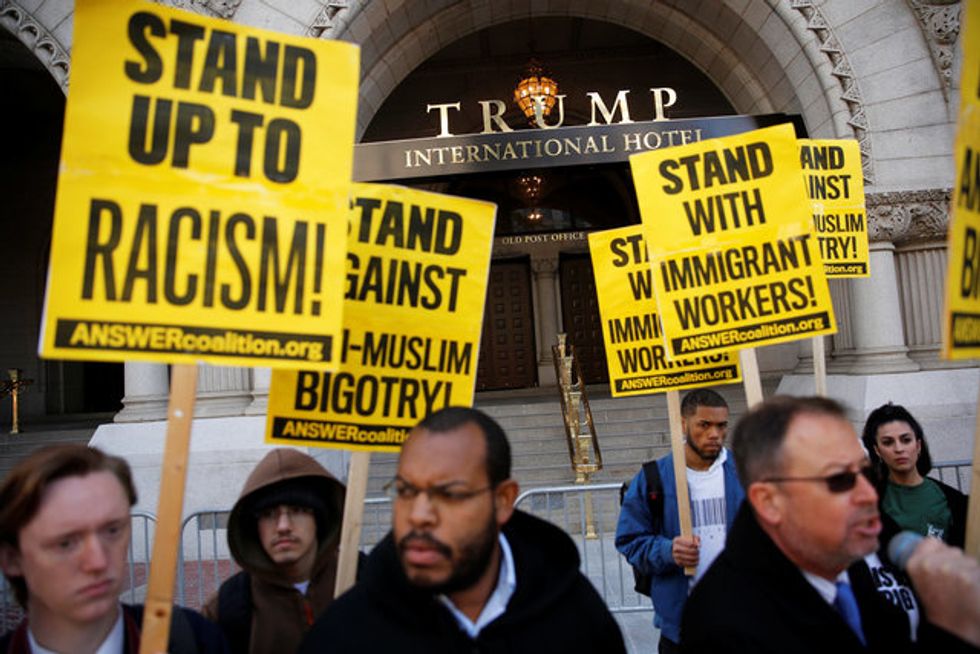 WASHINGTON (Reuters) – Republican presidential nominee Donald Trump planned a detour from the campaign trail on Wednesday to formally open a new hotel in what a top aide said would remind voters of his business accomplishments less than two weeks before the election.
Trump campaign manager Kellyanne Conway, in several television interviews, said the event in Washington would not detract from the campaign's efforts to rally voters before the Nov. 8 election.
Trump, a real estate developer making his first run for elected office, is trailing his Democratic rival Hillary Clinton in national opinion polls.
"It's a quick pit stop," Conway told CBS program "This Morning," speaking at the Trump International Hotel, which opened for business last month about a mile from the White House.
Trump, a former reality TV star, has held numerous events at his properties since launching his White House bid in June last year, including a trip to Scotland to open a refurbished golf resort in June this year.
His campaign has stressed his credentials as a wealthy businessman, although Clinton and other political opponents have long pointed out that Trump's career includes business failures, and have also criticized him for not making public his tax returns.
Trump's hotel event was scheduled for 11 a.m. ET (1500 GMT) ahead of two rallies in North Carolina, one of the key states that could determine who wins the White House. On Thursday, he heads to Ohio, another battleground state.
Republican strategist Steve Schmidt, who led 2008 Republican presidential nominee John McCain's campaign, said the hotel stop was the latest inexplicable act from Trump and was atypical behavior for someone trying to win the White House.
"The walls are collapsing," Schmidt told MSNBC in an interview. "He is not doing any of the normal activities that you'd be doing 13 days out in a presidential race for somebody who's competitive. You don't take a time-out to tend to your business interests."
ADELE CONCERT
Conway defended Trump's decision to leave the campaign for a business stop, noting that Clinton went to a concert by singer Adele on Tuesday night in Miami, where the former secretary of state celebrated her birthday. She turned 69 on Wednesday.
"Hillary Clinton has time to go to an Adele concert, and everybody thinks that's really cool. Donald Trump stops off to unveil just an incredibly stunning piece of architecture and new … first-class hotel and everybody's hair's on fire," Conway told NBC's "Today" program.
Trump's 263-room luxury hotel in Washington's Old Post Office building has not escaped controversy, as preparations for its launch and its opening came in the middle of the presidential campaign.
Trump has sued celebrity chefs Jose Andres and Geoffrey Zakarian for backing out of plans to run a restaurant there amid Trump's harsh rhetoric toward Hispanics.  Critics have also organized protests out front. Earlier this month, the hotel's facade was sprayed painted with graffiti, NBC News reported.
One of Trump's sons, Eric Trump, said the Trump brand was "hotter than ever before" but that his father put his presidential campaign before his business interests. "Even if there was a price associated with it, I think he was willing to pay that price, because it's just that important," he told Fox News.
On Tuesday, Trump stopped at his Doral National Golf Club in Florida as part of a campaign swing through the state, denouncing President Barack Obama's signature healthcare overhaul because of rising insurance premiums.
Clinton will continue to campaign in Florida, where many public opinion polls show a tight race. An average of polls compiled by RealClearPolitics showed the two candidates close in Florida, with Clinton at 46.4 percent compared to 44.8 percent for Trump in a race including minor candidates.
With the campaigns focused on battleground states, Clinton has a strong lead in the race to secure the 270 Electoral College votes – or tally of wins from the states – needed to win the White House, according to results from Reuters/Ipsos States of the Nation project released on Saturday.
Conway predicted Trump would win Florida and its 29 electoral votes, saying his supporters' enthusiasm would motivate them to go out and vote.
"There's a lot of time left," she told CBS.
(Reporting by Susan Heavey and Doina Chiacu; Editing by Frances Kerry)
Photo: People gather to protest against Republican U.S. presidential nominee Donald Trump on the sidewalk, outside the grand opening of his new Trump International Hotel in Washington, U.S. October 26, 2016. REUTERS/Jonathan Ernst