Trump Tweets Jealous Snark At Time 'Person Of The Year' Greta Thunberg
@jeisrael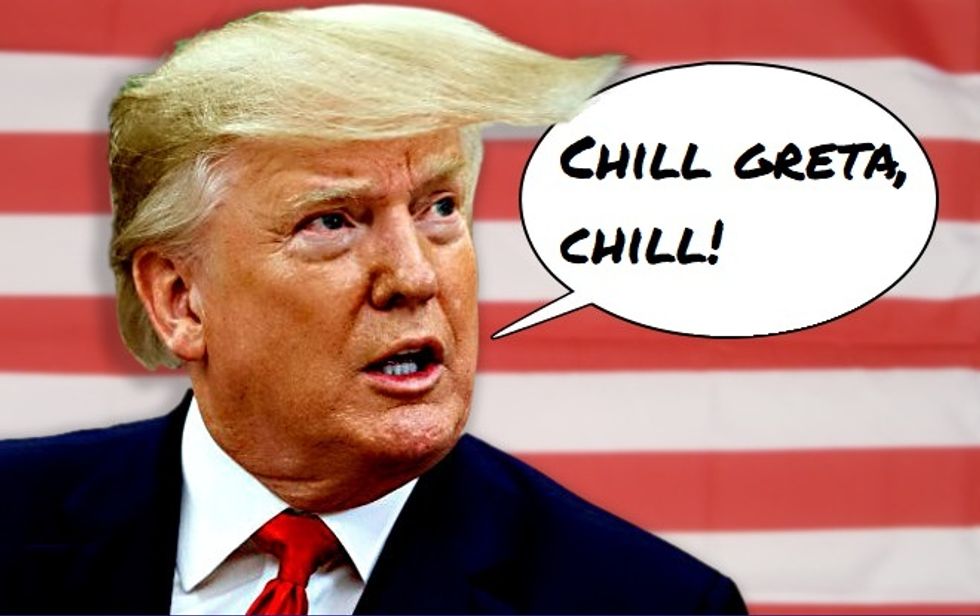 Donald Trump publicly attacked a 16-year-old on Thursday, baselessly accusing climate activist Greta Thunberg of having "anger management" issues after she was named Time magazine's Person of the Year.
Trump, who has claimed climate change is a "hoax" invented by China, was apparently angered to see that the magazine honored her with the title and magazine cover.
"So ridiculous," Trump mocked. "Greta must work on her Anger Management problem, then go to a good old fashioned movie with a friend! Chill Greta, Chill!"
In response, Thunberg quickly changed her Twitter bio to identify herself as a "teenager working on her anger management problem. Currently chilling and watching a good old fashioned movie with a friend."
Trump has often expressed jealousy when Time has recognized people other than him as important. In 2017, the magazine asked him to stop displaying a phony Time magazine cover with his picture on it in his golf clubs. The same year, he falsely suggested that he had turned down Time's Person of the Year honor because he did not want to take the time for a photo shoot.
Trump's attack on a teenager stands in stark contrast to his administration's rhetoric on treatment of kids and bullying. Melania Trump has prominently pushed an anti-bullying agenda called "BE BEST" and has railed against attacks on children by politicians. Last week, she scolded an impeachment inquiry witness for joking about Barron Trump's name. "A minor child deserves privacy and should be kept out of politics," she urged.
Sen. Brian Schatz (D-HI) blasted Trump's attack on Thursday, noting that his comments were especially cruel given that Thunberg has autism. "A horrific thing for the most powerful person in the world to say about a teenager with autism. I know it will be called an 'intemperate tweet,' and perhaps I should be ignoring it," Schatz wrote, "but this the kind of cruelty and immaturity that you expect from the 'mean kid' on a tv show."
Published with permission of The American Independent Foundation.