Trump Poised To Abandon His Own 'Truth Social' Web Platform
@next2godwin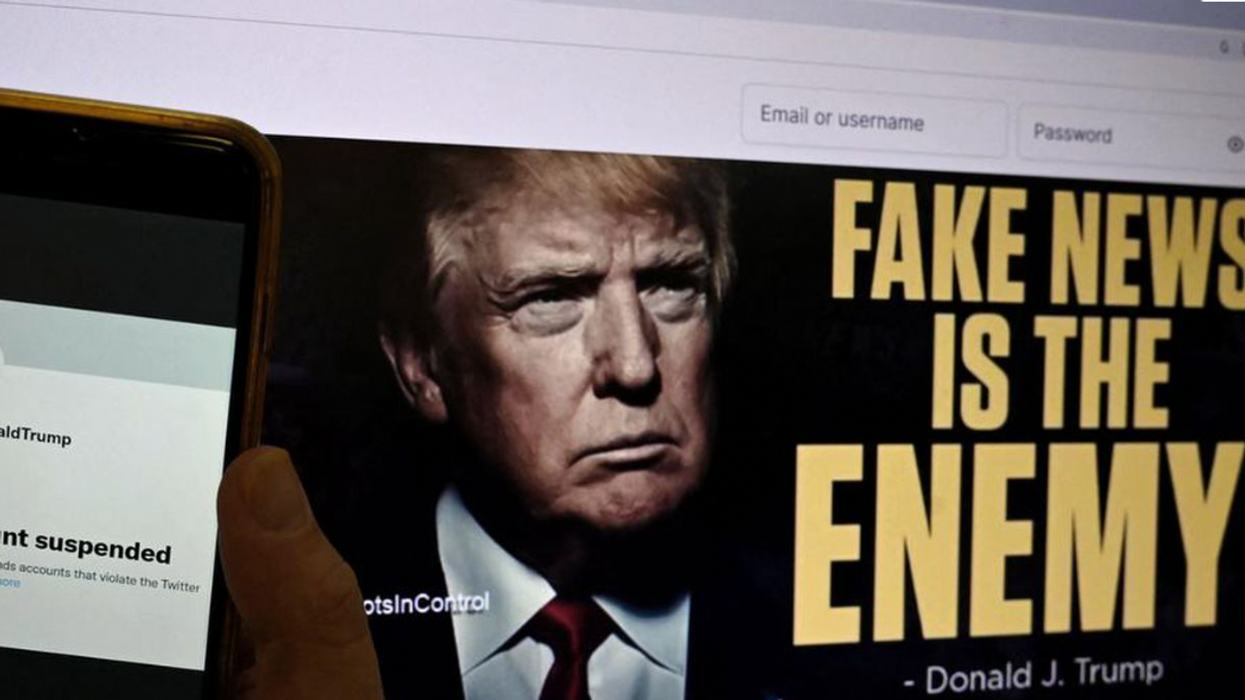 Former President Donald Trump is gearing up to screw over his social media platform, Truth Social, for a return to mainstream websites like Facebook and Twitter that banned him for inciting violence to overturn his loss in the 2020 presidential election, several outlets are reporting.
Despite the cascade of calamities that have befallen Truth Social in months past, Trump has enjoyed unfettered authority to make spectacularly conspiratorial, preposterous, tone-deaf, and usually outright false claims to the right-wing hotheads on his beleaguered enterprise.
Yet the former president has told confidants he looks forward to the expiration of a contractual clause that compels him to make "all social media communications" on his Truth Social account six hours before posting them on other platforms, according to Rolling Stone, citing filings with the Securities and Exchange Commission.
Trump agreed to this condition, branded "Social Media Exclusivity Term" in the filing, with Truth Social's parent company, Trump Media and Technology Group (TMTG), whose board he fled weeks before the SEC and a Manhattan federal grand jury subpoenaed the company last June.
The exclusivity term doesn't restrict the self-declared 2024 presidential candidate's campaign efforts, though, allowing him to grace other social media platforms first to post content that "specifically relates to political messaging, political fundraising or get-out-the-vote."
The exclusivity term, which came into effect in December 2021 and will last 18 months, is up in June this year, per Rolling Stone, and after that, the agreement will "[extend] in perpetuity for additional [six-month] terms," except "notice is given."
Sources close to the defeated, twice-impeached president told Rolling Stone that Trump was unconcerned about the nearly-ended exclusivity agreement and non-committal about renewal, saying, "There's not going to be a need for that."
"He said there's an expiration date and that he didn't want to make commitments," a source told the publication.
The development stood in stark contrast to Trump's months-long insistence that he would not return to Twitter, which he sued alongside Facebook and Google for "censorship," after which he claimed that Truth Social was "Number One" on the social media scene.
The claim was, of course, a lie. Not only did Truth Social's 3.3 million unique visitors last August and September represent a smidgen compared to Twitter's then- 238 million daily active users, but TMTG and the blank-check company seeking to take it public, Digital World Acquisition Corporation, were in heaps of trouble.
Four executives departed Digital World in November and December 2022, as reported by Forbes, rocking the company, which had fallen into financial difficulties so severe — as investors backed out of its chaotic deal to merge with TMTG — that it switched headquarters from a grand office space in Miami, Florida, to a UPS mailbox.
Trump dismissed those reports — including a story on Fox Business that Truth Social and TMTG were stiffing a vendor out of over $1 million — as "fake news" and would later privately mock Elon Musk's nascent, chaotic reign as "Chief Twit."
Despite publicly insisting that he "[doesn't] see any reason for" returning to Twitter after Musk unbanned his Twitter account in November and Truth Social was doing "phenomenally well," the ex-president has considered comparing himself to Superman on his first Twitter post in over two years.
The ex-president has also considered making a WWE-style campaign video, rants about January 6, 2021, and targeted insults at President Biden as his comeback post, sources informed Rolling Stone.