Trump Could Use Donations To Pay Back 'Self-Funding' Loans, Campaign Says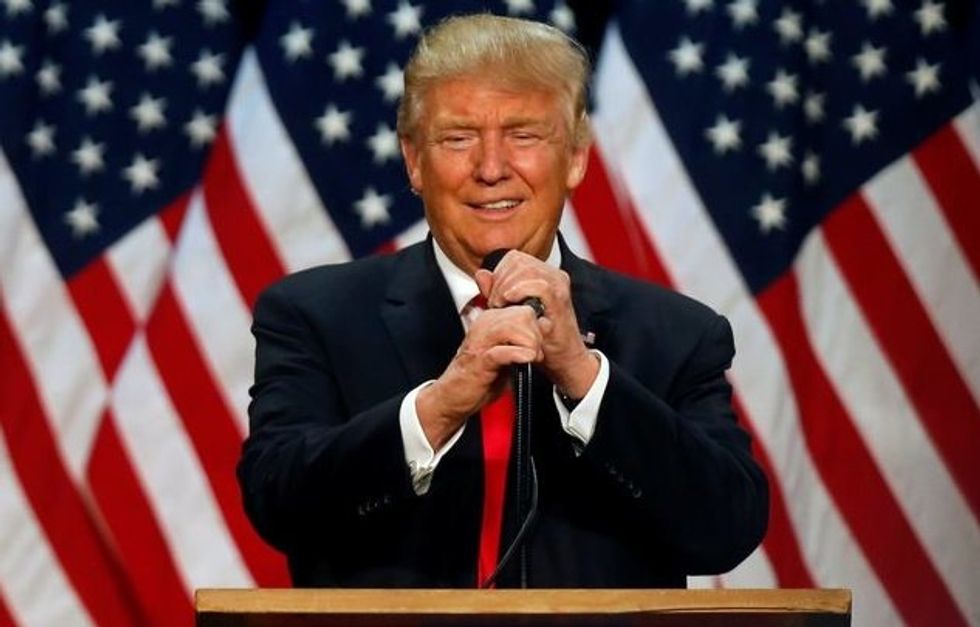 Update, May 13, 2016, 12:29 pm: Ari Melber reports that Donald Trump has released the following statement: "I have absolutely no intention of paying myself back for the nearly $50 million dollars [sic] I have loaned to the campaign. This money is a contribution made in order to 'Make America Great Again.'" To which I say: Surely, we have no reason to doubt Donald Trump's integrity.
In March, I began reporting on a routine aspect of campaign finance law that, while perfectly boring in most election cycles, could make for some big news this time around. Back then, Donald Trump said he was "self-funding" his campaign, writing himself big checks so that he could avoid the corruptive influence of establishment fundraisers.
Of course, "self-funding" means a lot of things, and none of them applied to Donald Trump, then or now: he was accepting money in the form of small and large contributions from his supporters, he sold thousands of hats and other merchandise for a profit, and he even occasionally took money from super PACs. He also was forced to pay his own companies — his plane operator, and a few of his properties — back for services they provided his campaign.
Importantly, though, Donald Trump was loaning himself the money that he said was being used to "self-fund" his campaign. So far, Trump has loaned his campaign $36 million.
Most legitimately rich candidates for president do this: Mitt Romney loaned his campaign $44 million, in addition to taking campaign donations and help from outside groups, but he ultimately wrote off the loans, turning them into real donations to his campaign.
But Donald Trump is a con man, and something didn't smell right. He would use his supporters' donations, I posited at the time, to pay back the loans he had given his campaign.
Today, NBC's Ari Melber is reporting that may end up being the case:
Asked about Trump's loans in March, during the primaries, campaign manager Corey Lewandowski told the A.P. "he is not going to repay himself."

That was months before the campaign decided to take this outside money for the general election, however, opening up a vast new source of campaign funds.

Now, as Donald Trump adjusts his campaign funding plans as the nominee, some campaign officials are striking a more circumspect note.

Paul Manafort, Trump's convention manager, told MSNBC it is not the campaign's "intention right now" to use fundraising to pay back the loans.

Asked if the option is off the table, Manafort says he has not discussed the idea with Trump, and the campaign's focus is on spending for the future.

Another campaign aide tells MSNBC the possibility of Trump using donations to pay back his loans "is not being discussed or considered." The aide declined to say the option is definitively off the table.
It's already established that Trump lied about "self-funding" his campaign in another way: he recently announced that he hired some big shot Wall Street Republican fundraisers to raise money for his campaign, and for the Republican National Committee, with whom he recently signed a cooperative fundraising agreement whereby Trump would, he says, fundraise for other candidates, and he in turn would have access to funds raised by the RNC.
But now, it's even clearer that Trump may break with precedent and pay back his loans to himself — with money from donors. That's not self-funding.
In fact, considering the billions of dollars of free media Trump has earned so far this campaign, and the hundreds of thousands he has paid his own organizations for services they've provided his campaign, this something else entirely: profiting off of an election.