Trump's Border Wall Lunacy Won't End Well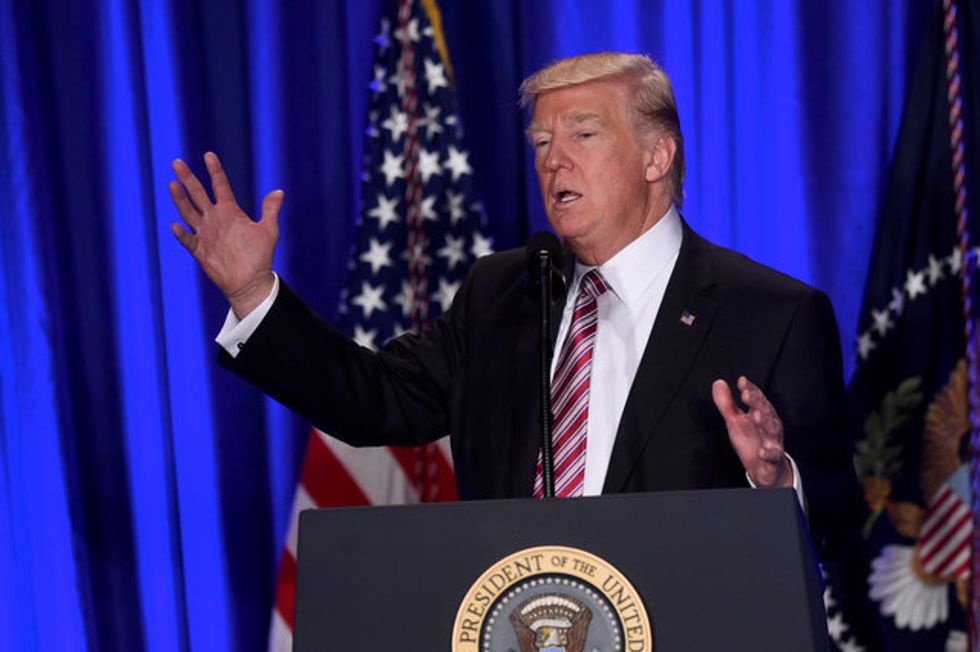 How do you feel about paying for Donald Trump's border wall, America?
Because if he builds it, the bill is coming to you. Mexico has flatly said it will not pay for the wall. And the cost of the border tax Trump has threatened to impose will simply be passed on to U.S. consumers, who will pay higher prices.
That may be just fine with our tweeter-in-chief, but the American people should think twice. Trump's obsession with undocumented immigrants and trade with Mexico, which played so well with the Republican base during the presidential campaign, now must be translated into policy, and policy can have far-reaching consequences.
In his first week in office, Trump with great fanfare signed executive orders aimed at undocumented immigrants. First was the decree for the wall, and another was issued to ramp up deportations. More executive orders are promised.
It wasn't enough for Trump to announce construction of the wall; he took pains again to taunt the Mexican government by claiming it would be made to pay for it. In other words, he felt it appropriate to humiliate a major trading partner, ally, and next-door neighbor.
When Trump suggested that agreeing to pay for the wall was pre-condition for an already planned meeting with President Enrique Pena Nieto of Mexico, Pena called it off. Sensing that his schoolyard dominance was in doubt, Trump escalated the drama by saying that Mexico would pay for the wall via a 20 percent tax on all imports.
Mexico is the U.S.'s third largest trading partner, and many U.S. jobs are linked to its economy. Destabilizing Mexico's economy is liable to increase the number of people trying to migrate north, which has been at net zero for years now.
Moreover, imposing a 20 percent tax on Mexican goods could possibly start a trade war, threatening the global trade regime that the United States has assiduously constructed over the last three decades. And, as economist Paul Krugman suggests, it could just drive up the dollar's value, ultimately erasing any competitive value it has for U.S. business.
Details, details.
Nevertheless, there is much Trump can do to inflict great harm on Mexico, simply because he wishes to. For instance, he could tax or restrict cash remittances to Mexico from people in the United States. Millions of workers in our country regularly send money to friends and family in Mexico — amounting to more than $25 billion last year —  and stopping this flow would be disastrous to the Mexican economy.
Then again, it's unclear that remittances could be stopped effectively. Trying to do so would just force people to use other channels, possibly even illegal ones. Do we want to create new problems for the sake of Trump's ego?
Consider also the fight against drug trafficking. It's best done in conjunction with Mexico, not against it. How willing will Mexico be to cooperate with us in the future if Trump drives it to its knees?
Trump doesn't realize what he's done, or what he is poised to do. He's already created a backlash with behavior in office that appears to be unhinged. His need for adulation and domination is insatiable. And so far he has failed to win it. Expect this to drive him even deeper into denial.
One key fact Trump doesn't understand is that the America he is dreaming of is in direct conflict with the one that already exists.
Immigrants and their families are deeply entrenched in America, which is why a wide range of interests pushed back when Trump let his orders fly. Mayors, police chiefs, legal scholars, refugee advocates, educators, and everyday citizens have all signaled their determination to resist his policies.
It's not that anyone is eager to shield a violent immigrant criminal. Rather, people who interact with immigrants as part of daily life know far more than our president.
Most major police departments work with immigration agents routinely, but they've pushed back against acting as a part of a deportation force. Police know that immigrants, both legal and undocumented, can be victims, perpetrators, and witnesses to crime. Law enforcement can't afford to make entire communities fear them.
The optics will be awful if Trump tries to go after the "Dreamers," people who were brought to the U.S. as children without documents. Trump will have to peel those people out of college classrooms.
Trump is set to learn that it's not him that's great. It's the nation's citizens, its constitution and laws,and its ethos and conscience, which is widely shared by everyday citizens.
And they are not about to let a fluke of one election cycle undermine the America they've worked so hard to build.
IMAGE: U.S. President Donald J. Trump speaks during the 2017 "Congress of Tomorrow" Joint Republican Issues Conference in Philadelphia, Pennsylvania, U.S. January 26, 2017.  REUTERS/Mark Makela