Trump's Dangerous Embrace Of Right-Wing Media Insurrectionism
@EricBoehlert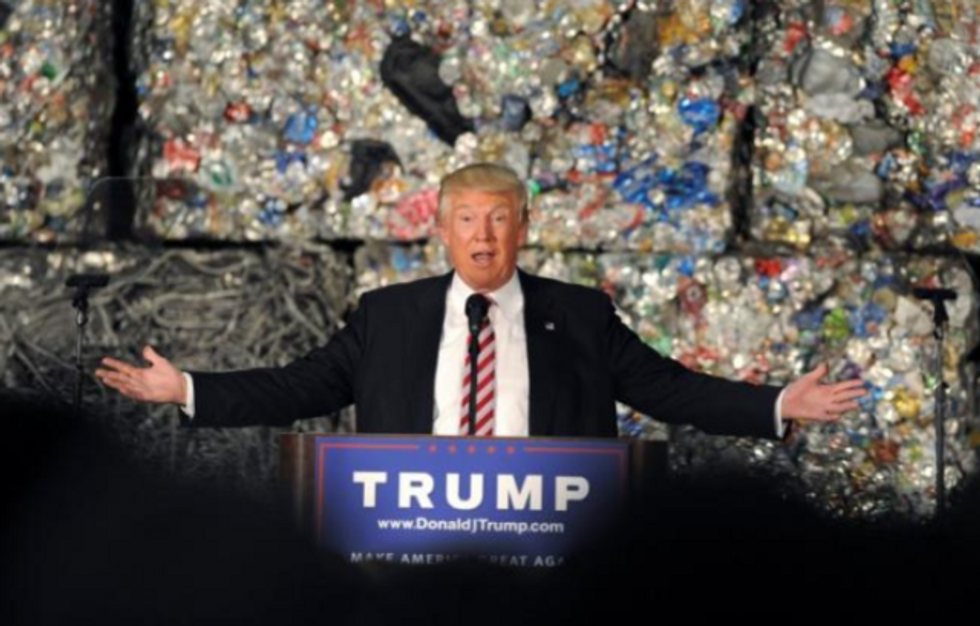 Published with permission from Media Matters of America
For anyone stunned by Donald Trump's apparent suggestion yesterday that "Second Amendment people" could prevent Hillary Clinton from appointing justices to the Supreme Court — a remark widely interpreted as a veiled threat of political violence — keep in mind that vigilante, insurrectionist rhetoric has become a cornerstone of the conservative movement and right-wing media in recent years.
Not content to portray President Obama as misguided or wrong on the facts during his eight years in office, troubled portions of the far-right press embraced openly violent rhetoric to condemn the president of the United States. Especially hysterical regarding the topic of guns — which was the topic that prompted Trump's startling statement yesterday — the far-right media have in recent years helped mainstream a type of violent rhetoric once considered to be outside the norms of American politics.
Trump's apparent embrace of that dark, dangerous side was on display on Tuesday when he said that if Clinton "gets to pick her judges, nothing you can do, folks. Although the Second Amendment people maybe there is, I don't know." (Trump and his campaign have since tried to claim that he meant NRA types would rally behind his candidacy and vote against Clinton in the election.)
Following up his repeated claim that November's election might be "rigged" to ensure a Democratic victory, Trump has layered onto that dangerous fantasy the idea of insurrectionism following Clinton's inauguration.
Longtime Trump adviser and guttural media player Roger Stone has been outspoken about the looming uprising if Trump loses. Stone recently appeared on a fringe-right radio show and warned about the massive tumult that would occur if Trump loses the election:
"He needs to say for example, today would be a perfect example: 'I am leading in Florida. The polls all show it. If I lose Florida, we will know that there's voter fraud. If there's voter fraud, this election will be illegitimate, the election of the winner will be illegitimate, we will have a constitutional crisis, widespread civil disobedience, and the government will no longer be the government.'"

"If you can't have an honest election, nothing else counts," he continued. "I think he's gotta put them on notice that their inauguration will be a rhetorical, and when I mean civil disobedience, not violence, but it will be a bloodbath. The government will be shut down if they attempt to steal this and swear Hillary in. No, we will not stand for it. We will not stand for it."
Stone himself has a long history of making insanely incendiary comments. In July 2014, Stone tweeted that Hillary Clinton should be "tried" and "executed for murder." He tweeted that Sen. Bernie Sanders should be "arrested for treason and shot," and that philanthropist and businessman George Soros should be "executed."
Just this week, Stone went on Twitter and suggested the Clintons were responsible for the recent deaths of four people. So no, Trump's "Second Amendment people" comment did not spring from a vacuum.
Trump's campaign and his media allies are increasingly embracing the dead-end view of right-wing politics where violence is justified to right a perceived wrong; where violent political action might need to be taken by private citizens to curb a dangerously powerful federal government.
Sadly, this kind of irresponsible, doomsday chatter isn't new. The sewer runs quite deep, Trump's simply riding the currents. But having a presidential candidate who will give it credence is new and alarming.
As the rampant anti-government rhetoric of the tea party movement swelled in 2009 and 2010, and activists marched around with Swastika posters, brandished guns, and gave speeches about the need to wage bloody war against the federal government, one Newsmax columnist determined that a military coup "to resolve the 'Obama problem'" was not "unrealistic." (Newsmax later pulled the column.) Meanwhile, Glenn Beck landed a show on Fox News and gamed out bloody scenarios for the then-looming civil war against the Obama-led tyranny. (Beck later insisted Obama might throw his political opponents into internment camps.)
A Breitbart.com writer branded Obama "suicide-bomber-in-chief." Rush Limbaugh announced, "Adolf Hitler, like Barack Obama, also ruled by dictate." And appearing on Fox News, Dick Morris essentially endorsedarmed insurrectionism against law enforcement: "Those crazies in Montana who say, 'We're going to kill ATF agents because the UN's going to take over' — well, they're beginning to have a case."
Years later, amid Obama urging new gun safety legislation in the wake of the school gun massacre in Newtown, CT, Fox's Todd Starnes warned there would "a revolution" if the government tries to "confiscate our guns." Fox News' Pat Caddell claimed the country was in a "pre-revolutionary condition," and "on the verge of an explosion," while Arthur Herman declared on FoxNews.com that the U.S. is "one step closer" to a looming "civil war."
Trump himself responded to Obama's re-election by sending out (and later deleting) two tweets invoking the need for a "revolution," including saying, "He lost the popular vote by a lot and won the election. We should have a revolution in this country!" (Obama actually won the popular vote by nearly five million votes.)
Trump's favorite professional conspiracy theorist, Alex Jones, warned that year, "Hitler took the guns, Stalin took the guns, Mao took the guns, Fidel Castro took the guns, Hugo Chavez took the guns! … And I am here to tell you, 1776 will commence again if you try to take our firearms!"
That reactionary mindset has been embraced by Trump's fervent followers, who chant "Lock her up" at rallies, and much worse. ("Hang the bitch!") Al Baldasaro, an adviser to the Trump campaign for veterans issues, announced that Clinton "should be shot" for treason. And West Virginia lawmaker Michael Folk agreed, suggesting Clinton should be "hung on the mall in Washington, DC."
The doomsday, Armageddon rhetoric about Democratic criminality and the party's supposed traitorous desire to tear down America carries with it an implicit suggestion to aggrieved listeners and viewers.
Back when Beck first started broadcasting this brand of insurrectionist rhetoric on Fox News, Jeffrey Jones, a professor of media and politics at Old Dominion University, explained the significance: "People hear their values are under attack and they get worried. It becomes an opportunity for them to stand up and do something."
Now we have a wildly irresponsible presidential candidate who has adopted that same dangerous rhetoric and is sending the same ominous message: Do something.
Photo: Republican U.S. presidential candidate Donald Trump gestures while delivering a speech at the Alumisourse Building in Monessen, Pennsylvania, U.S., June 28, 2016.