Trump's 'Eighth Wonder' FoxConn Deal Crumbles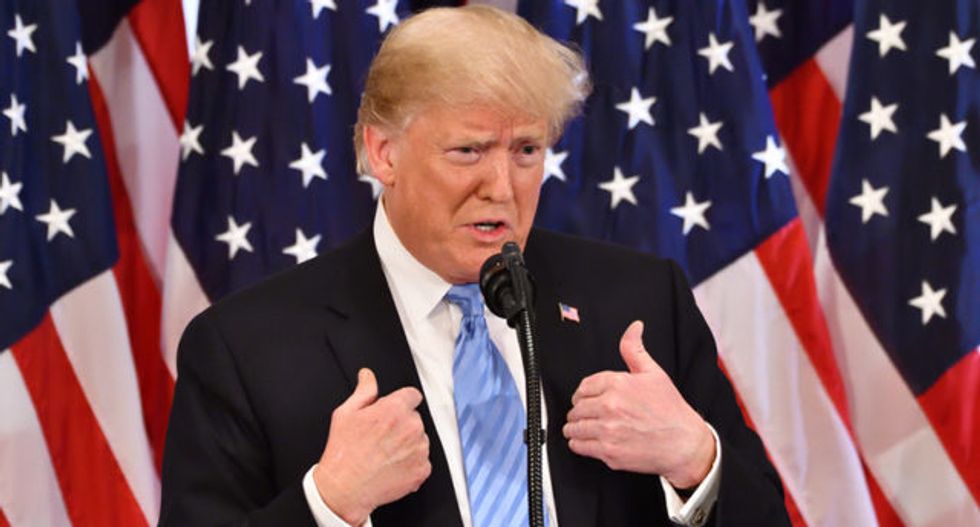 Reprinted with permission from Shareblue.
As has happened so many times in his past, a deal announced by Trump has completely collapsed into a humiliating mess.
Foxconn will not be building a mega-plant in Wisconsin to make advanced liquid crystal display panels. "In terms of TV, we have no place in the U.S.," Louis Woo, special assistant to Foxconn CEO Terry Gou, told Reuters.
The announcement is a complete reversal from the grandiose promises Trump made about the jobs and manufacturing boom the Foxconn deal he put together would bring to the country.
In July of 2017, Trump hosted Foxconn at the White House to announce the deal, which he described as "a major jobs announcement." Later he cited the announcement as part of how in his first year he was "making America great again."
Back in June 2018, Trump was the ringleader in a loud public ceremony to announce the facility, which he said would be "the eighth wonder of the world." The Foxconn complex would be an example of how his administration was "reclaiming our country's proud manufacturing legacy," the serial financial failure announced.
At the time, White House officials said Trump was closely involved in the negotiations to bring Foxconn to the United States. Then-Trump chief of staff Reince Priebus told a local TV station that Trump personally directed Foxconn's executives the specific location for where the plant should be placed: "that place in Kenosha."
The centerpiece of this was a multibillion-dollar tax giveaway to the company put together by then-Wisconsin Gov. Scott Walker (R).
From the beginning there were concerns about the arrangement and how the rules had been bended to please a corporate giant.
But Trump didn't care. He continued to tout the deal he had arranged, at taxpayer expense, with his Republican allies.
In the Foxconn flop there are echoes of the $7 million bribe (with tax dollars) that Trump and Pence announced with Carrier. Trump touted the giveaway to the company as a deal he had orchestrated to keep jobs in America. That soon evaporated and big business got money from Trump while it was still allowed to ship jobs overseas.
Like his deals in private industry, the Foxconn story has fallen flat. Trump is used to leaving investors holding the bag as he runs along to the next scam. This time, it is the taxpayers who were pushed into giving their money to Foxconn in exchange for nothing.
"President Deals" has struck again.
Published with permission of The American Independent.