Why Donald Trump's Favorite Targets Are His Republican Comrades
@FromaHarrop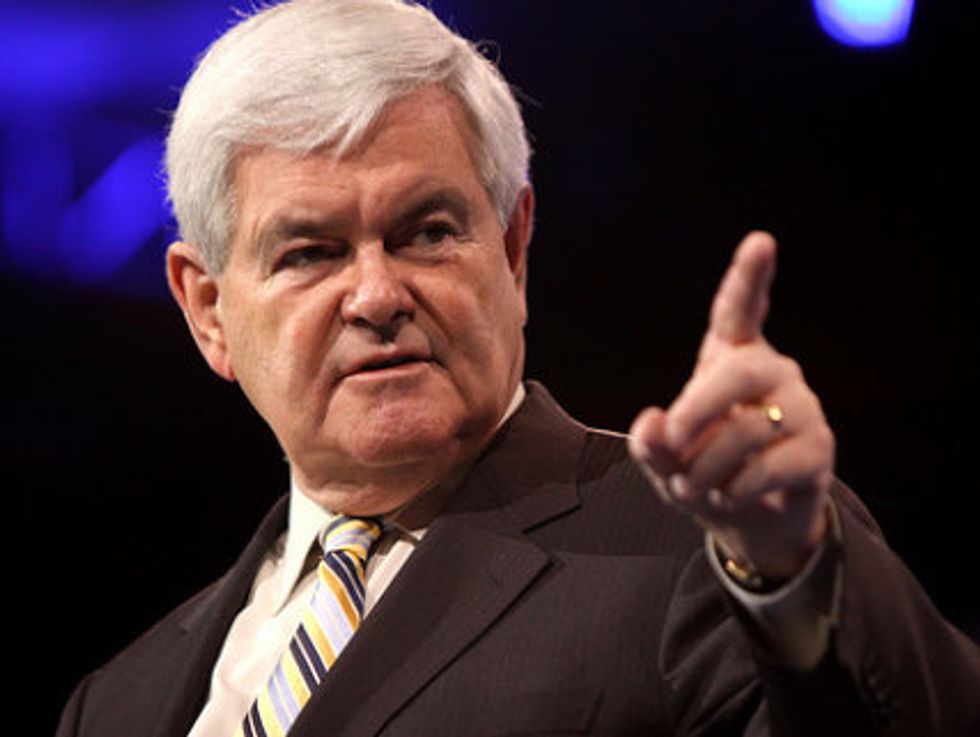 Donald Trump has inspired so much fear among his Republican comrades that he no longer has to issue harsh tweets when they misbehave. They do it themselves.
Newt Gingrich was once himself revered as House speaker but has since become a Trump fawner. When Gingrich recently opined that Trump was no longer interested in "draining the swamp," the sky fell on him.
In a James Bond movie, an oaf like Gingrich would have been quickly eliminated in a baroque manner. But Gingrich fell on his belly and begged forgiveness.
"I goofed," he tweeted. "Draining the swamp is in, @realDonaldTrump is going to do it, and the alligators should be worried."
Evan McMullin, who ran as an independent in the 2016 election, issued a wry tweet on the groveling: "Newt is learning the public prostration required of authoritarian loyalists. The dear leader often changes his mind but he's always correct."
During the campaign, Trump famously slandered Sen. Ted Cruz. He implied Cruz's wife is ugly and accused his father of having helped assassinate John F. Kennedy. Then, in a startling display of total submission, Cruz endorsed Trump for president.
Trump has always taken a sadistic pleasure in humiliating those who disagree with him, and his favorite targets are frightened Republicans. He will be starting his administration with Republican majorities in both houses of Congress and wants obedience.
Trump has a team of enforcers ready to go after Republicans harboring stray thoughts. His hotheads are ready to issue dire threats against independent thinkers, with Breitbart amplifying the smears.
As campaign surrogates, both New Jersey Gov. Chris Christie and former New York Mayor Rudolph Giuliani disgraced themselves trying to cover for Trump's birther lies. Neither emerged with a job in the administration.
By contrast, Trump is quite accommodating to the New York financiers he's naming for key positions. The bankers and hedge funders may be into money, but they tend to be fairly liberal on social issues. Gary Cohn, No. 2 at Goldman Sachs and Trump's pick to head the National Economic Council, is a Democrat.
When JPMorgan Chase CEO Jamie Dimon declined Trump's offer to head the Treasury Department, an unnamed Trump source let loose that the president-elect "doesn't respect him." Chances are Dimon could not care less, but note that Trump himself didn't make the negative remark. Note also that Dimon has since become a Trump business adviser.
As for his views on policy, Dimon has spoken positively of a $15-an-hour minimum wage for New York City. He just announced that Trump will not expel 11 million undocumented immigrants from the country, adding, "President-elect Trump is different from candidate Trump." And guess what. Not a peep of displeasure from Trump — and no abject apologies from Dimon, no apologies at all.
In Trump world, one treats financial titans with the utmost respect. He and they are in relationships likely to result in mutual profit.
Republican lawmakers under brutal surveillance must surely resent Trump's warm ties with a Democrat, incoming Senate Minority Leader Chuck Schumer. A fellow New Yorker, Schumer knows what Trump is all about, and Trump knows it. Besides, Wall Street is a hometown employer.
Schumer has offered loud support for Trump's proposed $1 trillion infrastructure program. Conservatives are supposed to be against such big spending, but most Republicans will probably cave once "pressure" is applied.
But Schumer also announced he wouldn't help Trump devise a shrunken version of Obamacare. Yet no threat has been hurled down from Trump Tower, only invitations.
Conservatives with spine will resist Trump's break with doctrine. The other Republicans will adopt a pose of servility. And they're the ones Trump will have fun with.
Follow Froma Harrop on Twitter @FromaHarrop. She can be reached at fharrop@gmail.com. To find out more about Froma Harrop and read features by other Creators writers and cartoonists, visit the Creators webpage at www.creators.com.
IMAGE: Gage Skidmore via Flickr