Trump's Fundraising Efforts Show He's Now Part Of 'The Establishment'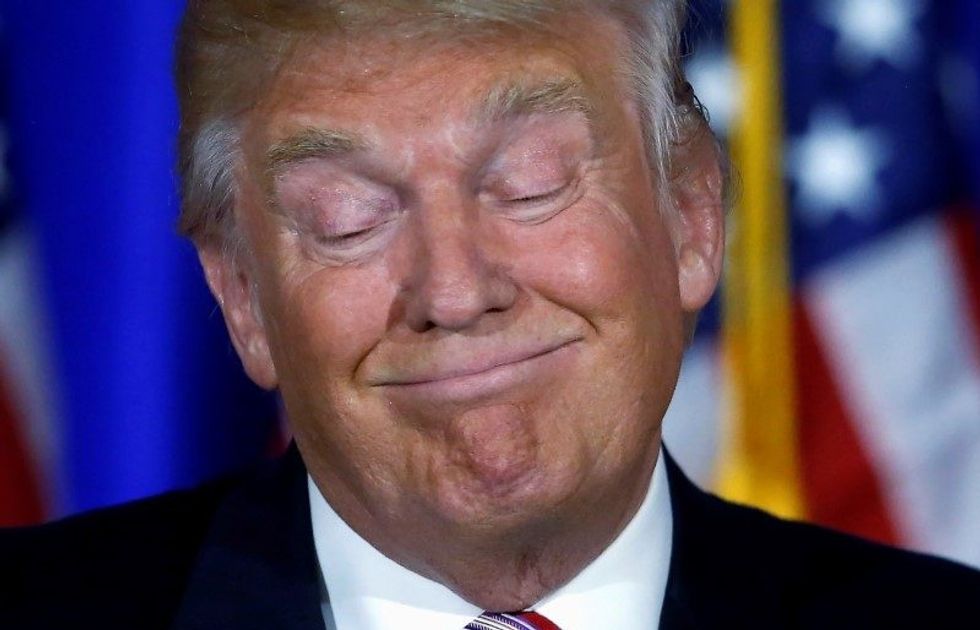 Donald Trump began his race for the presidency with a pledge that he would self-fund his campaign. Yes, Trump was lying about that, but the appeal to voters was real: He would not be bound by the interests of wealthy donors and special interest groups.
But a year after accusing his opponents of being beholden to their donors and the political establishment, Trump can no longer make any honest claim to being "independent" from the influence of money in politics, as he faces veteran fundraiser Hillary Clinton and increasingly relies on the "establishment" — the Republican National Committee's fundraising operation.
In fact, due to his campaign's lack of fundraising experience and infrastructure, Trump will be forced to rely more heavily on his party to raise money than nearly any other Republican presidential candidate in modern history.
No longer an outsider, Trump last month signed a joint agreement with the RNC that allows individual donors to write checks of up to $449,400, far greater than the $2,700 cap that the Trump campaign can accept alone.
"To raise the kind of money you need to raise in the time period we're raising it, you need people that are experienced at raising money," said Ray Washburne, who previously supported Rick Perry's campaign and now is helping the committee with fundraising for Trump.
The list of prominent Republicans who signed on to raise money for Trump and the RNC includes many who once opposed the billionaire developer — big wigs who have major ideological differences with the presumptive Republican nominee.
Two of them, Howard Leach and New York Jets owner Woody Johnson, previously backed establishment favorite, Jeb Bush. Trump took notice of Johnson last January, tweeting "If Woody would've been w/me, he would've been in the playoffs, at least!"
Johnson, one of the six finance vice chairmen at the RNC, told the New York Times that he didn't mind the jab, and that party unity was his main objective. "It doesn't bother me," he said. "I've been in sports a long time. In sports, we're in the 'win' business and we want to entertain our fans." In past elections Johnson has backed John McCain, Mitt Romney and George W. Bush.
Bill Binnie, who will host a New Hampshire fundraiser for Trump next week, was chairman and CEO of Carlisle Plastics Inc., when it moved from California to Mexico in 1990, taking more than 400 jobs. Trump has made his opposition to moves like that — and the trade deals that make them possible — one of the main planks of his campaign (though his business takes ample advantage of foreign labor).
When reached by the Wall Street Journal and asked whether his business history was incompatible with Trump's promise to create jobs in America by instilling high tariffs on companies to move overseas, Binnie hung up the phone.
Binnie is a naturalized citizen who immigrated to the U.S. from Scotland when he was five years old. He has publicly supported a path to citizenship for undocumented immigrants and opposed Arizona's law to crack down on them.
Of course, no establishment politician's fundraising effort is complete without super PACs, and by now, Trump has acquired several.
The most successful is "Great America" PAC, headed by billionaire broadcasting executive Stanley Hubbard, Mike Huckabee's 2008 campaign manager Ed Rollins, and Newt Gringrich's 2012 campaign's finance chairman Eric Beach.
"All my other candidates withdrew, one by one. He was the last man standing." said Hubbard, who previously tried to block Trump's efforts. He donated $10,000 to the "Our Principles" PAC, which funded anti-Trump mailers and national television ads. Hubbard once described Trump's proposal to deport 11 million immigrants as "ridiculous."
"My family and I believe Mexicans are good people," Hubbard said. "We've got to find a way to keep them here."
The group claims to have raised $3 million so far, of which $700,000 has already been spent on ads and voter contact efforts, according to FEC records.
Former Ben Carson communications director Doug Watts is running the "Committee for American Sovereignty." Some of the PAC's supporters include regular GOP donor Kenneth Abramowitz, investor Nick Loeb, and former Trump Hotel executive Nicholas Ribis Sr. The PAC plans to raise $20 million for Trump by June, and $100 million for his overall election effort.
"Rebuilding America Now" PAC was founded by real estate investor Thomas Barrack, Jr., a longtime friend of Trump. Former Chris Christie campaign manager Lori Gay and senior Trump campaign adviser Ken McKay are also leading the PAC. According to Barrack, they have raised $32 million in donations. The group began airing its first TV ad against Hillary Clinton last weekend.
Barrack, a real-estate investor who has already hosted a $25,000-a-plate fundraiser for Trump, has described himself as a liberal on social issues, and has publicly praised presumptive Democratic nominee Hillary Clinton. In an interview with Bloomberg Television, Barrack stated that "Hillary is very accomplished and very knowledgeable, so her themes are probably very sound," before denouncing claims that she would be a bad president. "If Hillary's president, is she going to do a conniving, bad job? No way. All of these things that are focused on as edges of criticism are politics," he concluded.
Republican strategists Nick Ayers, former chief of staff to Senate Majority Leader Mitch McConnell Josh Holmes, and Rand Paul presidential campaign manager Chip Englander are in talks to create yet another PAC. Billionaire casino owner Sheldon Adelson is also involved — and while no decision has been reached, the hypothetical group would likely become one of the biggest cash sources for the Trump campaign. Adelson spent approximately $100 million on the 2012 elections.
Photo: Republican U.S. presidential candidate Donald Trump speaks at a campaign event on the day several states held presidential primaries, including California, at the Trump National Golf Club Westchester in Briarcliff Manor, New York, U.S., June 7, 2016 REUTERS/Carlo Allegri