#EndorseThis: Samantha Bee Skewers Trump's Loyal Lap Dog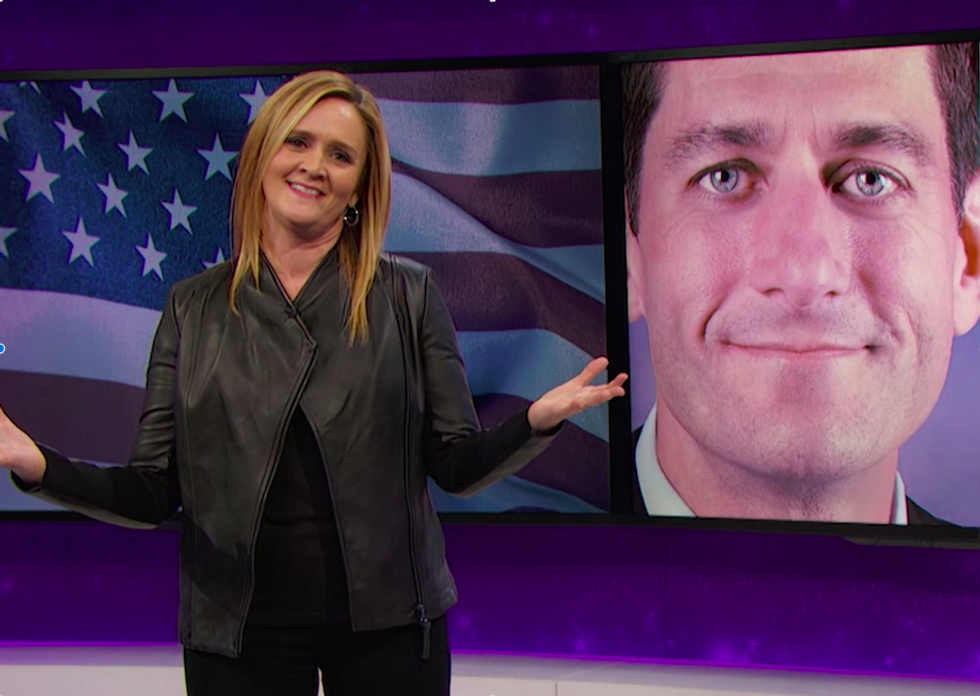 In this week's episode of Full Frontal, Samantha Bee delves deeper into the one quality that President Trump values above all else — blind and unwavering loyalty.
Nobody has adapted to this new reality better than the current Speaker of the House — and trained lap dog —Paul Ryan, who this week praised President Trump for his "decisive" action in dealing with the Flynn scandal. "You should see him do that while balancing a milk bone on his nose," Bee mocks.
Once described by conservatives as the intellectual leader and conscience of the Republican Party, the Full Frontal host skewers Paul Ryan for his contradicting views on Trump's policies and wonders how a "once principled social and fiscal conservative winds up in bed with a bigoted, adulterous grope machine?" 
Ryan's motives make a lot more sense when Bee uncovers his past high school superlatives. Yes, Paul Ryan was once voted the biggest brown-noser by his classmates. Never one to miss a comedic moment, Bee rightfully points out that his nose is probably a lot more orange these days. Speaker Ryan clearly decided that proximity to power was more important than morals or principles, and made a backroom deal with the devil — or Steve Bannon — for a seat at the table.
Don't miss the montage of an outraged Paul Ryan side by side with a surprised and humbled Taylor Swift. As Bee jokes, "Watching Ryan play moral watchdog is like watching Taylor Swift pretend to be surprised at an awards show — bland and fake, but weirdly compelling." 
In the end, Bee offers this final piece of advice, "Take another cue from Taylor Swift, Mr. Speaker: know when to dump the guy you've only been pretending to like to help your career."