Trump's Medicare Overseer Spent Millions On Her 'Personal Brand'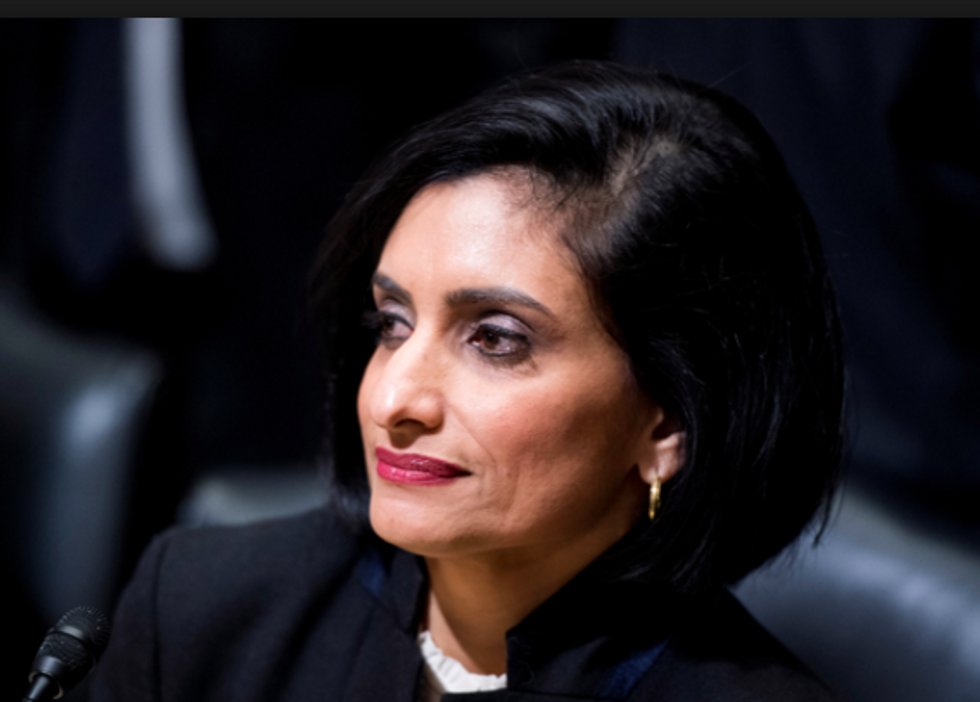 [vc_row][vc_column]
Seema Verma, the official Trump installed to oversee Medicare, Medicaid, and Obamacare, has been spending millions of tax dollars on Republican public relations and media consultants to make her look good.
Verma is the head of the Centers for Medicare & Medicaid Services agency (CMS), and Politico reports that in that role she has squandered over $3.25 million in taxpayer funds on the vanity project.
"The head of Obamacare doesn't need outside consultants to get reporters to talk to her," a CMS official told the outlet, highlighting the absurdity of Verma's actions. Nonetheless, Verma has handed out money to a squadron of Republican consultants.
"Some career CMS staff have voiced their concerns to political appointees within the agency about routing taxpayer dollars to GOP consultants and helping a federal official like Verma improve her personal brand," Politico reported.
The spending is even more suspect since the CMS agency already has its own public relations department, which Politico notes employs two dozen people who handle press issues already.
One of the contracts Verma gave out went to Pam Stevens, who specializes in getting media outlets to do profiles of Republican women like Verma. She is being paid between $185 to $200 per hour for this work.
Just this month, Verma appeared in a profile in AARP's magazine and apparently also posed for a photo shoot for the publication.
Verma paid out at least $2 million to Nahigan Strategies, a firm with principals that have done public relations work for multiple Republican presidential campaigns. Politico reports that they have "supported and advised Verma on messaging strategy for nearly two years."
Before Trump, the CMS agency usually used its public relations funds to raise public awareness for Medicare enrollment and sign-ups for Obamacare. Trump has been trying to sabotage the health care system by cutting funds for those campaigns, while Verma instead spent the money to raise her own profile instead.
Rather than helping Americans to get health care that they need, Verma spent the money to have consultants that handled her media calls, traveled with her on promotional trips and wrote her speeches.
Verma's consultants even tried to ban a reporter from being a part of the agency's telephone news conferences because he wouldn't delete reporting that exposed  incompetence on her watch.
"Administrator Verma seems to think she can bury inconvenient facts by threatening reporters with blacklisting," said Ivan Oransky, president of the Association of Health Care Journalists
Despite all the exorbitant spending, transferring tax dollars to Republican allies, Verma has been having a tough time at the job.
She has spearheaded the effort to take away Medicaid benefits from people by imposing excessive work requirements, adding a layer of cruelty to those already in desperate financial situations.
A federal judge recently ruled against the Trump administration as it worked in concert with Republicans in Kentucky to impose such rules.
Republicans have renewed their attacks on the American health care system. Trump recently bragged that he would be working to "terminate" Obamacare for at least 20 million people.
Verma is a creature of the "swamp" that Trump has created in his administration, representing the practice of pulling up Republican insiders and related hangers-on to the public trough and giving them free rein to gorge themselves on the public's money.
Instead of helping Americans, they are trying to hurt the most vulnerable and make themselves look good while doing so. But they are so sloppy at it that they keep getting caught.
Published with permission of The American Independent.
[/vc_column][/vc_row]