Trump's Organized Crime Ties Bring Blackmail To The White House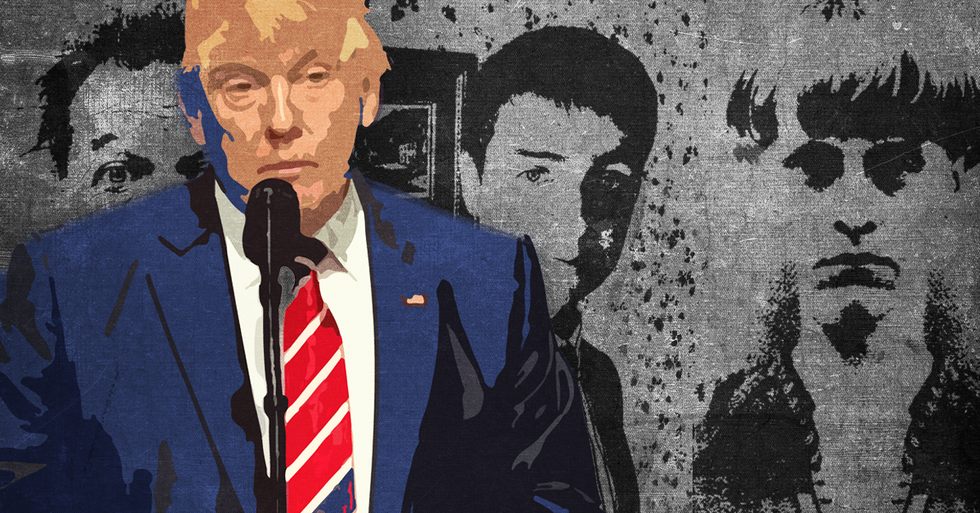 Reprinted with permission from Alternet.
The words were positively polite, at least for a man convicted of assault and racketeering. It was the implied target of his blackmail threat that was unusual: the president of the United States.
The threat came from Felix Sater, a Russian-American businessman who partnered with Donald Trump in launching the Trump Soho, a hotel-condominium project in New York City. The building was funded by Sater's boss, Tevfik Arif, a mogul from Kazakhstan. In 2007, Trump's children, Donald Jr., Eric and Ivanka attended the unveiling ceremony for the 46-story luxury tower in Manhattan.
Trump, Arif and Sater were photographed standing next to one another at that event. Since then, the three men have parted ways in a haze of recriminations, lawsuits and amnesia.
Sater's attorney came right to the point in a February 2 letter to Arif's attorney about $3.5 million in disputed legal fees, the Wall Street Journal reported Thursday.
"Clearly, if this matter between Mr. Sater and Mr. Arif escalates to public litigation, the media spotlight will be negatively cast on Mr. Arif and his past relationship with President Trump and the Republic of Kazakhstan," the attorney wrote.
In the correspondence reviewed by the Journal, Sater warned he might file another lawsuit in which he would allege wrongdoing in Arif's dealings in the post-Soviet metals business in Kazakhstan. "The headline will be, 'The Kazakh Gangster and President Trump,'" Sater warned.
Both Arif and Sater know something about the media spotlight.
In October 2010, Turkish news outlets headlined the arrest of Arif and five other men for alleged involvement in a prostitution ring following a raid on a yacht once used by the country's founder. Police stormed the 136-meter luxury yacht Savarona after a seven-month investigation. They also detained 10 Ukrainian and Russian women.
Arif had rented the yacht at a daily rate of $50,000, according to Turkish news reports. Arif denied all charges, saying he had only been entertaining friends aboard the Savarona. Nine of the women were deported, and Arif was later acquitted.
Also questioned, but not arrested in the raid, according to Israel's YNet News was Alexander Mashkevich, an Israeli-Kazakh billionaire who, along with two partners, dominates Kazakhstan's lucrative mineral sector, according to Wikipedia.
Sater's recent threat implicitly links Arif's relationship with Mashkevich to his dealings with Trump.
Tevfik and his brother Refik Arif, former Soviet government officials, achieved success after Kazakh independence in 1991 by gaining ownership of a chromium plant. The Arifs became close with Mashkevich and his partners, who operated large-scale mining projects in Kazakhstan, according to the Diplomat news site. The details of Arif's business empire emerged when he tried to buy a share of Milan AC, the storied football franchise.
Felix Sater too has some notoriety. In 1993, Sater was convicted and sent to prison for stabbing a commodities broker in the face with a broken margarita glass. He then became involved in a $40 million stock manipulation scheme run by members of the Gambino and Bonanno organized crime families. In return for his "cooperation" as a government informant, he was allowed to plead guilty and get on with his life. He partnered with Arif, who had developed luxury properties in Turkey, and they joined forces with Trump.
By 2007, Sater had an office on the 24th floor of Trump Tower, according to the Washington Post. In sworn testimony reviewed by the Post, Sater said he popped into Trump's office frequently over a six-year period to talk business. He recalled flying to Colorado with Trump and said Trump once asked him to escort Donald Jr. and Ivanka around Moscow.
At the time, Arif also extolled Trump.
"He's been very helpful to us from the beginning and he's been very helpful in opening some doors," he told Real Estate Weekly.
Donald Trump would prefer to forget such matters. In a 2013 deposition for a court case related to Trump Soho, Trump claimed he only met Sater a couple of times and would not recognize him.
Sater seems to feel the relationship is closer. In February, he and Trump's personal attorney Michael Cohen prepared a Ukraine peace proposal for the president, although it's not clear it ever reached the Oval Office.
The Washington vocabulary of scandal, corruption and sleaze does not quite do justice to the state of affairs that exists when the White House receives a foreign policy proposal from a felon who threatens to blackmail a former business partner (once detained in a prostitution investigation) of the president.
Some might see a moral swamp in need of drainage. In the Trump White House, it's called business as usual.
This article was made possible by the readers and supporters of AlterNet.