Trump's Racist Former Butler Defiant In Face Of Scrutiny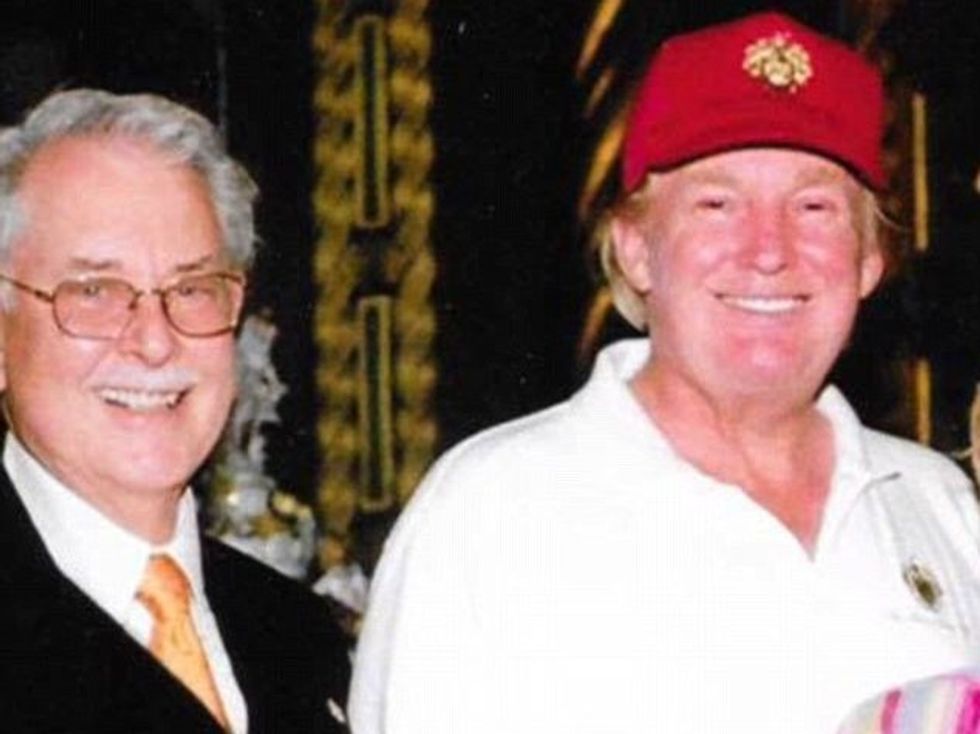 On Thursday, Mother Jones outed Donald Trump's longtime butler, Anthony Senecal, 74, as an ardent racist and conspiracy theorist who has publicly called for the murder of President Barack Obama and his wife, Michelle, as well as other public figures including former Secretary of State Hillary Clinton.
In posts on social media, the bespectacled butler – who was recently profiled by the New York Times – questions Obama's nationality and accuses him of lying about being a Christian, asserting the President is actually a Muslim trying to usurp U.S. democracy.
The former butler of Trump refers to Obama as "zero," and calls Muslims "Muzzies," a derogatory term.
Senecal and his Facebook "friends" and "followers" feed off one another, discussing concepts like hanging "that sleezy bastard zero" for treason, and taking up arms to fire in the event of Obama declaring martial law. (They all confirmed that indeed they would.)
Threatening a president's life is a federal offense. On Thursday, in an email to The Daily Beast, Secret Service spokesman Robert Hoback said, "The U.S. Secret Service is aware of this matter and will conduct the appropriate investigation."
During an interview withCNN on Thursday, Senecal confirmed he wants the president dead. "I don't care," he said. "Hanging, shooting – I'd prefer he'd be hung from the portico of the White House, or as I call it, the white mosque."
On Saturday, the Martinsburg Journal reported Secret Service to have interviewed Senecal. He told the Journal he thought Secret Service wanted to make sure he "wasn't going to go there with a rifle." He told the agency that Washington, D.C. was "too far to drive."
Trump's former butler restated his anti-Obama sentiments to the Journal, saying, "I think he's a fraud and a traitor and I say that on a regular basis, absolutely." Although Senecal wouldn't kill the president himself, he thinks someone should. "I think it should have been done by the military in the first term," Senecal said. "They still have the chance to do it."
In another recent profile, Senecal told the Palm Beach Post that he and Trump bonded over their "similar" political views. He reportedly criticized Clinton during that interview, and endorsed Trump's proposals including the ban on Muslim immigrants and building a wall along the U.S./Mexico border.
In his Times profile, Senecal comes off as the archetypical butler: inflating his boss's ego with a manicured subservience from a bygone era, attending to and tolerating unforeseeable demands that only arise in the world of the super-rich, appreciating his humble role at the center of such lavishness — eternally attentive as the hours pass — and cursing Hillary Clinton. One imagines him speaking with the voice of Mr. Howell, from Gilligan's Island, and to have at least considered wearing a monocle.
Senecal has worked at Trump's Mar-a-Lago property in Palm Beach, Fla. for 60 years, the Times reports. When Trump bought the estate and private beach in 1985 and turned it into a club, he kept Senecal on staff; and when the butler tried to retire in 2009, Trump wouldn't have it. Since then, Senecal has served as the "unofficial historian" of Mar-a-Lago, giving tours on an apparently volunteer basis. But according to the Times article, as recently as March 6 Senecal was on the Mar-a-Lago premises acting as Trump's de facto cheerleader, if not a hired servant.
In 1990, the Times reports Senecal took a sabbatical from Mar-a-Lago to serve as Mayor of Martinsburg, WV – an affluent community where the man who would eventually become Donald Trump's butler proposed an ordinance requiring panhandlers to obtain a $25 bi-annual permit to beg in the city's streets. That year, Associated Press quoted Senecal saying the legislation was aimed at "the winos who make a good living off government checks and beg for money the final two weeks of every month after they blow all their government money."
On Thursday, when the scandal broke, the Donald Trump campaign disavowed Senecal's statements. A Facebook post from the candidate's official account reads:
"Trump Campaign Disavows Statements Made by Anthony Senecal

Anthony Senecal worked within the large staff at Mar-a-Lago from March 5, 1994 through May 15, 2009 until he was terminated. He has not been employed by Mar-a-Lago since then — approximately seven years ago.

His statements regarding President Obama and his family are totally disavowed by Donald J. Trump and the Trump Organization. They are disgusting. Mr. Senecal is obviously a very troubled man."
Though Trump marks the end of Senecal's employment in 2009, the New York Times' report that Senecal was at Mar-a-Lago as recently as March casts a shadow on the campaign's disavowal of him.