Trump's Wacky Babble Will Make You Forget Biden's 'Gaffes'
@AlterNet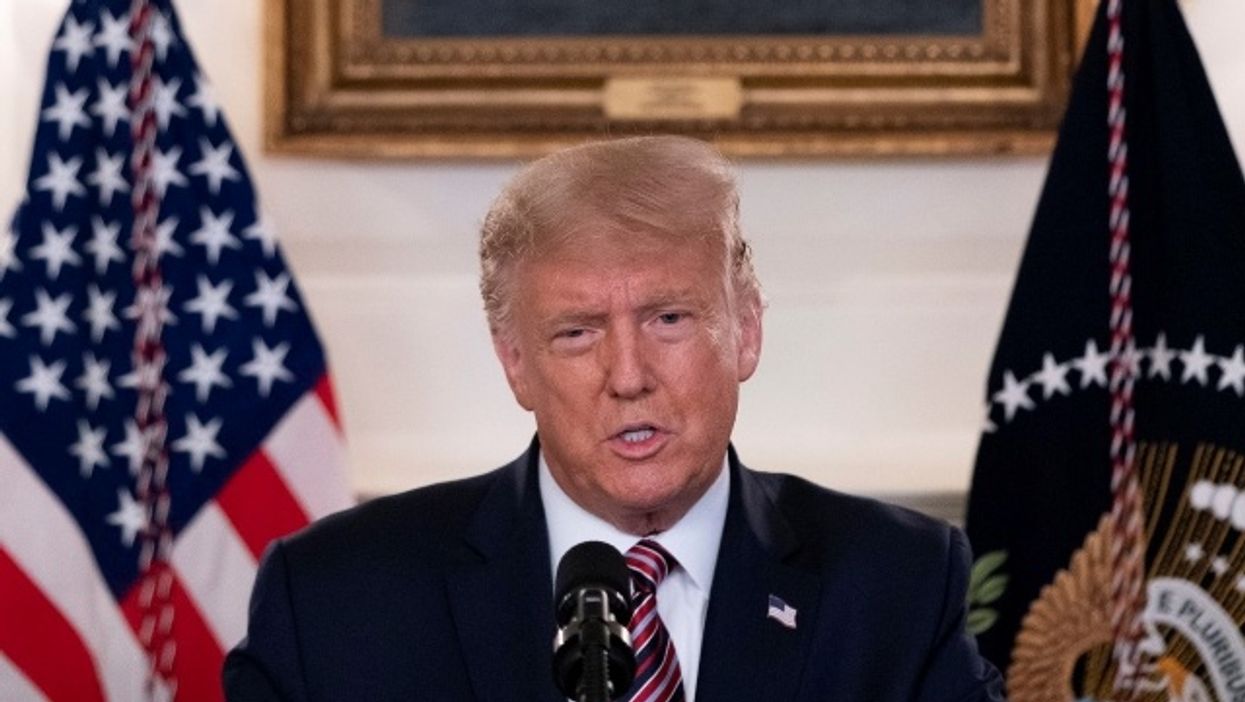 Official White House Photo by Shealah Craighead
Reprinted with permission from Alternet
President Donald Trump's antics have gotten progressively worse over the last week, and his interviews have been littered with epic blunders that have raised more questions about his mental capacity amid his battle with COVID-19.
1. The Nonexistent 'Second Debate' Victory
When Trump appeared on Fox News Thursday morning, he claimed to have beaten Democratic presidential nominee Joe Biden in the first and second debates. However, there is one glaring problem with Trump's remarks: the second debate has not occurred yet and likely will not because the president refuses to commit to participating virtually despite being COVID-positive.
---
2. 'Tiny Windows'
When asked about Democratic presidential nominee Joe Biden and Democratic vice-presidential nominee Sen. Kamala Harris (D-Calif.)'s proposed Green New Deal, Trump claimed the Democrats' plan focused on replacing regular sized-windows with tiny ones.

"They literally want to take buildings down and rebuild them... with tiny little windows. Tiny little windows so you can't see the light," Trump told Hannity during a phone interview on Thursday evening.
It's not clear at all what he was talking about.
3. Rationing Water for 'Little Tiny Fish':
Diving further into the abyss of baselessness, Trump also offered his take on the Green New Deal where California is concerned. Trump falsely claimed Biden and Harris want to use millions of gallons of water to care for "certain little tiny fish."
"California is gonna have to ration water. You wanna know why? Because they send millions of gallons of water out to sea, out to the Pacific. Because they want to take care of certain little tiny fish, that aren't doing very well without water. "
Twitter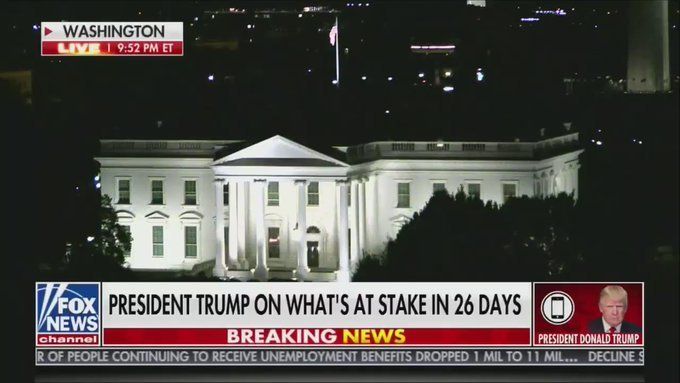 Twitter twitter.com
He also offered a suggestion for his climate change plan saying, "[California] should let water come down from the north, and accept it instead of throwing it out to the Pacific. But you always have to have forest management."
Again, the question must be asked: "What?"
4. COVID made me 'Better'
When asked about his last negative COVID test, Trump pivoted without answering the question. The president moved on to ranting and boasting about his alleged improved health as he claimed COVID has made him "better."
5. Little to No COVID Infection
When he confirmed that he would be tested again on Friday, he claimed doctors "found very little infection or virus, if any."
"The test will be tomorrow...because there's no reason to test all the time, but they found very little infection or virus, if any. I don't know that they found any, I didn't go into it greatly with the doctors," Trump told Hannity, seeming to suggest he was not infected with COVID-19.
That blunder garnered reactions from two different perspectives. While some Twitter users are wondering if the president ever had coronavirus, others believe he accidentally admitted that he is still infectious.
6. The 'Lingering Thing':

Just hours later after insisting COVID has made him better, Trump switched gears as he contradicted himself during an interview with Rush Limbaugh on Friday. Although Trump has widely declared that he has defeated COVID while promoting "Trump defeats COVID" pins through the White House gift shop, the president admitted there is a "lingering thing" from coronavirus.
The president dismissed speculation about his health despite him clearly being heard coughing his way through the Fox News interview with Hannity just hours earlier. Trump's coughing spell came just hours after White House physician Sean Conley actually cleared the president to resume with public events starting Saturday.
7. The 'Cure' for COVID
On Friday morning, Trump waded further into unconfirmed waters dangerously describing the Regeneron cocktail he was administered as treatment for coronavirus. Despite vastly limited clinical trials and no Federal Drug Administration (FDA)-approved emergency use authorization for the drug, which reportedly derives from the cells of aborted fetal tissue, Trump insists it is a "cure" for coronavirus.
"I'm telling you we have a cure -- more than just a therapeutic, we have a cure."
Trump's antics have influenced conversations about the invocation of the 25th Amendment. Multiple times this week, House Speaker Nancy Pelosi (D-Calif.) has raised concerns about Trump's health and his ability to govern amid his bout with coronavirus as he is reportedly still taking medications for the illness.