Trump's Obscene War Machine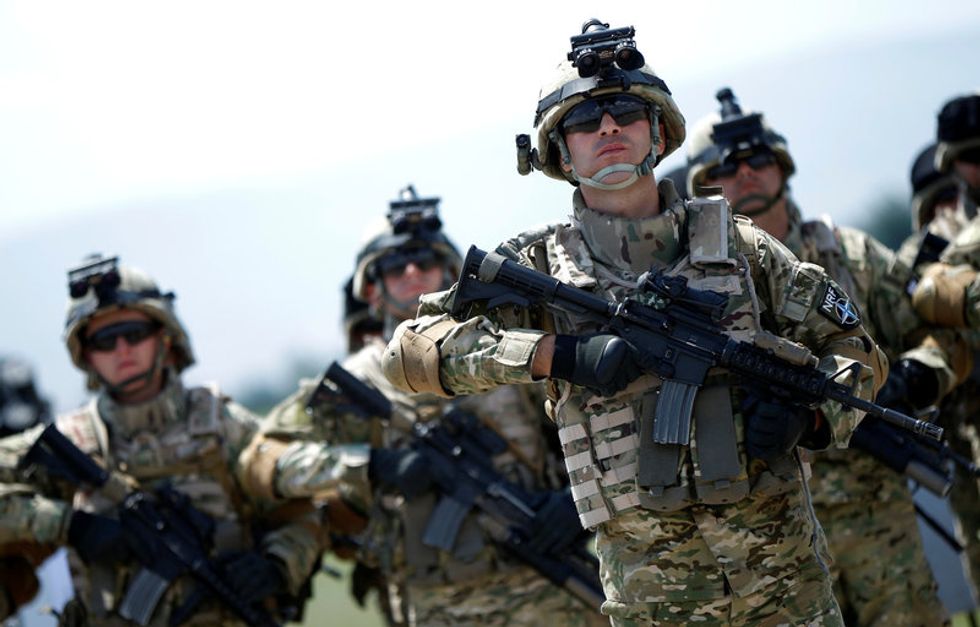 Reprinted with permission fromAlterNet.
A month into his presidency, Donald Trump announced that he would increase U.S. military spending by $54 billion. To do this, Trump said that he would cut the exact amount from the non-military, namely social, programs. The announcement came at the National Governor's Association, which is made up of state leaders who have to bear the brunt of the federal cuts.
Money for homelessness, poverty, starvation, and drug addiction will dry up, leaving state authorities with the paralytic duty of watching more and more of their residents wake up to the American nightmare. This is the old 'guns vs. butter' scenario taught to young students in elementary economics classes. If economics is a matter of choices over scare resources, and if budgets are a way to project your values, then Trump has made his views clear – guns matter more than butter.
The 'guns vs. butter' problem is not idle. The National Priorities Project looked at the $54 billion budgetary increase to the military and concluded that this increase itself is more than the discretionary budgets of the following U.S. federal government agencies:
Department of Homeland Security ($48 billion)
Housing and Urban Development ($38 billion)
Department of Energy ($30 billion)
Department of Justice ($29 billion)
Department of State ($29 billion)
Environmental Protection Agency ($8 billion)
It is truly stunning to see the amount of public resources spent on the U.S. armed forces as compared to what it spends on diplomacy and even on homeland security. Trump has said he would cut programs such as the National Endowment for the Arts, National Endowment for the Humanities, and the Corporation for Public Broadcasting to fund the increase. The total outlay for these three agencies is $781 million. It is the cost of ten MV-22 Ospreys, one of which – at the cost of $75 million – had to be destroyed during Trump's ill-fated Yemen raid this January.
The United States already leads the world in military spending. At around $600 billion per year, which is half the U.S. discretionary budget, the United States spends more than the combined military budgets of the next seven countries. That means if you add the total military spending for China, Saudi Arabia, Russia, the United Kingdom, India, France, and Japan, then you are still a few billion dollars short of the U.S. military budget. It is appropriate to mention that Trump's increase in the military budget – by $54 billion – is itself eighty per cent of the total Russian military budget.
The scale of military spending is beyond obscene. Each Tomahawk Cruise Missile that the U.S. sends into Syria or Iraq costs $1.41 million. The cost of the U.S. bombing in Syria from August 2014 to January 2017 has been $11.4 billion – with an average daily cost of $12.7 million. More money has been spent bombing Iraq and Syria than is spent for environmental protection. No other country comes close in terms of expenditure on the military, in terms of the hardware available to the military and in terms of the global reach of the military as a result of aircraft carriers and overseas bases. There is no question that the United States military is the most destructive force on the earth.
We Never Win a War
But of course having the most deadly military does not mean that you can win wars. Wistfully Trump told the governors that in his youth the United States used to win wars.
"When I was young, in high school and in college, everybody used to say we never lost a war. America never lost," whispered Trump. "Now," he said mournfully, "we never win a war."
Trump's sense of history is very poor. But it is of a piece with his general ideology – to Make America Great Again. It was once great. It is no longer great. But was America really able to once win wars?
Born in 1946, Trump was in high school when the war on the Korean peninsula went into a stalemate. The United States did not win that war. The armistice of 1953 merely divided the country. There is still no final peace settlement. In fact, the war is technically ongoing. There are 83 American bases in South Korea, and the bill for these installations is over $1 billion per year (South Korea pays an additional $867 million, about forty per cent of the cost).
When Trump was in college, the United States entered Vietnam, where it would leave in ignominy in 1975. No real wars have been won by the United States in Trump's lifetime. Even World War II was not won solely by the United States. The Soviet Union's immense sacrifices on the eastern front and the colonial troops valiant battle across North Africa, South-East Asia, and Europe should not be underestimated. The 'Greatest Generation' is not only American. That is a grotesquely narrow view of World War II. Trump is right, however, that the United States does not win wars – neither in Afghanistan nor in Iraq.
Trump believes that the United States has not won the wars in Afghanistan and in Iraq because of a lack of funding for the military and because of too many human rights restrictions on the nature of combat. But perhaps the American problem in combat has got nothing to do with money or rules – for, in both Afghanistan and Iraq, the U.S. far outspent its opposition and it did not follow international norms of war or its own Army Code of Conduct. Massive aerial superiority combined with regimes of torture and night-raids did not win any of these wars.
What Trump does not acknowledge is that wars are not won by firepower and brutality alone, but they are won by being able to make a moral claim against an adversary. Thus far, the United States has fought wars of conquest and occupation – where the moral superiority of the occupier is impossible to establish. It was so hard that in 2002 even a U.S. marine told me that he sympathized with the Afghans – "if someone invades my city," he said, "I'd take up arms and fight a guerrilla war." The illegitimacy of the wars is not something that occurs to people like Trump. You will win battles with better weaponry, but you won't win wars that way. Wars are won on the moral plane, not on the battlefield.
As the U.N. resolution on decolonization noted in 1960, "The process of liberation is irresistible and irreversible." You can have the best guns, but you can't destroy the human longing for freedom.
Strikingly, it does not occur to the liberals either. During his speech to Congress, Trump singled out Carryn Owens, the widow of U.S. Navy Special Operator Ryan Owens, who died in Trump's Yemen raid in the village of Yakla. After the speech, Van Jones, CNN analyst and a former Special Advisor to Barack Obama, said, "That was one of the most extraordinary moments in American politics. Period." There was no room for Jones to mention the illegitimacy of the US role in Yemen. The U.S. provides arms to the Saudis who are bombing one side of the conflict in Yemen. The Saudis are also effectively using al-Qaeda fighters in parts of Yemen as their ground forces. At the same time as the US is indirectly supporting al-Qaeda via Saudi Arabia, it conducts a raid into a village in late January and massacres dozens of civilians (for more context, see my column from February 8).
Yemen's foreign minister – Abdul Malik al-Mekhlafi – of the Saudi (and U.S.) backed Yemeni government condemned the U.S. attack on Yakla as "extrajudicial killings." There was no mention by establishment liberals such as Van Jones of the illegal nature of the raid. Nor did he demand a "Benghazi-scale" investigation of the Yakla raid. Nor did he condemn the way Trump used the death of Ryan Owen to bolster his desire to increase military spending. None of that was on offer. Establishment liberals are as complicit as the Trump administration in such atrocities as the killing of civilians and the inhumane expenditure on military hardware rather than social goods.
The "military industrial complex" has metastasized into each section of the U.S. government, into each Congressional district. It is like Stage 4 cancer – rigid to the bones of American institutions. The obscenity of it cannot be questioned because of the fog of patriotism. To be a patriot is measured not based on your commitment to end hunger and illiteracy amongst your people. Rather it is measured based on your commitment to give your people a gun in their hands and to make sure your military is funded beyond imagination. Countries are hollowed out by such poor distribution of their resources and by imperial wars that can never be won.
Vijay Prashad is professor of international studies at Trinity College in Hartford, Connecticut.
IMAGE: Georgian servicemen attend an opening ceremony of U.S. led joint military exercise "Noble Partner 2016" in Vaziani, Georgia, May 11, 2016. REUTERS/David Mdzinarishvili