Two Police Officers Shot During Protests In Ferguson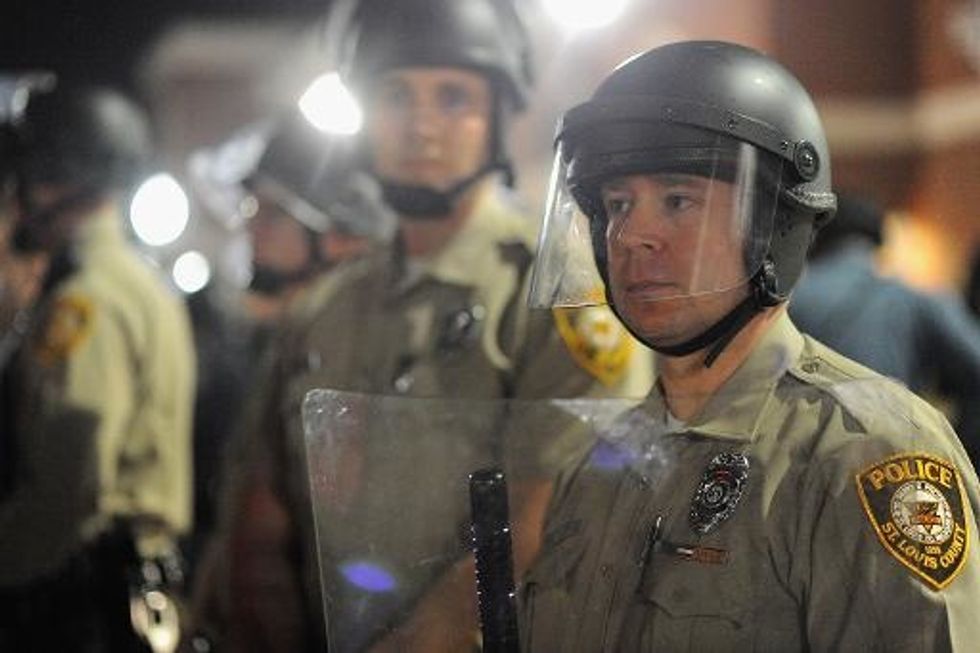 By Matt Pearce, Los Angeles Times (TNS)
Two St. Louis County police officers were shot outside the Ferguson Police Department during another night of protests in the troubled Missouri city, police confirmed early Thursday.
St. Louis County Police Chief Jon Belmar said two officers were hospitalized after the shooting, which occurred shortly after midnight during demonstrations that followed the resignation of the Ferguson police chief Wednesday.
"These police officers were standing there, and they were shot — just because they were police officers," Belmar told reporters.
An officer from the St. Louis County Police Department, 41 years old and a 14-year veteran, was shot in the shoulder, and an officer from the Webster Groves Police Department, 32, was shot in the face, he said.
Both sustained serious injuries but were conscious, the chief said.
The turbulent night followed Wednesday's announcement that Ferguson Police Chief Thomas Jackson planned to resign in the wake of a scathing U.S. Justice Department investigative report that followed the fatal police shooting last summer of 18-year-old Michael Brown, an unarmed black man.
Violent protests followed the shooting, and more demonstrations erupted when a grand jury elected not to indict the white officer, Darren Wilson, who said he shot Brown after the young man tried to grab his gun.
The Justice Department also cleared Wilson, who has since left the department, of any civil rights charges. But it found a "pattern of unconstitutional policing" in the department.
During Wednesday night's events that stretched into early Thursday, Belmar said a group of officers had been standing directly in front of the police station when shots were fired from an undetermined location to the northwest.
"I don't know who did the shooting, to be honest with you right now. But somehow they were embedded in that group of folks," Belmar said.
The fact that the shots were fired parallel to the ground and hit a group of officers standing together suggests, he said, "that there were shots that were directed directly at my police officers."
"My heart goes out to the officers injured tonight. There is too much violence in our city and this crisis of trust makes us all less safe," St. Louis Alderman Antonio French, who has played a prominent role in the Ferguson protests, said on Twitter.
Several witnesses told the Los Angeles Times that the shots appeared to come from a hill beyond where protesters had gathered.
About 50 protesters were in the parking lot of a tire store while police in riot gear were gathered in the parking lot of the police station across the street. Suddenly, several shots were fired, said Heather De Mian, who was recording the events on a live stream.
"We heard, like, a firework — we thought it was a firework — it was loud," said Bradley Rayford, a journalist. He said about 50 protesters were left in a diminishing crowd when the shots were heard.
"You couldn't even see where it was coming from, but you saw the muzzle" flash from up the hill, he said. "The bullets went right past my head."
"We all ducked down" and the police took cover, Rayford said. "I saw a cop on the ground, obviously in pain; they had to drag him from the front lines."
A video captured from a live stream of the events shows the protesters and the police standing idly when shots rang out. Screams and profanities could be heard before the camera operator apparently began running.
Tony Rice, a Ferguson resident and activist at the protest, said about three shots were fired.
"It was the first time I'd heard a bullet whiz and pass my head," Rice said, adding that several officers dropped their riot shields to take cover. "There's a bunch of shields on the ground," he said.
One officer fell to the ground and yelled out, as if he had been hit, and officers surrounded him and carried him inside, Rice said. "My assumption is he did get hit," he said.
Rice said he didn't see who fired the shots. "They were way up the hill" and concealed in the dark, he said.
"It came from behind us," De Mian said.
Protesters had gathered to celebrate Jackson's resignation and to call for Mayor James Knowles III to resign, De Mian said.
"The crowd (had) been dispersing" when the shots were fired, De Mian said.
Afterward, police with rifles were at the scene. Some protesters remained. "It's kind of scary," De Mian said.
Mike Kinman, 46, an episcopal priest, had just arrived at the protest five minutes before the shots were fired.
"It was really pretty mellow at that point," Kinman said of the protest. He too has been an active participant in the demonstrations since August.
Demonstrators were "standing around talking" in the parking lot when four or five shots "in rapid succession" sent protesters and officers ducking for cover, he said.
"A bunch of officers went down to the ground, and there was one that just didn't move," Kinman said.
He said "the shots definitely came up from behind us, up the street. It definitely did not come from the protesters."
DeRay Mckesson, an activist at the scene, told The Times that there were at least four shots, but they were not quite rapid-fire.
___
Times staff writers Ryan Parker and James Queally contributed to this report.
Photo: St. Louis County police in riot gear deploy during protests outside the Ferguson Police Department on March 11, 2015 in Ferguson, Missouri