U.S. Admiral Greenert In China For Top-Level Navy Talks
@AFP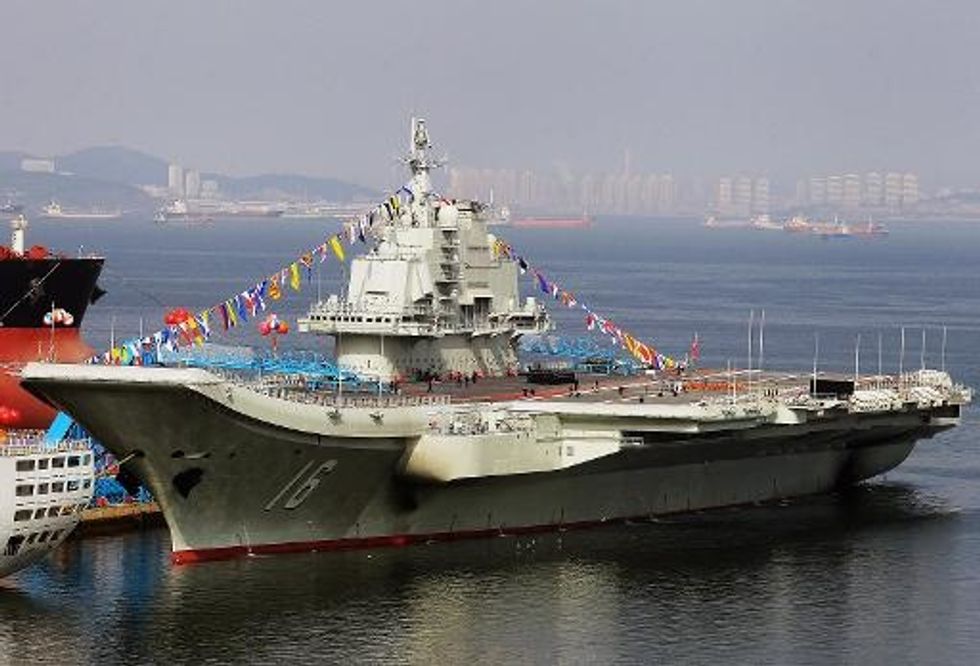 Beijing (AFP) — The chief of the U.S. Navy met his Chinese counterpart on Tuesday for talks aimed at improving cooperation between their fleets amid concerns over regional territorial disputes and potential armed conflict.
Admiral Wu Shengli, commander in chief of China's navy, welcomed Admiral Jonathan Greenert, the U.S. chief of naval operations, with a red carpet ceremony and an honour guard at his headquarters in Beijing.
The two admirals did not speak to reporters but a U.S. navy official said the visit was meant to "look at ways to increase the cooperation between our navies".
It was the two men's "fourth interaction" over approximately the past year, he said, adding: "It obviously improves our understanding of each other also."
Greenert's trip is set to last until Friday and will include a visit to China's sole aircraft carrier, the Liaoning.
The talks come as tensions mount over maritime disputes in the East China Sea between Beijing and Tokyo, as well as between Beijing and Hanoi, Manila, and others in the South China Sea.
The official, who demanded anonymity, said it was "hard to say" if specific instances of regional tensions would come up in the talks.
"Those things exist but the intent of these meetings is to look at ways that we can work better together so we can improve the understanding between our navies," the official said.
"And once we have those understandings maybe we can then solve some of these other complex issues."
Greenert's visit is part of efforts to intensify dialogue between the U.S. and Chinese militaries.
U.S. Army Chief of Staff Ray Odierno visited China in February and said that Beijing and Tokyo must enhance communication to avoid "miscalculations" over the East China Sea.
U.S. President Barack Obama told Chinese President Xi Jinping on in a telephone conversation on Monday that he was determined to constructively manage growing differences between their two nations.
Points of contention include trade, cyber espionage, and U.S. support for security allies Japan and the Philippines, which are involved in maritime territorial disputes with China in the East and South China Seas, respectively.
AFP Photo / Str
Interested in world news? Sign up for our daily email newsletter!