U.S. And Allies Build Case For Syria Military Action
@AFP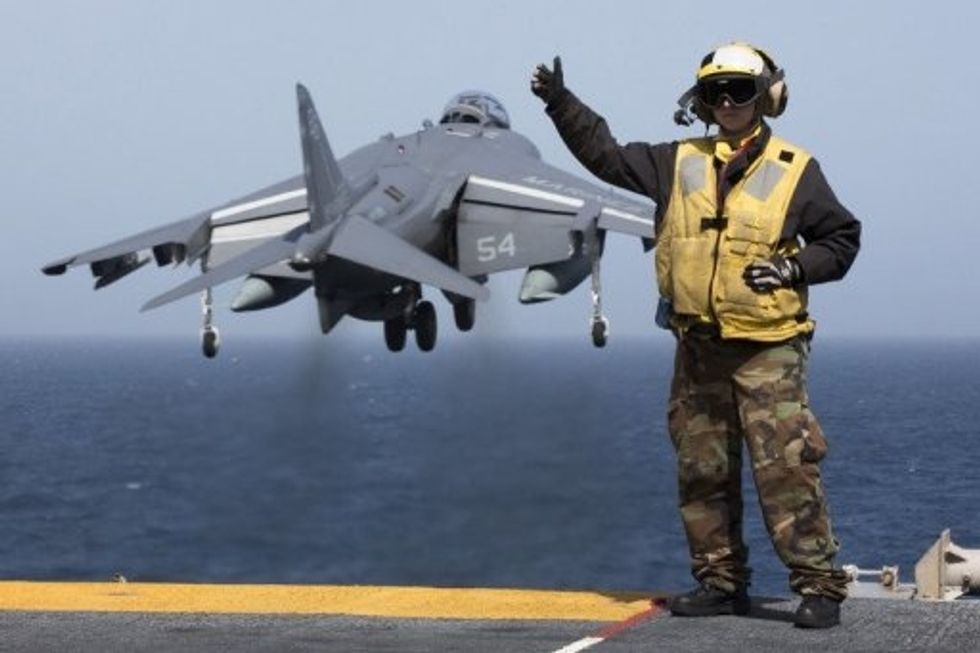 DAMASCUS (AFP) – The United States and its allies built their case Wednesday for likely military action against the regime in war-torn Syria over alleged chemical weapons attacks, despite stern warnings from Russia.
The ground for a military intervention was set out by U.S. Vice President Joe Biden, who for the first time said last week's attack, thought to have killed hundreds, could only have been perpetrated by President Bashar al-Assad's forces.
Britain joined the U.S. in saying regime forces were behind the strikes, and Prime Minister David Cameron said London and its allies had to consider whether targeted military action was required to "deter and degrade the future use of chemical weapons".
But senior officials in Washington told NBC news that possible strikes against targets in Syria could take place as early as Thursday.
As the West inched closer to military intervention, U.N. inspectors in Damascus resumed their mission to investigate a site of the alleged chemical weapons attacks on the outskirts of Damascus.
Moscow, Assad's most powerful ally, again warned a military solution would destabilize the Middle East, and Syria's envoy to the UN blamed rebels in the country for launching the attack to provoke international intervention.
The economic cost also started to be counted, as global stocks dived and world oil prices hit a six-month high.
Biden said the United States was certain Assad's forces were responsible for the deadly gas attacks on August 21.
"There is no doubt who is responsible for this heinous use of chemical weapons in Syria — the Syrian regime," Biden said.
"The president believes and I believe that those who use chemical weapons against defenseless men, women and children should and must be held accountable."
Analysts expect to see cruise missiles launched from U.S. and allied submarines, ships and possibly planes, firing into Syria from outside its waters and airspace.
During a news conference on Tuesday, however, Syria's Foreign Minister Walid Muallem said Damascus would defend itself.
"We have two options: either to surrender, or to defend ourselves with the means at our disposal," he said. "The second choice is the best. We will defend ourselves."
Syria's ambassador to the United Nations also hit back at accusations of responsibility for chemical weapons strikes.
"Many facts tend to prove the innocence of the Syrian government, which has been subject to false accusations," ambassador Bashar al-Jaafari told state media.
Jaafari said such facts also showed that "armed groups have used chemical weapons in order to bring about military intervention and aggression against Syria".
U.S. Defense Secretary Chuck Hagel said the American military was already prepared to act if President Barack Obama gave the order — though White House aides said no final decision had been taken.
"We have moved assets in place to be able to fulfill and comply with whatever option the president wishes to take," Hagel told the BBC. "We are ready to go, like that."
French President Francois Hollande said his country was "ready to punish" those behind the chemical attacks and that he would meet the Syrian opposition's leader on Thursday.
In London, Prime Minister Cameron recalled parliament to discuss the crisis and slammed Syria's use of chemical weapons as "morally indefensible".
Cameron's office said evidence showed Assad's forces had launched a chemical weapons attack on the outskirts of Damascus last week.
"Regime forces were carrying out a military operation to regain that area from the opposition at the time; and there is no evidence that the opposition has the capability to deliver such a chemical weapons attack," it said.
But Russian Foreign Minister Sergei Lavrov warned of the consequences of any possible military actions.
Speaking to UN-Arab League envoy for Syria Lakhdar Brahimi, Lavrov said "a military solution will lead only to a further destabilization of the situation in the country and the region," his ministry said.
UN inspectors based in Syria, meanwhile, left their Damascus hotel on Wednesday to head to a site of one of the alleged chemical weapons attacks outside the capital.
The team of arms experts boarded a convoy of six vehicles in Damascus, the photographer said. It was unclear which site they were intending to visit.
This came a day after the experts suspended their mission for one day over safety concerns.
A military campaign in Syria is expected to be limited in scope, likely to last only several days and to target military sites but not the chemical weapons stocks themselves, sources in Washington said.
An official in Syria's main opposition National Coalition said the group expects a Western military intervention and it has been consulted over targets, which included airports, military bases and arms depots.
"It's a question of days and not weeks," said Ahmad Ramadan, adding that "there have been meetings between the Coalition, the (rebel) Free Syrian Army and allied countries."