U.S. Believes Pro-Russia Rebels Likely Shot Down Jet
@AFP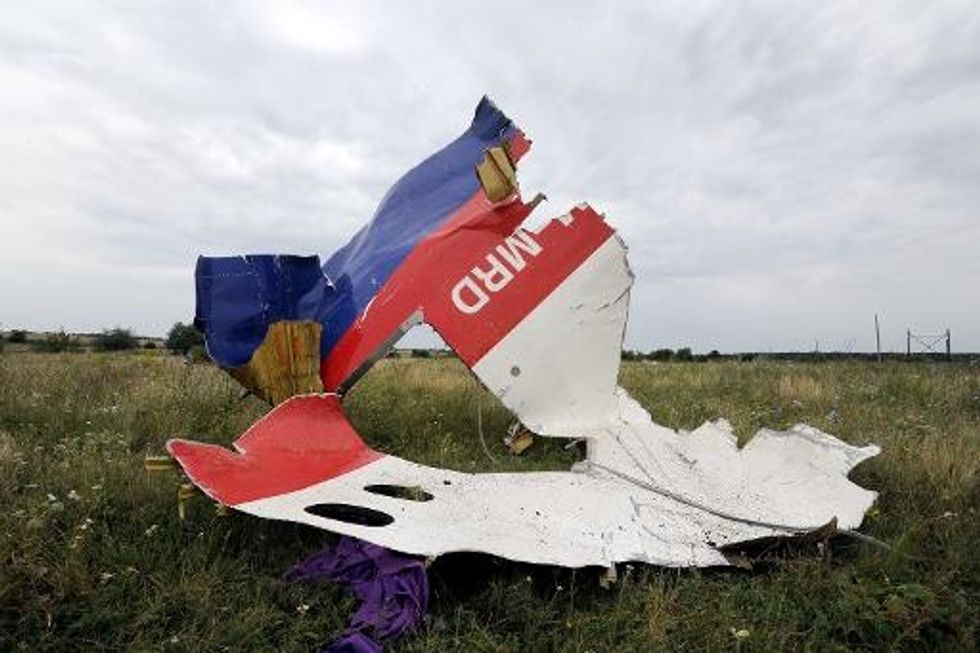 Grabove (Ukraine) (AFP) – The United States on Friday built a case that pro-Moscow separatists downed a Malaysian airliner in Ukraine with a surface-to-air missile, killing all 298 people on board — with the possible technical assistance of Russians.
The first international monitors struggled to gain adequate access at the gruesome crash site in rebel-held eastern Ukraine, which is strewn with bodies and wreckage.
Shock and grief at the tragedy turned to fury and vows that justice would be done, as heart-rending stories began to emerge of the men, women and children aboard the doomed Boeing 777.
U.S. President Barack Obama presented the latest conclusions of U.S. intelligence analysts about the "unspeakable" carnage.
He cranked up political pressure on President Vladimir Putin to take action, and on Europe to do more to punish his escapades in Ukraine.
"Evidence indicates that the plane was shot down by a surface-to-air missile that was launched from an area that is controlled by Russian-backed separatists inside of Ukraine," Obama said.
Obama said he did not yet want to draw definitive conclusions about what exactly happened to Flight MH-17, but said only a sophisticated missile could destroy a passenger jet flying at over 30,000 feet.
He said previous attacks by separatists on government aircraft in Ukraine suggested the rebels had benefited from Russian technical expertise.
"A group of separatists can't shoot down military transport planes, or they claim, shoot down fighter jets without sophisticated equipment and sophisticated training, and that is coming from Russia," Obama said.
Samantha Power, the U.S. ambassador to the UN, said the complexity of the SA-11 missile Washington believes was used in the attack would likely preclude it being solely operated by separatist forces.
"Thus we cannot rule out technical assistance from Russian personnel in operating the systems," Power said.
Pentagon spokesman Rear Admiral John Kirby said: "It strains credulity that (the missile) can be used by separatists without some measure of Russian support and assistance."
A group of international observers from the Organisation for Security and Cooperation in Europe were able to gain partial access to one of the crash sites but were blocked from going further by armed rebels "for their own" safety.
The OSCE team — which was already on the ground monitoring the fighting in Ukraine — said they were not there to investigate the causes of the crash but to make sure the perimeters of the site were secured and to oversee the handling of the victims' remains.
Swiss OSCE representative Thomas Greminger said 17 monitors had very limited access to the site for 75 minutes, but had withdrawn to the city of Donetsk for security reasons.
"We call on all those who have influence on the actors on the ground to make sure that this access improves," Greminger said.
The world was reeling from the shock loss of hundreds of civilians — from AIDS researchers en route to a conference in Australia, to Dutch families off on holiday, to Muslims headed home to celebrate Eid with family.
In the Netherlands, tears welled in the eyes of Sander Essers, who lost several relatives in the crash, as he told AFP he had spoken to his brother just 20 minutes before he boarded.
"I can't tell you what he told me."
Dutch Prime Minister Mark Rutte, bristling with anger, promised that those responsible for shooting down the jet would not get away with it.
"Should it emerge that it was an attack, I will personally see to it that the perpetrators are brought to justice," Rutte said.
At the other end of the plane's uncompleted flight path, Prime Minister Najib Razak, embroiled in a Malaysia Airlines disaster for the second time in four months, had a similar warning.
"If evidence shows the plane was shot down, then we demand the responsible party to be brought to face justice," Najib said in a televised address.
Local authorities said 182 bodies had been recovered from the crash site but an AFP crew at the scene said that dozens of severely mutilated corpses remained scattered about.
One devastated relative told how her sister Ninik Yuriani, 56 — of Indonesian descent but a Dutch national — was on her way to Jakarta to celebrate the Muslim festival Eid.
"My family is now gathered at my sister's house in Jakarta. We've decided to keep this from my mother. She's so old and weak, I don't think she could take it," Enny Nurahni, 54, told AFP.
Malaysia Airlines said 283 passengers and 15 crew were aboard the plane — including, at last count, 189 Dutch nationals, 44 Malaysians, 27 Australians and 12 Indonesians.
Obama revealed that one dual U.S.-Dutch national was also killed.
Diplomatic maneuvering quickened Friday — and with it pressure on Moscow, with Obama blaming Russia for creating the conditions in which the jet was shot down.
The U.S. leader, who stiffened sanctions on Russia on Wednesday, also prodded Europe to do more to restrain Putin, who he said had the power to rein in separatists but refused to use it.
"I think that this certainly will be a wake-up call for Europe and the world that there are consequences to an escalation of the conflict in eastern Ukraine," Obama said.
The UN Security Council unanimously demanded a "full, thorough and independent investigation" at the start of a meeting on the Ukraine crisis that saw fraught exchanges between Western countries and Russia.
Local rescue workers told AFP that at least one of the plane's black boxes had been found, but the whereabouts of the vital data was unknown.
Comments attributed to a pro-Russian rebel chief suggested his men may have downed the plane by mistake, believing it to be a Ukrainian army transport aircraft.
Ukraine released recordings of what they said was an intercepted call between an insurgent commander and a Russian intelligence officer as they realized they had shot down a passenger jet.
Putin said Ukraine bore responsibility for the crash but stated he was in contact with Ukrainian leader Petro Poroshenko and Kiev to achieve "long-term peace".
Separatist leaders ruled out a truce to allow the plane probe to go ahead and fierce clashes continued Friday, with local authorities saying 20 civilians were killed in the rebel-held city of Lugansk, some 100 kilometres to the north-east of the crash site.
AFP Photo
This story has been updated