U.S. Chamber Election Spending At Odds With Immigration Push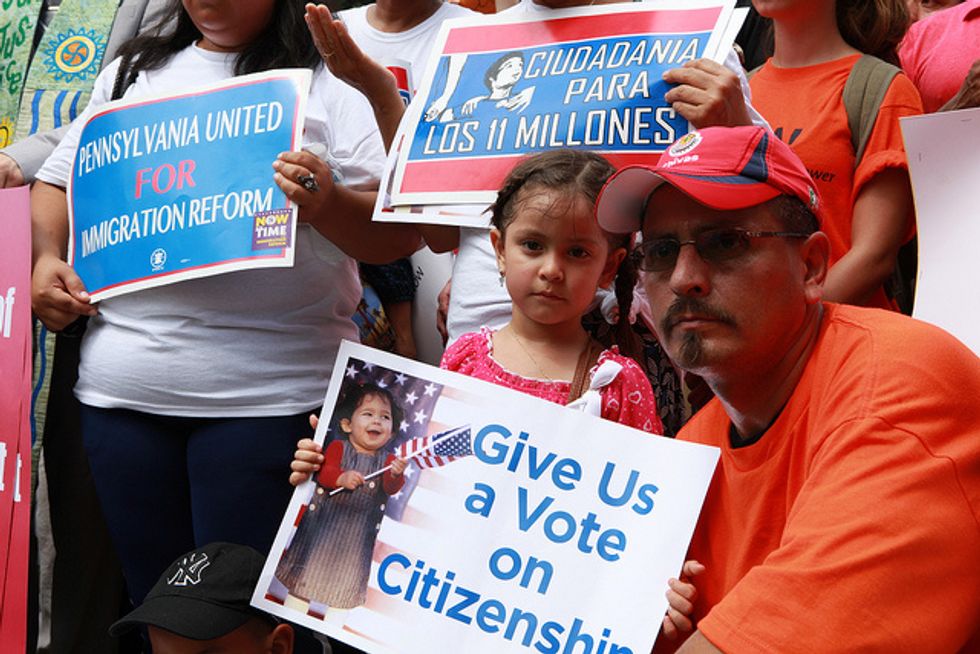 By Curtis Tate, McClatchy Washington Bureau (MCT)
WASHINGTON — The U.S. Chamber of Commerce publicly identifies immigration as one of its top issues, and has pledged to support candidates who favor an overhaul that includes an earned path to citizenship for those here illegally.
However, the business group's pattern of endorsements and outside spending in this year's elections suggests that immigration may not be as important as advertised.
Immigration is a top concern for California's agriculture and technology sectors, as well as its university system. These industries rely on a range of high- and low-skilled workers from foreign countries. Their advocacy groups visit Washington frequently to lobby members of Congress on the issue.
The chamber's spending numbers show an effort focused on increasing the Republican majority in the House of Representatives and giving Republicans a majority in the Senate. In fact, the chamber has spent millions to defeat lawmakers who support its position on immigration, though the candidates may disagree with the chamber on other business-related issues.
"There are some issues that the business community would never, ever dream of supporting a candidate with whom they disagree," said Dan Schnur, executive director of the Jesse M. Unruh Institute of Politics at the University of Southern California. "Immigration isn't one of them."
California business groups declined to criticize the U.S. chamber on the record. But the chamber is pumping $28 million into races nationwide this year, according to federal data compiled by the Center for Responsive Politics. The funds are supporting few candidates who favor an immigration solution that many California business groups are pushing for.
On its website, the U.S. chamber "supports immigration reform because America cannot compete and win in a global economy without attracting and retaining the world's most talented and hardest workers."
Earlier this year, chamber President and CEO Tom Donohue said the group would "pull out all the stops" to get an immigration bill through Congress.
"We're determined to make 2014 the year that immigration reform is finally enacted," he said in January at the group's State of American Business address in Washington.
But weeks away from the November election, that goal is no closer than it was in January.
Blair Latoff Holmes, a chamber spokeswoman, identified taxes, regulation and trade as other issues of importance to the group.
"We are not a single-issue organization," she said.
Robert Weissman, president of Public Citizen, a left-leaning government watchdog group that tracks the chamber's activities, said the business group's immigration views are closer to the Democratic Party's. Yet the chamber overwhelmingly backs Republicans because the party is friendlier on other issues, including taxes, regulation and the environment, he said.
"Their concern with immigration reform is very dramatically outweighed by the rest of the corporate agenda they're pushing," he said.
In California's competitive 7th Congressional District, the chamber has spent a combined $600,000 this year to unseat Rep. Ami Bera, a freshman Democrat who supports the kind of immigration legislation the chamber favors. Bera's opponent, former Republican Rep. Doug Ose, has said that he opposes an earned path to citizenship.
The country's leading political prognosticators have rated the race as a "toss-up."
In California's nearby 4th District, Rep. Tom McClintock, a Republican who identifies with the Tea Party, opposes the chamber's favored approach to immigration policy. He also voted for last year's government shutdown and voted against the farm bill this year.
But the group generally supports any lawmaker who scores over 70 on its report card, and McClintock has a lifetime score of 78. The chamber endorsed him in March.
"Your record of support on pro-business issues earned this endorsement," Donohue wrote in a letter to McClintock.
McClintock faces Art Moore, a moderate Republican, in November as the result of California's unique top-two primary system.
The chamber has endorsed a handful of Democrats this year, including Rep. Scott Peters of San Diego. It has also thrown its weight behind Rep. David Valadao, one of only a handful of Republicans who support an immigration bill with a path to citizenship.
Valadao, a freshman whose heavily agricultural Central Valley district is also 70 percent Latino, has received $550,000 in chamber spending to fend off a challenge from Amanda Renteria, a former adviser to Sen. Dianne Feinstein (D-CA).
Holmes, the chamber spokeswoman, said maintaining a pro-business majority in the House and making gains in the Senate was the group's focus.
"There are several crucial House races in California where there is a clear contrast between candidates who couldn't be further apart on job-creating issues," she said. "The same is true in the Senate, where we have engaged in more than a dozen races."
The chamber scores members of Congress on how they vote on its top policy priorities. It scored the U.S. Senate on the May 2013 vote on an immigration bill that included a path to citizenship, which passed 68-32. All 52 Democrats voted aye, along with 14 Republicans and two independents.
But in the 2012 and 2014 elections, the chamber has spent heavily, though not always successfully, to defeat 17 of those erstwhile Senate allies on immigration.
According to federal data compiled by the Center for Responsive Politics, the group has also spent close to $7 million this year to defeat Democrats, including four who voted for the Senate immigration bill, compared with the $1 million it spent to defeat tea party candidates in Republican primaries.
"On immigration," said Frank Sharry, the founder and executive director of America's Voice, an immigration advocacy group that favors a path to citizenship, "it is so clear that the business wing of the Republican party has gotten their ass kicked by the Tea Party wing."
Sens. Mark Begich of Alaska, Kay Hagan of North Carolina, Jeanne Shaheen of New Hampshire and Mark Udall of Colorado, all Democrats who voted for the Senate bill, have been targeted for defeat by the chamber.
In another three open-seat Senate races in Iowa, Montana and West Virginia, the chamber's spending favors a candidate whose immigration views do not match its own.
Schnur, a Republican who worked for Sen. John McCain of Arizona and former Gov. Pete Wilson of California, said immigration foes may dig in even deeper if Republicans make gains in Congress. Then, he said, pro-immigration business groups may have to become more aggressively involved in recruiting and funding like-minded candidates.
"If you're a congressional candidate, and the message you hear is 'we want you to support immigration reform but we'll give you money if you don't,' " he said, "that might not have a tremendous motivating effect."
Photo: Anuska Sampedro via Flickr