Some U.S. House Democrats Seek Postponement Of Netanyahu Speech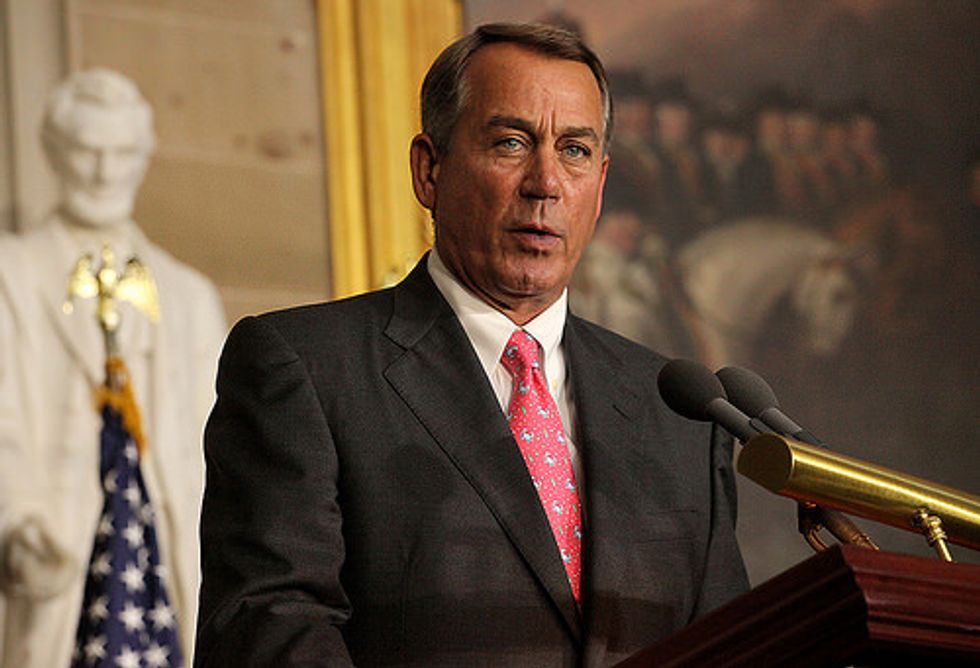 By Billy House, Bloomberg News (TNS)
WASHINGTON — Some U.S. House Democrats are circulating a petition asking Speaker John Boehner to postpone a planned March 3 speech by Israeli Prime Minister Benjamin Netanyahu to a joint meeting of Congress.
"As members of Congress who support Israel, we share concern that it appears that you are using a foreign leader as a political tool against the president," states the letter being circulated among lawmakers by Reps. Keith Ellison, Steve Cohen and Maxine Waters.
The three started sending the petition to fellow lawmakers last week, said Mike Casca, a spokesman for Ellison of Minnesota. The names of all lawmakers signing it won't be released until later this week, he said.
While the petition asks Boehner to delay the speech, it stops short of declaring that members signing won't attend.
Boehner, an Ohio Republican, announced Jan. 21 — the day after President Barack Obama's State of the Union address — that he had invited Netanyahu to address Congress. He didn't consult the Obama administration.
"I do not believe I am poking anyone in the eye," Boehner told reporters at the time. His spokesman, Michael Steel, said Monday that the speaker isn't considering a postponement of the speech.
Obama press secretary Josh Earnest has said typical practice is for one head of state to reach out to another. Obama on Monday said the U.S. doesn't meet with foreign leaders "right before" an election.
The lawmakers' petition asks Boehner to postpone the invitation until after Israel's March 17 elections and the deadline for diplomatic negotiations with Iran. March 24 is the deadline for the framework of an agreement.
Already deciding to skip the address is Vice President Joe Biden, whose office said Friday he will be traveling internationally.
Some lawmakers aren't planning to go. They include Rep. James Clyburn of South Carolina, the assistant House Democratic leader and the highest-ranking black member of congressional leadership, according to a senior House Democratic leadership aide. The aide asked not to be identified because the decision hadn't been made public.
In addition, Democratic Reps. Earl Blumenauer of Oregon, John Lewis of Georgia and G.K. Butterfield of North Carolina have said they plan to skip the event. House Minority Leader Nancy Pelosi of California has said she's deciding whether to attend.
Sen. Bernie Sanders, a Vermont independent who caucuses with Democrats, in a speech Monday at the Brookings Institution said he won't attend the Netanyahu event.
In calling for the speech be postponed, the petition from Ellison, Cohen of Tennessee and Waters of California raises some of the same concerns as the administration.
The petition said Boehner's invitation "appears to be an attempt to promote new sanctions legislation against Iran that could undermine" efforts to reach a nuclear deal with that country. Obama has said the negotiations are the best chance to keep the enemy of Israel from acquiring nuclear weapons.
"At the State of the Union, President Obama made it clear that he will veto new Iran sanctions legislation," said the petition. "Aside from being improper, this places Israel, a close and valued ally, in the middle of a policy debate between Congress and the White House."
A statement on Boehner's website Monday said, "It's becoming more and more clear that the concessions" Obama is offering to Iran "would undermine American security and the security of our allies."
Netanyahu is scheduled to deliver a separate speech to the American Israeli Public Affairs Committee's annual conference in Washington during his visit.
Photo: Talk Radio News Service via Flickr