U.S. Recognizes Michigan Same-Sex Marriages, Holder Says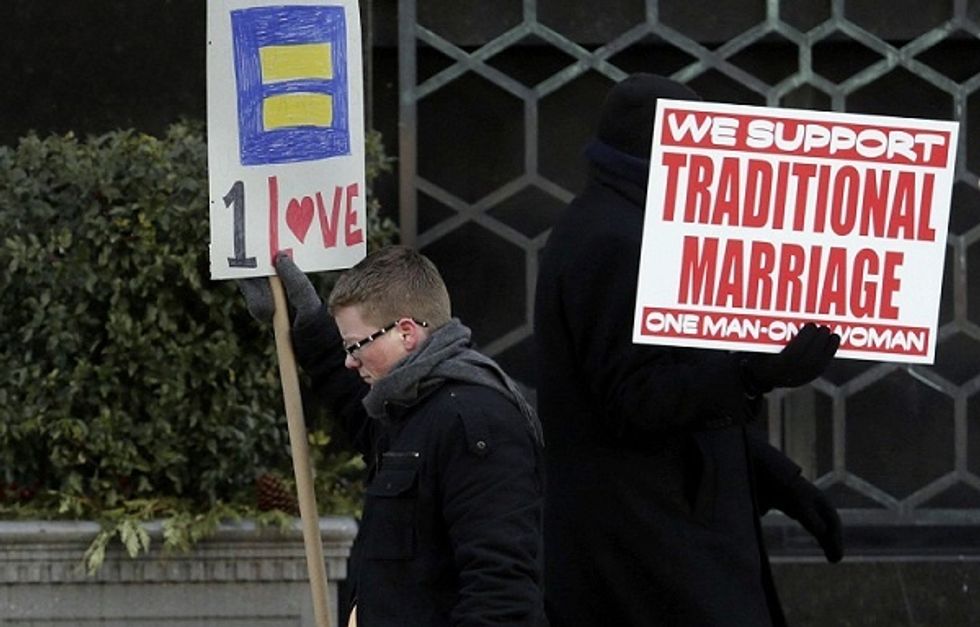 By Todd Spangler and Kathleen Gray, Detroit Free Press
WASHINGTON — U.S. Attorney General Eric Holder said Friday that the federal government will recognize the marriages of some 300 same-sex couples in Michigan performed Saturday before a federal appeals court put a stay on such ceremonies in the state.
In a statement Friday morning, Holder said that, despite the stay placed on the ceremonies by the U.S. 6th Circuit Court of Appeals, the couples married in the hours before the stay "will not be asked to wait for further resolution in the courts."
"These families will be eligible for all relevant federal benefits on the same terms as other same-sex marriages," Holder said, adding that Michigan Gov. Rick Snyder "has made clear that the marriages that took place on Saturday were lawful and valid when entered into."
It means that, at least for now, those couples married Saturday will have the same standing regarding federal income and estate tax benefits, as well as any other federal rights, afforded other married couples. A court could eventually affirm or reject that standing, however.
"For the purpose of federal law, those marriages would be valid," said Carl Tobias, a professor at the University of Richmond School of Law. "State recognition is still on hold."
Holder noted that Snyder has said the state does not plan to extend state rights and benefits to those couples, however, until the legalities of same-sex marriages in Michigan are sorted out in the courts.
Democratic members of Michigan's congressional delegation had called on Holder to recognize the marriages performed in four counties — Muskegon, Ingham, Oakland and Washtenaw — where clerks issued marriage licenses and performed nuptial ceremonies.
They did so after U.S. District Judge Bernard Friedman ruled last Friday that Michigan's ban on same-sex marriages is unconstitutional, opening the door to the ceremonies Saturday. State Attorney General Bill Schuette appealed that decision, and by Saturday afternoon, a panel from the U.S. 6th Circuit Court of Appeals stayed the ruling.
Ingham County Clerk Barb Byrum, who issued 57 marriage licenses on Saturday, also sent a letter to Holder asking for the federal recognition. Byrum said Friday she was relieved.
"I'm so thankful to U.S. Attorney General Holder for the recognition for all of these people married on Saturday," she said.
The stay was extended on Tuesday. The case could end up before the U.S. Supreme Court.
Holder's decision mirrors one that he took on same-sex marriages in Utah, where 1,000 same-sex couples were married during a 17-day period before the U.S. Supreme Court issued a stay on a lower court ruling in that state.
"Today's recognition of these marriages by the federal government is welcome news. These legally married and loving couples shouldn't have to wait any longer for the recognition and benefits they are entitled to under the U.S. Constitution," said U.S. Rep. Dan Kildee, D-Mich., who was one of those asking Holder to recognize the Michigan marriages.
"It's my hope that Gov. Rick Snyder and Attorney General Bill Schuette will also drop their appeals in this matter and recognize the inherent rights of these Michiganders to love and marry one another," he said.
Photo: Mandi Wright/Detroit Free Press/MCT