U.S. Shoppers Go In For The Kill On 'Black Friday'
@AFP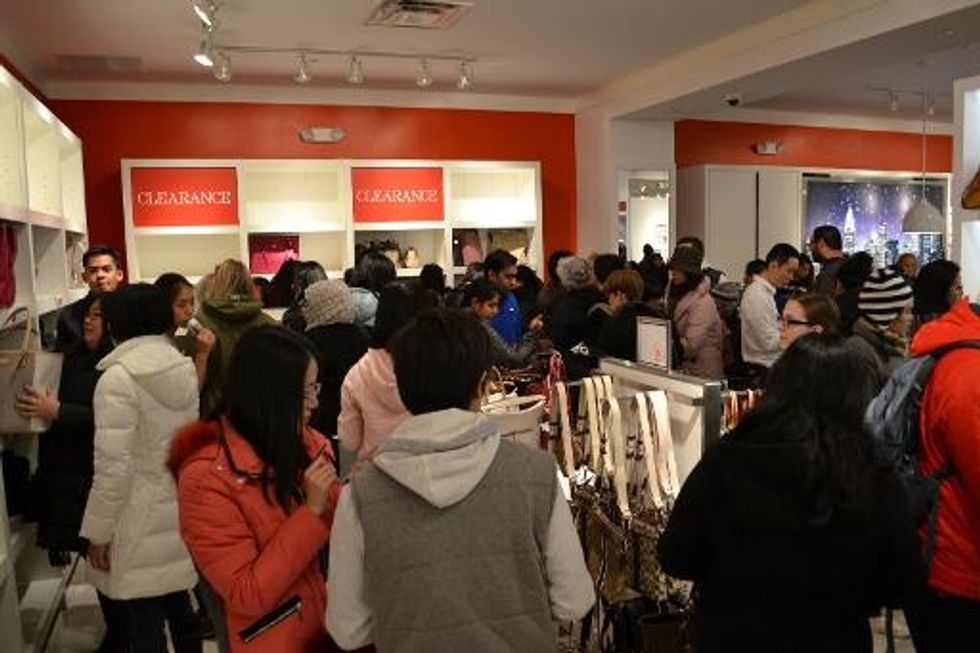 Leesburg (United States) (AFP) – The traditionalists don't like it, but the "Black Friday" shopping frenzy is as much a part of the Thanksgiving holiday in the United States as turkey and pumpkin pie.
And it's only Thursday.
Americans will spend tens of billions of dollars over the four-day holiday and there was certainly no messing about at Leesburg Corner, a Virginia outlet center only a short drive from the U.S. capital Washington.
There was hardly time for the roast turkey and stuffing to settle when most shops opened there on Thursday, Thanksgiving Day, for a 28-hour bonanza of breathless consumerism that was to stretch overnight and drag on nonstop until 10:00 pm Friday.
After a tentative start, many shops were packed by midnight: nearly 100 people queued to get into Kate Spade New York as the clock ticked into Black Friday and the cold night air dropped a degree or two further.
Meanwhile they had been waiting at the door of Coach before it even opened. Likewise at J. Crew and Sunglass Hut.
Hide and Miho, a couple originally from Tokyo but living locally, snapped up two winter coats within the first hour from DKNY.
"We got 50 percent off, but with another 20 percent off on top of that. The coats are one for each of us because here is pretty cold," said Hide, clutching three bags in one hand.
The long Thanksgiving weekend is the kickoff to the U.S. holiday shopping season, and Black Friday has long been considered the critical day that turns retailers' books from red to black.
But there has been criticism of those retailers that throw their doors open on Thanksgiving instead of actually waiting for Black Friday.
Don't the store workers deserve a day off to spend with their families too?
"They don't have to work. I guess they do it for the money. They are not being forced here," said Henri Brown, 17, who along with his 15-year-old brother Will was among the first in.
"And they might enjoy the rush of people," added Henri, who forked out over $130 in the first hour and proclaimed himself happy with his early purchases: two jackets — a dark blue one he was already wearing — sunglasses and trousers.
Vera Luo, a 19-year-old from China studying in Washington, came armed with a suitcase she was ready to fill to bursting with new acquisitions that she said would be more expensive in China.
She and two friends paid $60 for a taxi from the U.S. capital and they were in it for the long haul.
"I have no idea where my friends are or when I will find them," said the economics student, clasping a directory of the more than 100 stores in the complex.
"So far I have only bought lens solution, but I have a budget of $500 and I want to buy a bag from Coach.
"I don't know how long we will be here. Maybe all night."
Mamadou Niass, 48, a cyber-security engineer originally from Senegal, declared himself something of an old hand in the art of the post-Thanksgiving splurge.
"It's not the cheapest time in the year. After Christmas is cheaper, but I came today because there are more options — nothing is left after Christmas," he said sagely.
He too was through the doors early but was taking a more tactical approach, refusing to jump right into the spending bonanza.
"I am well-prepared and have a list of four brands I want — Columbia, Tommy Hilfiger, Calvin Klein and Ralph Lauren — and I will get," he said firmly.
Jeanette, a local who gave her age as "104," was another refusing to get carried away by the discounts of more than 50 percent.
Taking a breather on a bench while her daughter and granddaughter did the running about, she had scouted a Michael Kors purse online before moving in for the kill for just over $100.
"I did not want to pay the high price before but it was on a pretty big discount," she said with a glint in her eye, rubbing her cheeks to stave off the cold.
AFP Photo/Peter Stebbings