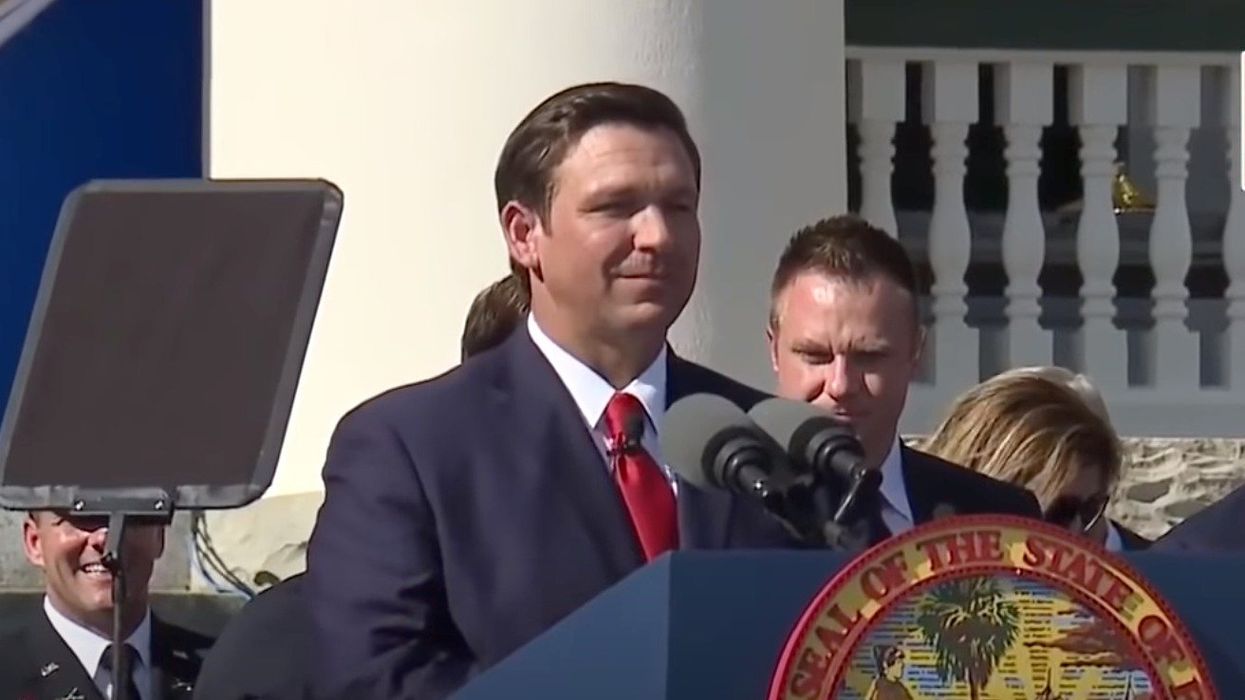 Fox News has blitzed its airwaves with fawning coverage of potential 2024 presidential candidate Florida Governor Ron DeSantis following the release of his new book, The Courage to be Free, which The New York Timesdescribed as "culture war Mad Libs." The governor has appeared on the network at least five times this week, with Fox promoting DeSantis as "the man everyone is talking about" and a strong presidential candidate.
Fox has a history of running thinly veiled promos for its favored political candidates. Last fall, for instance, Fox host Sean Hannity hosted what amounted to a TV campaign rally to promote the Senate candidacy of former football star-turned-Republican politician Herschel Walker. According to a recent court filing in Dominion Voting Systems' lawsuit against the network, Fox Corp. Chairman Rupert Murdoch directed Fox News CEO Suzanne Scott to give "exposure to Republicans in close Senate races" in the leadup to the 2020 elections.
DeSantis' ties to Fox run deep. Since he became governor in 2019, the network has worked overtime to promote DeSantis as the future of the GOP. Fox personalities and anchors have appeared alongside the governor at GOP fundraisers and events, including Fox host Laura Ingraham, who spoke at DeSantis' event on February 26. The network previously coordinated with DeSantis to promote his opposition to COVID-19 restrictions and vaccine mandates during the pandemic, and it has exclusively covered DeSantis conducting official government business, such as signing bills live on the network. (DeSantis also recently granted an interview to The Times of London, another Murdoch property.)
Former President Donald Trump appears to have noticed the network cozying up to DeSantis, repeatedly posting criticism of Fox and DeSantis on his social media platform Truth Social.
Here's how the network spent the week of February 27 promoting DeSantis' book, praising his policies, and hyping his potential 2024 presidential campaign.
Fox & Friends Held Campaign-Style Event In Florida Diner
On February 28, Fox & Friends co-host Brian Kilmeade broadcast from Ponte Vedra Beach, Florida from a diner with elderly white people, who Kilmeade billed as politically diverse — "not so much Republican or Democrat. They're very pro-American" — even though every person he spoke with during the three-hour broadcast expressed their support for Trump or DeSantis.
Throughout the broadcast, Fox & Friends co-hosts repeatedly plugged DeSantis' new book, touted a bill the governor signed revoking Disney's self-governing status, and fawned over the governor during an interview. The episode also included a segment exploring the origins of the governor's reelection anthem "Sweet Florida" — which Fox & Friends also promoted during DeSantis' most recent gubernatorial campaign.
Upon Kilmeade's arrival at the diner at 6 a.m., Fox & Friends co-host Lawrence Jones asked Kilmeade, "What's the topic of the town?" in Ponte Vedra Beach. Kilmeade responded by lifting a copy of DeSantis' memoir, saying, "They're talking about this. It's out today. They love their governor here. … They don't want to lose their governor and there's a sense here that he might be running for president."
At one point during the broadcast, Kilmeade polled diner goers about whom they might support in the 2024 GOP primary. When nearly all of them answered "Trump," Kilmeade scrambled over to a woman wearing a DeSantis T-shirt who equivocated and said that she would be happy with "Trump or DeSantis, I'm either or."
During a segment about DeSantis' political future, Kilmeade offered viewers a list of the governor's accomplishments, praising DeSantis for "taking on" an assortment of supposed liberal boogeymen, including the "Floyd riots," teachers' unions, critical race theory, and African American history courses. Kilmeade then argued that DeSantis' attacks on these things were genuine. "These are all things that are not manufactured," he said.
During an interview with DeSantis, Fox & Friends co-host Ainsley Earhardt teed up a softball question for DeSantis about what revoking Disney's self-governing privileges would mean for "the American people" and asked, "What does this mean for the residents of Florida?" Earhardt then introduced a thinly-veiled presidential campaign ad — paid for by a pro-Desantis Super PAC — that claims "Florida is proof positive that We the People are not destined for failure."
After asking the governor about his political ambitions, co-host Lawrence Jones, holding a copy of DeSantis' book, asked him, "You make the case here how to be free. You provide the model to be free. I don't think you're the type of guy that would give this book to someone for them then to run the country. So what goes into the calculation of the decision to run for president? Because you provided a model for the people."
Kilmeade asked conservative Florida radio host Mark Kaye about DeSantis' move to strip Disney of its special tax and zoning privileges, to which Kaye responded, "There's no bad move for DeSantis, he's arguably the most popular governor this state's ever had, probably any state, and the people in the state of Florida are kind of fed up with wokeness."
DeSantis Appeared On Fox's Most Popular Prime-time Shows
On February 27, DeSantis appeared on Tucker Carlson Tonight, where host Tucker Carlson praised DeSantis' efforts to remove Disney's self-governance privileges. (An on-screen graphic included a smiling DeSantis superimposed on a postcard above the script "Welcome to Ron's Magic Kingdom.")
On February 28, Jesse Watters defended DeSantis against criticism from so-called "race hustlers" — specifically Al Sharpton — whom he said were using DeSantis' move to block an advanced placement African American history course in public schools to raise money. During an interview with Watters, DeSantis said, "When Al Sharpton comes down to Florida to grift off me, that's a badge of honor, so I wear that with pride. That must mean we're over the target." After pivoting to DeSantis' book and asking about a potential presidential bid, Watters signed off, saying of the book, "I'm getting through it and I'm liking it."

On March 1, DeSantis appeared on The Ingraham Angle. Host Laura Ingraham, who recently appeared at a fundraising event for the governor, introduced DeSantis as "the man everyone's talking about." She praised him for transforming Florida, historically a swing state, into "a reliable Republican stronghold" and credited his "presidential buzz" to DeSantis' ample "success." Ingraham also offered DeSantis an opportunity to parry criticism from Trump about a forthcoming appearance at the conservative Club for Growth, an organization she disparaged as "very pro-China trade" and "very liberal on issues like immigration." DeSantis used the opportunity to criticize China and tout his administration's aggressive anti-immigration policies.

During an interview on America's News, one of Fox's so-called "straight news" programs, co-host Dana Perino told DeSantis, "You have a lot of results," and then asked him if "somebody like you as governor could then maybe run and take that blueprint and make Florida's model resonate across the United States?" The question closely echoed the subtitle of DeSantis' book — "Florida's blueprint for America's revival."

In response to a question from Fox Business host Elizabeth MacDonald about The New York Times "slamming" DeSantis' book, The Hill columnist Kristin Tate defended DeSantis, saying, "The best way to predict who is going to be a superstar in the GOP is just to look at where the media is aiming its venom. And right now, the coastal pundit class, including The New York Times, is busying itself trying to take down Ron DeSantis." Tate went on to praise the governor for "protecting kids in his state from sexual indoctrination" and fighting "woke Disney."

On February 28, Fox anchor Neil Cavuto played a clip of Jeb Bush praising DeSantis on Brian Kilmeade's Fox Nation show, apologizing to his audience for the hagiographic music used in the background of the clip. "That was Brian Kilmeade's interview for a Fox Nation special on Governor DeSantis. Hence the music. We don't do this for everybody, but it's part of the package there," he said.