Uber And Deregulated Hypercapitalism Increasingly Leave Americans Unprotected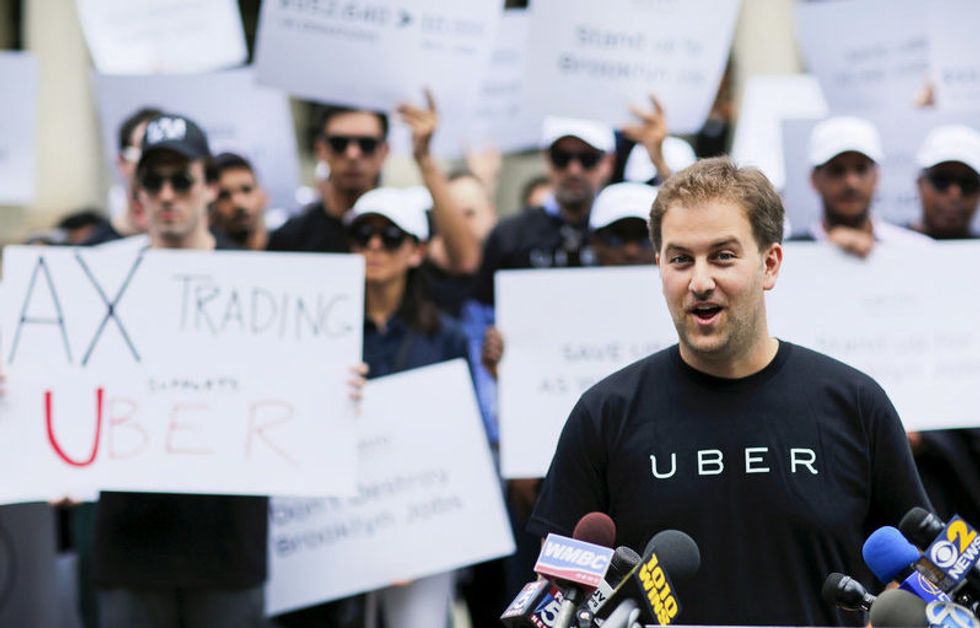 Published with permission from Alternet.
Last week in San Diego, Calif., an Uber driver was charged with 20 counts of sexual assault-related charges stretching back several years, only months after he allegedly raped an intoxicated young woman who sought a ride home. (Uber immediately fired the driver after that incident last winter.) The attack, which was rare but not unprecedented, prompted Uber's competition, the traditional taxi industry, to demand the Golden State require ride-share drivers undergo police-conducted fingerprinting and criminal background checks—which Uber has fervently opposed.
"Driving for Uber provides sexual predators with a paid opportunity to locate and transport intoxicated victims," said Dave Sutton, a spokesman for Who's Driving You? a taxi industry group that has complained ride-share drivers don't operate under the same government-administered accountability rules as they do. "Police-conducted fingerprint background checks could deter such predators. The CPUC (California Public Utility Commission) should urgently take up fingerprinting Uber and Lyft drivers to protect Californians," Sutton said.
While the CPUC said it will look at that in June, there is more to this sordid news and ongoing political fight than meets the eye. The odds are not just long that state regulators will interfere with a high-tech company that says it's already self-policing its drivers, and paints itself to lawmakers as a vanguard of the future. The embrace of rapidly growing companies like Uber is the harbinger of a deeper and more disturbing trend—the reality that Americans are increasingly unprotected as individuals against the growing power of corporate giants.
State government, even in states like California where Democrats are in the majority, are not insisting that seemingly new industries—such as the ride-share industry—follow consumer protections that have existed for decades. There is a reason for this. In 2015 in California, Uber spent more money lobbying lawmakers to avoid state regulation than tech giants Apple and Facebook, according to Governing, a magazine for policymakers.
Uber's lobbyists, led by President Obama's 2008 campaign manager, David Plouffe, opposed legislation that would mandate drivers get special licenses, are treated as employees and not contractors, have more insurance, and undergo drug testing and background checks. Many in the Democrat-run statehouse consider Plouffe a celebrity, posed for selfies with him, and defeated many of the public safety hoops that long ago were required of traditional taxis, Governingreported.
When it came to screening drivers, Uber said it would use a private firm, not police and criminal record databases, as it explained on its website, because government databases are often incomplete and there's been too much racial profiling and race-based convictions in the criminal justice system.
"In particular, communities of color are disproportionately impacted because they are arrested at a higher rate," Uber explained, as it defended its use of private screening firms and rejected use of police records. "Across the U.S., at least 70 police departments arrest African Americans at ten times the rate of Caucasians."
All of what Uber cites is true, but it's not the whole picture. And Uber's touted precautions have not prevented some predatory drivers from scouting for targets and assaulting women. That's what happened in Cincinnati, Ohio, this past January, where it was covered in the nightly news.
Needless to say, Sutton's group wants to level the playing field with competitors like Uber and has compiled and cataloged dozens of incidents involving ride-share drivers where people have been killed, robbed, assaulted, kidnapped or raped. Uber, in response, defends its policies and has a record of firing drivers once an alleged infraction is reported.
"Accidents and incidents will always happen. And when it comes to screening, every system has its flaws," Uber's safety webpage said. "That's why we continue to invest in new technologies that help keep riders and drivers safe before, during, and after every ride."
The bottom line is corporations like Uber, that wrap themselves in the flag of tech innovation, are eroding the public's ability to protect itself. That's anything but a new approach; it is rolling back the clock to a more exploitive economic era that took decades of political action to reel in.
Uber is just one example. But as last week's arrest and charging of a former driver with a litany of sex-related crimes shows, companies that are presenting themselves as being in the vanguard of a new economy are leaving Americans unprotected from their hypercapitalism. The political system keeps tilting the balance toward corporate prerogatives and away from individuals. Is it any wonder that 2016's electorate is angry, volatile and feeling victimized?
Steven Rosenfeld covers national political issues for AlterNet, including America's retirement crisis, democracy and voting rights, and campaigns and elections. He is the author of "Count My Vote: A Citizen's Guide to Voting" (AlterNet Books, 2008).
Photo: Josh Mohrer, Uber's general manager for New York, speaks to the media while Uber riders and driver-partners take part in a rally on steps of the New York City Hall in New York June 30, 2015. REUTERS/Eduardo Munoz/File Photo