UN, U.S. Press Gaza Truce Efforts As Death Toll Soars
@AFP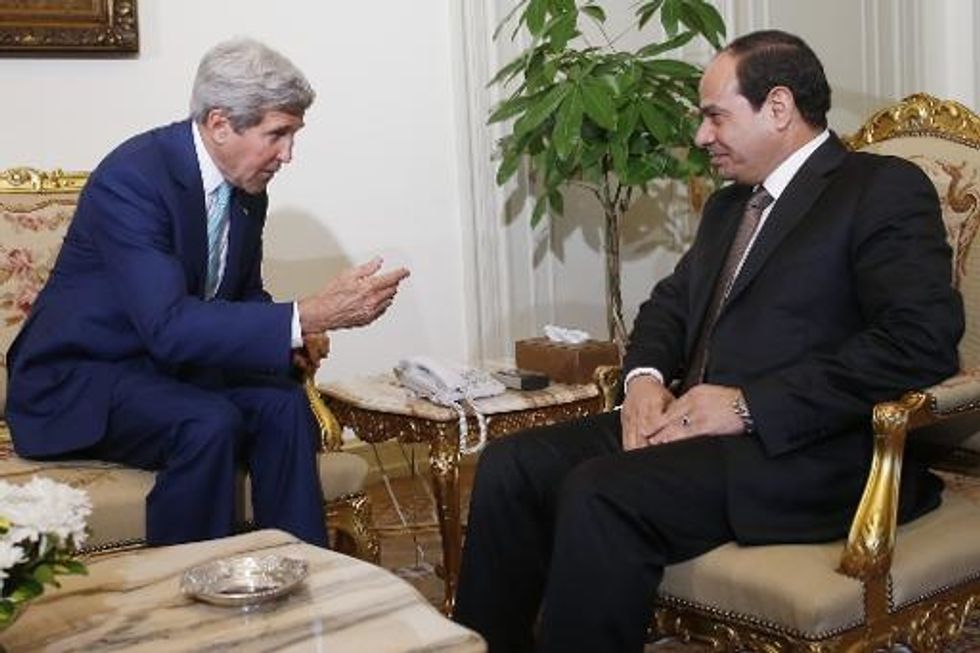 Cairo (AFP) – U.S. Secretary of State John Kerry on Tuesday discussed proposals for a Gaza ceasefire with Egypt, as both sides voiced guarded hopes of ending the bloodshed.
Kerry, who arrived late Monday in the wake of growing casualties from the Israeli-Hamas conflict, held talks in Cairo on Monday with UN chief Ban Ki-moon, who has also come to the Egyptian capital to push for a truce.
Kerry on Tuesday met the Egyptian leadership, including President Abdel Fattah al-Sisi, the former army chief who overthrew the Islamist government last year and cracked down on its supporters.
"We are hopeful that this visit will result in a ceasefire that provides the necessary security for the Palestinian people and that we can commence to address the medium- and long-term issues related to Gaza," Egyptian Foreign Minister Sameh Shoukri told reporters ahead of Kerry's talks with Sisi.
Some 593 Palestinians and 29 Israelis, 27 of them soldiers, have died in the fighting.
Kerry voiced appreciation to Egypt for proposing a truce that was embraced by Israel but rejected by the Islamist Hamas, which has tense ties with Cairo's new government and has refused to end violence unless Israel ends its eight-year blockade of the Gaza Strip.
Kerry, who has invested much of his tenure in an unsuccessful bid for a lasting Middle East peace agreement, said he would discuss the Egyptian proposal, which calls for a ceasefire followed by negotiations.
The talks were on "how we can build on it and hopefully find not only a way to a ceasefire but a way to deal with the underlying issues, which are very complicated", he said.
The United States has publicly welcomed Egypt's plan and stood behind Israel, laying blame for the conflict squarely on Hamas which has showered the Jewish state with rockets.
But U.S. officials said they were also looking to see if they could encourage changes in Egypt's proposal to secure the backing of Hamas, which believes Israel has reneged on previous agreements.
"If we could get both sides to agree on a ceasefire immediately that was relatively free of conditions, we would take that in a second," a U.S. official traveling with Kerry said on condition of anonymity.
"But it's going to require conversations with both parties on the ground before we really know what exactly a ceasefire that can work is going to look like," the official said.
Kerry met early in the morning with the Palestinian Authority's intelligence chief, Majid Faraj, a U.S. official said.
Kerry also went to the headquarters of the Arab League to consult with the bloc's chief Nabil al-Arabi, who described the killings of Palestinians as a "massacre" and urged a broader agreement.
"What is needed is that all hostile acts should end as soon as possible," Arabi said.
"Just like someone who is bleeding and you need a Band Aid — but that is not enough, you need more," he said.
AFP Photo