United States Gathers Allies To 'Destroy' Islamic State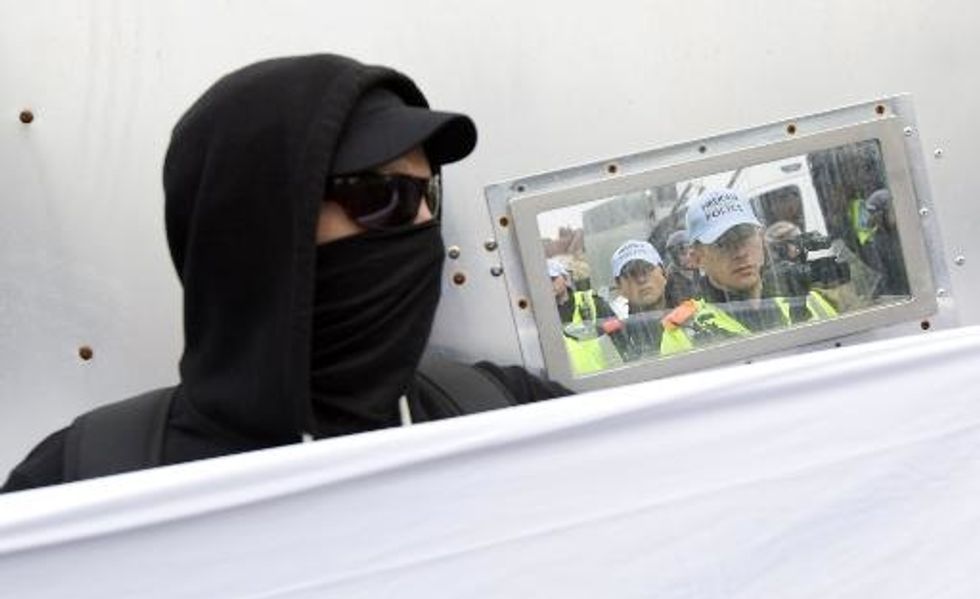 By Alice Ritchie
Newport (United Kingdom) (AFP) — The United States urged Western allies at a NATO summit Friday to unite in a coalition that could "destroy" Islamic State militants in Iraq and Syria.
"There is no time to waste in building a broad international coalition to degrade and, ultimately, to destroy the threat posed by ISIL," Secretary of State John Kerry and Defense Secretary Chuck Hagel said in a joint statement.
The remarks followed talks chaired by the United States and summit hosts Britain with defense and foreign ministers from Australia, Canada, Denmark, France, Germany, Italy, Poland, and Turkey.
The United States has conducted air strikes in northern Iraq in recent weeks, allowing Kurdish and Iraqi forces to regain ground lost against the jihadists.
But Washington has sought support for a broader international effort at the NATO summit here in Newport, south Wales.
The wider 28-nation military alliance is willing to help if there is a request from Baghdad, likely providing training and coordination with other countries' efforts against IS, Secretary General Anders Fogh Rasmussen told reporters.
Rasmussen said he "warmly welcomed" efforts by the United States and its allies, saying: "I think the international community has an obligation to do all it can to stop this dangerous terrorist organisation."
He said NATO nations had also agreed to exchange more information on foreign fighters returning from Iraq and Syria to Europe and the United States, amid fears they will carry out attacks on home soil.
Pressure to act has intensified since the beheadings of U.S. and British journalists were revealed in videos showing a militant speaking in British English.
In response to the U.S. call for a coalition, British Foreign Secretary Philip Hammond said his country had made "no commitment to take part in any air strikes as yet".
"But we'll certainly consider that possibility if we think that it is the best and most effective way to support a credible and inclusive Iraqi government," he said.
The first step would likely be to arm Kurdish fighters who are already confronting IS, something that London is "actively" considering.
Hammond added: "The clear message coming out of here is that we have to have a comprehensive response to the ISIL (IS) challenge."
France, Europe's other main military power, is also keeping its options open.
President Francois Hollande told fellow leaders on Thursday they should be "ready to tackle all aspects of the struggle against IS, including the military one but also working with neighbouring countries on the issue of foreign fighters", a diplomatic source said.
– 'No boots on the ground' –
IS, formerly known as ISIS or ISIL, caught the world by surprise when it swept across northern Iraq from Syria and declared an Islamic "caliphate" in territory straddling the two countries.
Referring to the beheadings of journalists James Foley and Steven Sotloff, British Prime Minister David Cameron said NATO leaders were "united in condemnation of these barbaric and despicable acts."
"They should be very clear, these terrorists. Their threats will only harden our resolve to stand up for our values and to defeat them," he told the summit.
Cameron has also been pressing his allies to honor a commitment made by the G8 last year not to pay ransoms, warning that they only helped the kidnappers.
Amid reports that hostages from France and Italy have been released after money changed hands, he said such payments were "deeply regrettable" and "utterly self-defeating."
Kerry reassured the meeting on Friday that there would be "no boots on the ground" in the U.S. strategy against IS, saying that was a "red line for everybody here."
But he said "there are many ways in which we can train, advise, assist, and equip," and urged those present to consider what they would be willing to contribute so the United States could have a plan at the U.N. General Assembly meeting later this month.
The formation of a new Iraqi government will be critical, Kerry and Hagel said, adding that the United States was hopeful this could happen "over the coming days."
NATO allies could help by offering military support, stopping the flow of jihadist foreign fighters, taking action against IS funding and addressing the humanitarian crisis, they said.
AFP Photo/Justin Tallis
Interested in world news? Sign up for our daily email newsletter!