United States Hits Russia's Largest Bank, Energy Sector With Sanctions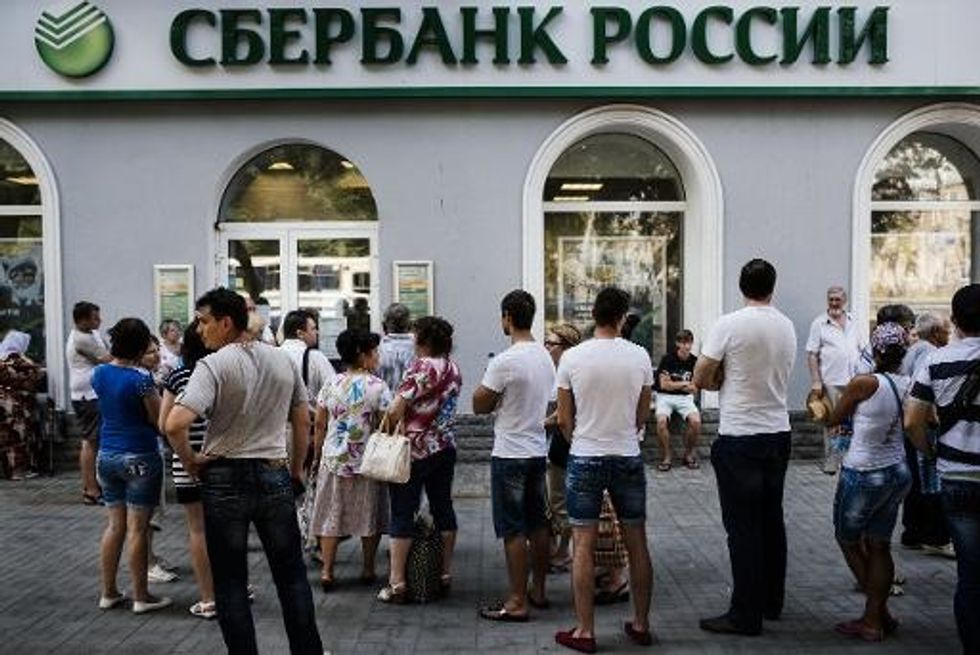 By Paul Handley
Washington (AFP) — The United States hit Russia's top bank and leading energy and technology companies with sanctions Friday, restricting access to finance and technology to punish Moscow's support for Ukraine's separatist rebels.
In its latest round of sanctions, Washington slapped tight controls on business dealings with for Sberbank, pipeline giant Transneft, and energy firms Lukoil, Gazprom, Gazprom Neft, and Surgutneftgas.
Also listed was state defense technology group Rostec, and five other state owned companies in the defense sector.
The White House actions followed similar moves by Europe aimed at punishing the Russian economy over the country's interference in neighboring Ukraine.
"Given Russia's direct military intervention and blatant efforts to destabilize Ukraine, we have deepened our sanctions against Russia today, in concert with our European allies," said U.S. Treasury Secretary Jacob Lew.
"These steps underscore the continued resolve of the international community against Russia's aggression."
The U.S. sanctions ban American entities from offering anything but short-term financing to Sberbank, Rostec, and two of the energy companies listed, a move that could restrict their business activities and long-term planning.
For Sberbank and Rostec, the limit is 30 days maturity for any new debt issued by the companies. For Gazprom Neft and Transneft, it is 90 days.
For Lukoil, Gazprom, and Surgutneftgas, U.S. companies are blocked from providing any support, materials, or technology for oil and gas exploration projects involving the Arctic region, offshore anywhere, or shale-based resources.
The sanctions also freeze any U.S.-based assets of the five defense sector companies.
The latest effort to ratchet up pressure on Moscow also tightened earlier sanctions on Russian businesses. The previous 90-day financing limit for Bank of Moscow, VTB Bank, and the Russian Agricultural Bank was reduced to a 30-day maximum.
And the support for exploration activities for the energy companies named Friday was extended to oil giant Rosneft, also listed under a previous round of sanctions.
"Russia's economic and diplomatic isolation will continue to grow as long as its actions do not live up to its words," said Lew.
"Russia's economy is already paying a heavy price for its unlawful behavior. Growth has fallen to near zero, inflation is well above target, and Russian financial markets continue to deteriorate."
Russian President Vladimir Putin quickly lashed out at the U.S. and European effort, saying it would not make Russia change tack, and arguing that Ukraine is being used by the West to destabilize international relations.
"We have been convinced a long time ago that the implementation of sanctions as a foreign policy instrument has little effect and practically never delivers the intended results," Putin said in Tajikistan, according to Russian news agencies.
"I've had a sneaking thought that Ukraine itself does not interest anyone but is being used as an instrument to destabilize international relations."
AFP Photo/Dimitar Dilkoff
Interested in world news? Sign up for our daily email newsletter!</em>