Unskewed Polls Guy Falls Further Down The Rabbit Hole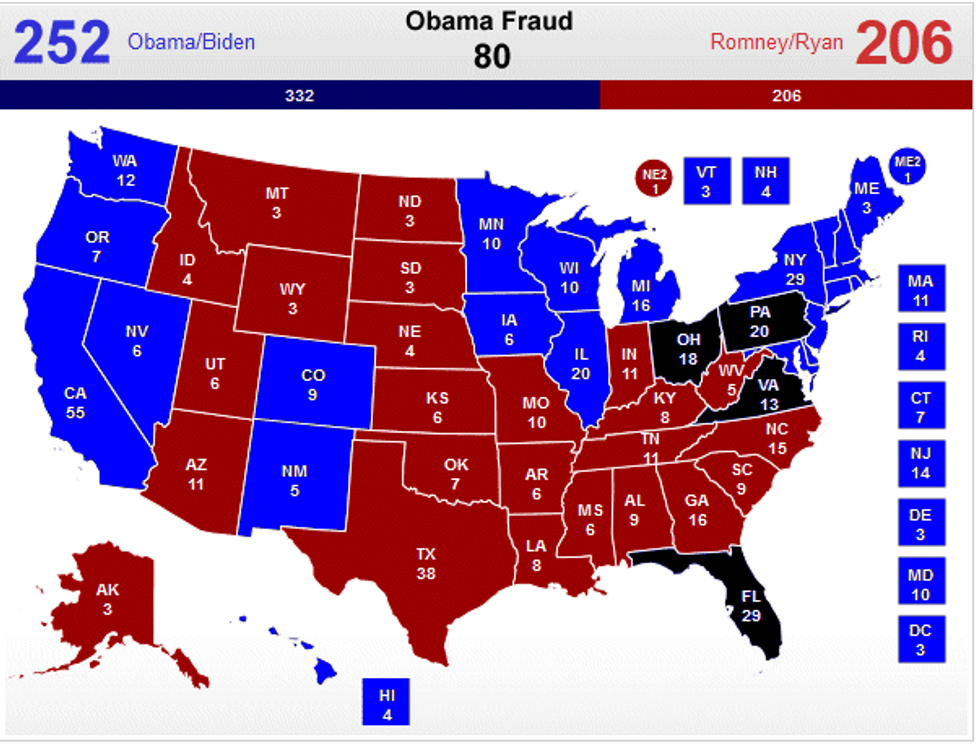 According to Elisabeth Kübler-Ross, the last step of the mourning process is acceptance. But the guy who ran UnskewedPolls.com — the site that advanced the popular Republican notion that pollsters were systematically under-representing Romney voters — is now even unskewing his own mourning process.
On the day after the election, Dean Chambers told Business Insiderthat his site was wrong. "Nate Silver was right, and I was wrong," he said. He went on to blast right-wing Rasmussen Reports, the pollster he based his unskewing on. "He has lost a lot of credibility, as far as I'm concerned," Chambers said. "He did a lot of surveys. A lot of those surveys were wrong."
Now Chambers has moved past acceptance into his normal state of delusion. His new site, oh-so-amusingly called "Barack O'Fraudo," accuses President Obama of winning as the result of massive voter fraud. His evidence? There isn't any, really. Instead you get the conjecture you can find on any right-wing site. For instance, he points out that some precincts in Cleveland didn't record one vote for Mitt Romney.
ThinkProgress' Judd Legum points out that this is an excellent chance for Republicans to prove the massive voter fraud they constantly allege, but fail to substantiate. They can go out and find one person in those precincts who voted for Mitt Romney.
But that would take actual effort. The beauty of the unskewing method is that with basic website-building skills, you can enter into the political discourse by accusing the national media and even the president of fraud.
During the campaign, Chambers' site caught fire when Governor Rick Perry (R-TX)—a man so delusional that he thought Rick Perry could be elected president—tweeted a link to the site. Soon the right-wing media glommed on to the concept as a way to cast doubt on what pollsters and poll averages knew the whole time—Mitt Romney was never even close.
"The Unskewed Polls people know that President Obama stole them using voter fraud or something," MSNBC's Rachel Maddow said on her show. "It's the states that are black, wink, wink, they were stolen. I would try to explain how they say the president stole them, but I don't speak crazy. Telling yourself things about politics to make yourself feel good feels good, I understand."
Republicans don't seem to be gravitating to Chambers' new fraud hypothesis the way they did with Unskewed Polls. Instead, they're attacking the president for offering gifts, engaging in identity politics or calling Mitt Romney a poopyhead. They understood their credibility was damaged with the certainty the unskewing granted.
FiveThirtyEight's Nate Silver is encouraging people to ignore Chambers with the sage advice to not feed the troll.
But hopefully, Chambers' new indulgence in voter fraud accusations will cast the same pall on that tired, risible argument that he brought to unskewing. But this is unlikely, as the GOP's War On Voting seems to be continuing, though it backfired.
Making terrible websites, voting restrictions and excuses will always be easier than reaching out to the voters you'd rather pretend do not exist.