Vance McAllister Considers Comeback After Consulting God, Constituents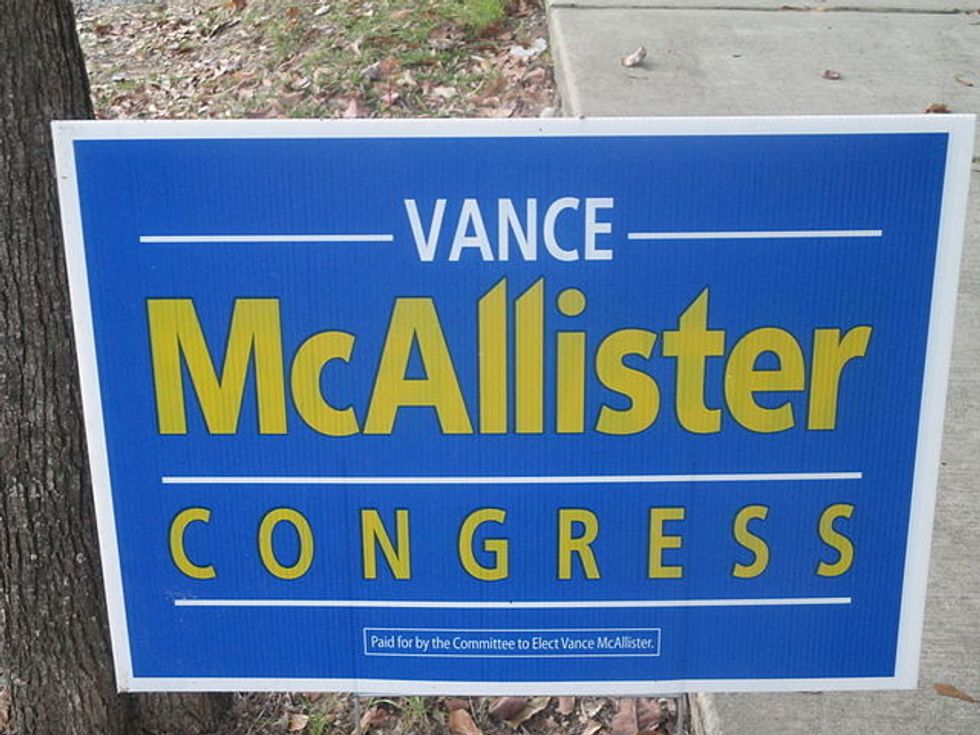 In another display of excellent decision making, Rep. Vance McAllister (R-LA) — otherwise known as the Kissing Congressman — is considering reversing course and pursuing re-election in the fall. The disgraced congressman, who made headlines earlier this year when a video showing the married father of five locked in a passionate embrace with a staffer was leaked, has apparently made adequate apologies to his wife and to God, and has received the green light for another campaign.
Polling also played a role in McAllister's change of heart; private surveys released earlier this week actually show McAllister as the frontrunner in Louisiana's 5th congressional district. Conducted by the Glascock Group, the latest poll shows McAllister with a slight 26.1 to 25.6 percent edge over state senator Neil Riser, a former opponent. Riser has since decided against a campaign, however, leaving McAllister as the only candidate with considerable public support.
Then again, Zach Dasher — a member of Duck Dynasty's Robertson family — recently announced plans to run for McAllister's seat, so maybe there will be some stiff competition after all. Dasher, the nephew of Phil Robertson — the "Duck Commander" of the family, who is famously close with McAllister — is a 36-year-old father of four with no political experience, but plenty of reality TV support. In a statement, Dasher emphasized his religious-right bona fides, saying, "Man is made in the image of the Almighty God. If we are afraid to say that, then we don't have a case for liberty." He went on to proclaim his position as "a strong supporter of the Second Amendment [who] favors adoption of a Balanced Budget Amendment to the U.S. Constitution, an overhaul of the Department of Veterans Affairs, and a strong U.S. military." 
Glascock's poll also listed McAllister as both a Republican and a Democrat, following rumors of an affiliation switch, but McAllister reaffirmed his dedication to the GOP in a statement earlier this week. "I believe in pro-life, I believe in a strong military, in a smaller government, I believe in a free enterprise system," he assured constituents. "Those are all core values of the Republican Party … and I'll always be a Republican." Apparently, one of the core values of the Republican party is not fidelity.
Of course, McAllister has never completely ruled out a potential re-bid for Congress. "If there's a possibility that the people want me to do another political office, again," he said in May, "maybe I'll do it."
Now, it would appear that the people have spoken.
McAllister may be taking his cues from another famously scandal-ridden Louisiana politician. In 2007, Senator David Vitter (R-LA) was revealed as a client of "D.C. Madam" Deborah Jeane Palfrey. Vitter admitted to his dalliance with prostitutes, and like McAllister, apologized to his wife and to God, asking his constituency for forgiveness. 
Though the scandal was expected to sound the death knell for Vitter's political career, the senator not only managed to escape with his career intact, but also went on to win a landslide re-election in 2010. Vitter, one of the few prominent politicians to support McAllister during his scandal, is now the frontrunner in Louisiana's 2015 gubernatorial race.
While Vitter is a prime example of a scandal success story, his situation is the exception, not the norm. According to a Washington Post analysis of 38 political sex scandals over the past four decades, only 39 percent of House and Senate members involved in such a sticky situation won re-election. The rest lost, resigned, or chose not to run again. Even more troubling for McAllister, the rate of re-election for scandal-ridden members of Congress has plummeted since Bill Clinton's impeachment; just 20 percent have held on to their seats after a scandal since 2000.
The odds are against McAllister, but that won't stop him now.
Photo via Wikimedia Commons
Want more political news and analysis? Sign up for our daily email newsletter!