Venezuela's Fugitive Opposition Leader Surrenders To Authorities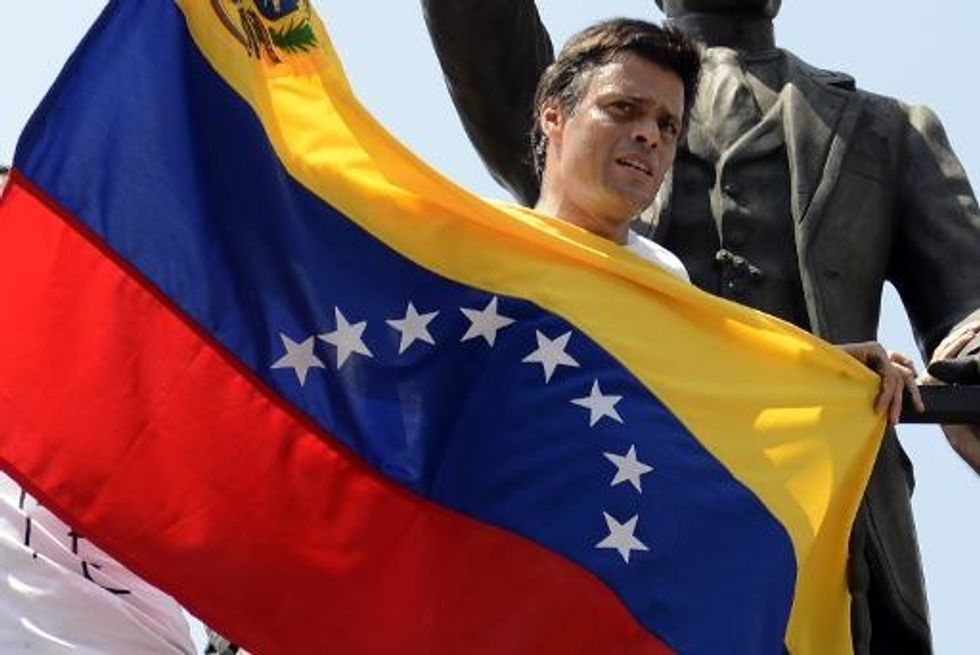 By Mery Mogollon and Chris Kraul, Los Angeles Times
CARACAS, Venezuela — Venezuelan opposition leader Leopoldo Lopez turned himself in to authorities Tuesday to face what he says are trumped-up homicide charges, after urging supporters to stay in the streets and demonstrate peacefully against the government.
Speaking before a crowd of supporters in the capital, Caracas, Lopez said he would not flee Venezuela or go into hiding "because it would show we have something to hide." Rather, he said he had decided to give himself up to "a corrupt justice system" and continue the fight for political change.
"Our youth have no jobs, no future because of this economic model that has failed," Lopez said, referring to deepening problems that include double-digit inflation, a rapidly devaluing currency and food scarcities.
News reports said that Lopez, who was dressed in white at the rally, as a sign of peace, turned himself in to national guard units after his speech.
He sent out a message from his Twitter account thanking supporters. "Change lies within each of us. Don't give up!" he wrote.
Earlier, an alliance of opposition parties said authorities were trying to prevent protesters from gathering in downtown Caracas to march in support of Lopez, for whom an arrest warrant was issued in connection with last week's bloody demonstrations that left three dead and dozens injured.
Protesters reported on social media that police and national guard units had set up blockades at several points in the city and were telling them they would not be allowed through to the march's start point in central Caracas.
Caracas borough Mayor Jorge Rodriguez warned Monday night that the march was in essence illegal, and National Assembly President Diosdado Cabello said on his television show that marchers would not be allowed to progress more than a few blocks.
In a statement issued Tuesday morning, the opposition Democratic Unity Panel, known by its Spanish acronym MUD, said that the government had deployed police and military personnel to "impede citizens from their right to peaceful assembly, showing odious discrimination in allowing some the right to express themselves and others not."
The release referred to large gatherings of government loyalists that were allowed to form to show support for embattled President Nicolas Maduro.
Caracas and other Venezuelan cities have seen rising unrest since Feb. 12, when student marches turned violent. Marchers claimed armed government vigilantes opened fire on them, while Maduro blamed the protesters for the bloodshed.
Meanwhile, reports circulated of increasing police harassment of journalists covering the protests. Colombian television journalist Juan Pablo Bieri, one of at least 11 reporters arrested in the last week, told Bogota's El Tiempo newspaper that he was beaten by Venezuelan national guard units when he was detained for about an hour while covering the Feb. 12 unrest in Caracas.
"It was a crime against us, our country and news coverage," Bieri said.
AFP Photo/Leo Ramirez