Victims, Residents Reflect On Boston Marathon Tragedy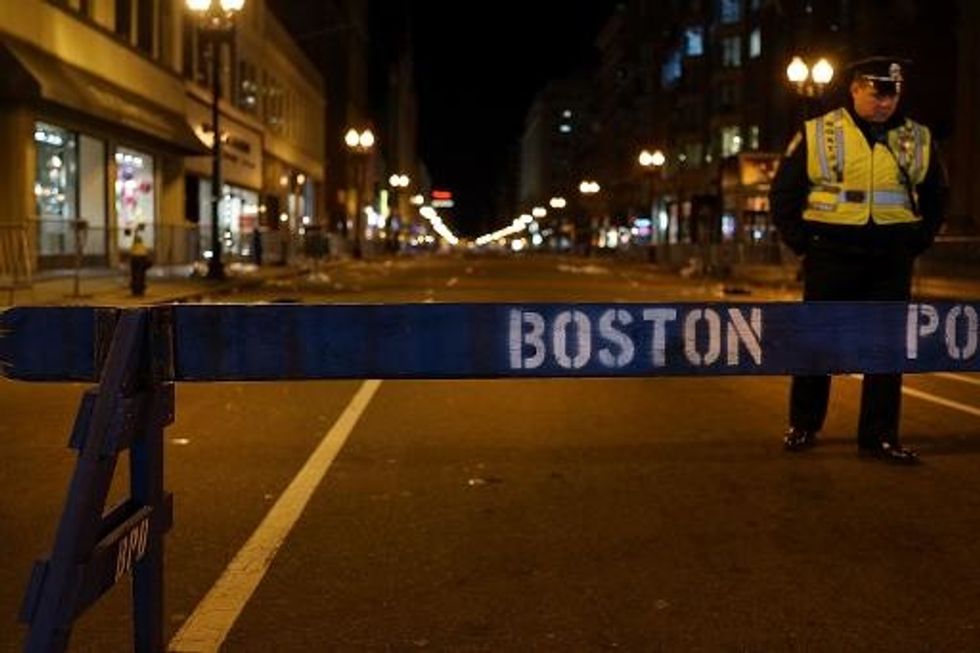 By Alana Semuels, Los Angeles Times
BOSTON — One year after two pressure-cooker bombs tore through the crowd at the finish line at the Boston Marathon, killing three people and injuring more than 260 others, people throughout the city are pausing to reflect on the day with tributes, prayers, speeches and music.
At a private ceremony Tuesday morning, families of the victims placed wreaths at the two bombing sites — in front of the Forum restaurant on Boston's Boylston Street, and near Marathon Sports a block away. Police honor guards will stand sentry around the wreaths all day.
The marathon will be held this year on Monday. It is expected to be the second most crowded field ever, after the marathon's centennial in 1996.
The city is holding a tribute Tuesday at the Hynes Convention Center close to the bombing sites, beginning at noon. Both families and public figures will attend the event, including the family of victim Lu Lingzi, who came from China to attend the ceremony. Vice President Joe Biden is also expected to speak, as is former Boston Mayor Thomas Menino, who announced last month that he is battling cancer.
According to an official program, the Boston Pops and the Boston Children's Chorus will participate in the event, which will include a flag-raising ceremony and a moment of silence scheduled at the marathon finish line at 2:50 p.m., the time when the first bomb exploded.
A year after the marathon, many victims who previously had not spoken to the media have been featured in local Boston papers and TV stations. The family of Martin Richard, 8, who was killed in the bombing, appeared in a lengthy two-part Boston Globe story about recovering from the bombing. Jane Richard, Martin's sister, who is now 8, lost a leg in the bombing.
Signs along the Boylston Street finish line area remind residents to be "Boston Strong," but no formal memorial has been erected at the bombing sites. Still, those who were near the finish line a year ago say they think about it every day.
Gerardo DeFabritiis is a manager at the Tannery, an upscale shoe and clothing store across from the site where the first bomb went off. His daughter and son-in-law were visiting the store on marathon day last year and were about to leave when he called them back in to see a new line of T-shirts. The bomb went off soon after.
"They would have been right there," he said, remembering, pointing to the spot where the bomb went off. He remembers walking outside after the bombing and seeing a woman on the ground, bleeding. He thinks about the bombing whenever he passes over that little piece of sidewalk.
He learned something from that day, he said: "When your time comes, your time comes."
AFP Photo/Spencer Platt