VIDEO: Hillary Clinton Reads Excerpts From The Mueller Report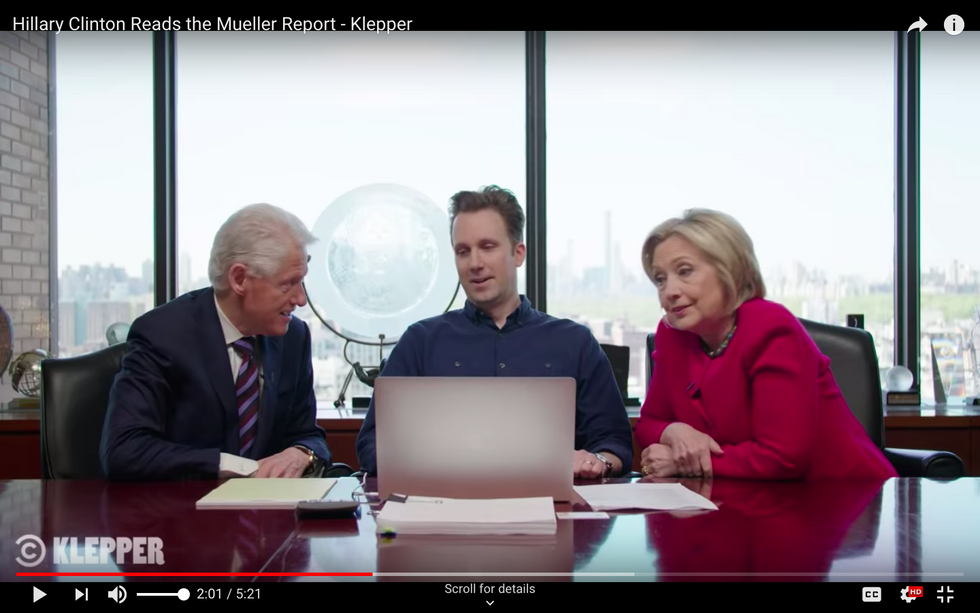 Reprinted with permission from Alternet.
Comedian Jordan Klepper on Saturday posted an interview with Bill and Hillary Clinton during which the former Secretary of State turned Democratic presidential candidate read experts from special counsel Robert Mueller's report, and suggested a crowdfunding page should be started to send Attorney General William Barr back to law school.
In the video, Klepper asks the Clintons to help him decide which crowdfunding campaigns he should support, eventually landing on one trying to recruit Hillary Clinton to record an audiobook of the Mueller report.
As she reads the segment where Mueller writes that Russia "perceived it would benefit from a Trump presidency and worked to secure that outcome, and that the campaign it would benefit electorally," Klepper asks Hillary to repeat the reading, with feeling.
"Imagine like, you have a history with it," Klepper suggests.
Earlier in the video, Klepper asks if he should support a crowdfunding campaign to send a random guy to a law class to impeach Trump.
After the Clintons shoot down the idea, Klepper protests that "this is a guy who just wants to take a few classes to attempt to impeach Donald Trump."
"Yeah, but he's not in a position to do that," Hillary Clinton responds.
"We gotta really digest what's in the Mueller report, because we know what the attorney general said about it is not true," Bill Clinton adds.
"He should go to law school," Hillary Clinton offers, "… for continuing legal education."
You can watch the video below: