VIDEO: Republican Leaders Passionately Urge Impeachment (In 1998)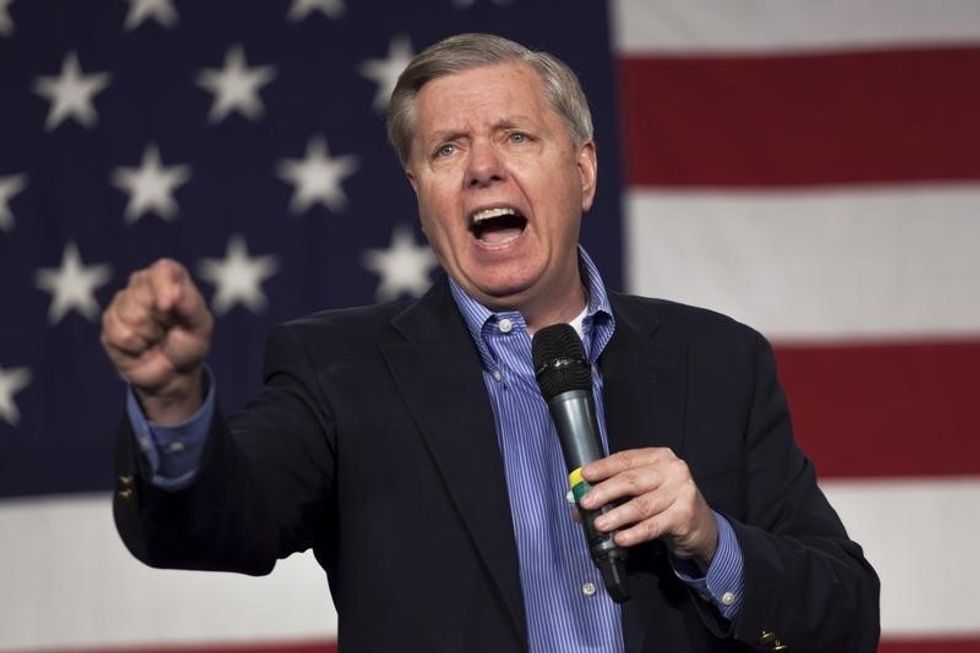 Reprinted with permission from Alternet.
Republicans have a problem: They want to claim that impeaching President Donald Trump is completely ridiculous, but just a few short decades ago, they were driving the push for impeaching President Bill Clinton.
And in that process, they said a lot of things that will likely come back to haunt them.
Take Senate Majority Leader Mitch McConnell (R-KY), for instance, who said Monday that it's time to "move on" from Special Counsel Robert Mueller's investigation — even though we only got the exhaustive 448-page report last week. He seems to think the extensive case for obstruction of justice laid out in Volume II of the report should just be ignored.
But MSNBC's Hardball with Chris Matthews showed that, in 1998 when it was Clinton under investigation, McConnell was, by contrast, deeply concerned about the integrity of the presidency.
In a speech at the impeachment hearings, McConnell said he wanted to draw attention to a "serious and deeply troubling crisis" in the country. "This is a crisis of confidence, of credibility, and of integrity. Our nation is indeed at a crossroads: Will we pursue the search for truth, or will we dodge, weave and evade the truth."
The Mueller report laid out the lengths that President Trump went to impair the investigation. The President's congressional colleagues say it's time to move on, but during the Clinton impeachment hearings they expressed a very different point of view. #Hardball pic.twitter.com/6GhopkUCCN

— Hardball (@hardball) April 22, 2019
At the time, Clinton was under fire for lying to investigators about his sexual relationship with Monica Lewinsky, which was, undoubtedly, wildly inappropriate. But now that Trump stands accused of obstructing a national security investigation, McConnell appears unable to muster up any indignation or outrage.
Sen. Lindsey Graham (R-SC), who has become one of Trump's closest congressional allies, similarly seems to have lost his passion for restoring the dignity of the White House.
"You don't even have to be convicted of a crime to lose your job in this constitutional republic if this body determines that your conduct as a public official is clearly out of bounds in your role," said Graham in 1998, when he was still in the House. "Because impeachment is not about punishment. Impeachment is about cleansing the office."
In another clip from the time period, Graham made clear that what he was concerned with was Clinton's alleged obstruction of justice — precisely the charge Trump faces:
"I'm telling you momentum is shifting toward impeachment, because people are looking at facts and coming to realize the President committed serious crimes and it is not just about sex. The idea that this is an accusatory function here. We are not the trial, the trial is in the Senate. Our job is to find credible evidence if there is warning impeachment from that evidence; grand jury perjury, obstruction of justice by the President, I think are high crimes and misdemeanors. The only thing to change my mind would be direct, honest candor on his part. The President has to earn censure.
Of course, it's not just Republicans who will be embarrassed. Democrats such as Rep. Jerry Nadler (D-NY)  who in 1998 attacked the impeachment push against Clinton may now find themselves contradicting their prior claims. But they, more credibly, can point to an important difference. While Clinton was impeached over his obstructive lies about a consensual, though wrongful, sexual relationship, Trump's conduct relates much more directly to an issue of national importance: Russia's attack on American elections and the investigation into that matter.