How Virginia Will Settle Tied Delegate Race, In 19th-Century Style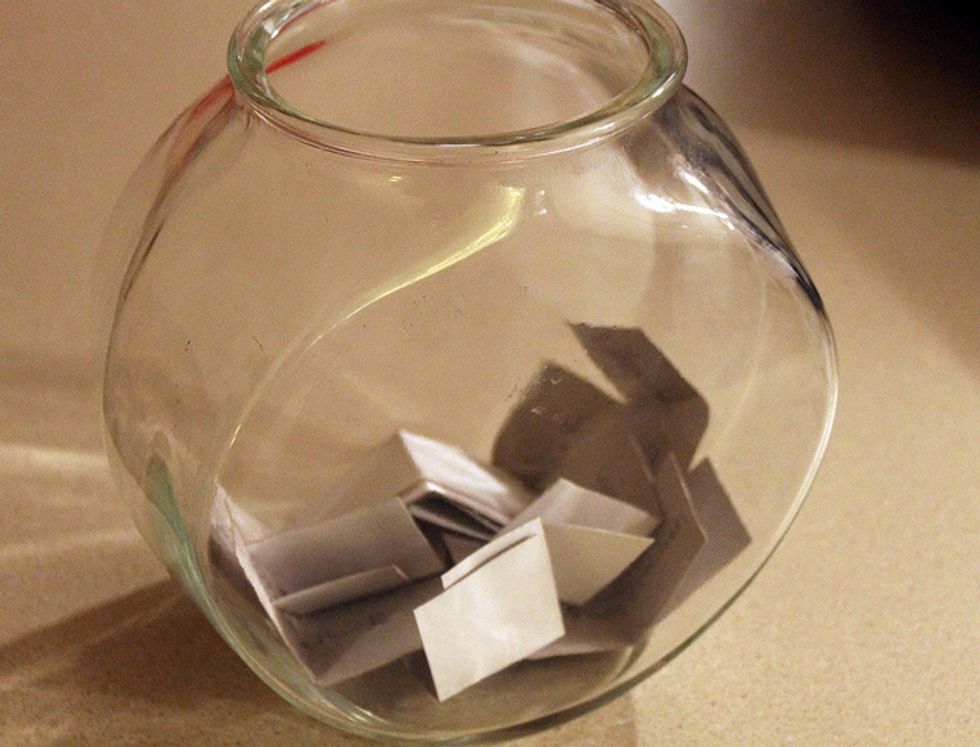 Reprinted with permission from AlterNet.
Next Wednesday, the Virginia Board of Elections will literally pull a name out of a bowl to decide who won the apparently tied 94th House of Delegates race, and thus find out if a blue voter wave has broken this decade's GOP lock on its legislature.
The BOE will place two candidates' names on paper inside film canistersand a winner will be drawn—a technique right out of 19th-century America.
What they won't be doing is use accessible public records created by 21st-century technology to verify the 11,608 votes now awarded to the incumbent Republican, David Yancey, and to Democratic challenger Shelly Simonds.
The BOE could examine digitized images of each paper ballot scanned by the Election Night computers that tallied the vote. But astoundingly, it won't, citing antiquated state laws, which also prevent it from reexamining provisional and absentee ballots that were initially rejected (possibly as incorrectly filled out or invalid registration status).
But the digitized ballot images are there in Newport News' voting machinery to conduct a verifiable 21st-century recount, said Chris Sautter, an election lawyer specializing in recounts based in nearby Washington.
"If you are an elections junkie as I am, you have to love this," he said, sarcastically. "I've been involved in some really close elections, including the 4-vote recount margin in the closest U.S. House race in modern times. Last year, I represented a Virginia candidate in a recount that was decided by 3-votes. But I have never been directly involved in an election that was decided by a lot drawing."
"The counties involved apparently saved ballot images in this race," Sautter continued. "But Virginia state law requires that they resolve a tie by lot or flip a coin. It is definitely an anarchism—kind of like a duel. They should go to the ballot images."
Digitized ballot images are emerging across the country as a pathway to verifying votes, because they increasingly are a standardized feature of the scanners used to tabulate ink-marked paper ballots. But the problem is they are not being seen or treated as public records by a range of state government officials, from election administrators even to judges, despite state and federal laws that require all election materials be preserved.
Part of the reason may be because public records laws, which grant media and public access to government documents, were mostly written before computers were widely used. But as was seen in Alabama's controversial U.S. Senate race earlier this month, access to the digitized ballot images became a partisan football that Republicans kicked around to thwart a recount—before their candidate, Roy Moore, was narrowly defeated and Moore himself called for a recount.
In Alabama, four voters—a Democrat, Republican, independent and a minister—sued in Montgomery County court to preserve the scanned ballot images. The county judge agreed and ordered the top statewide election official to instruct every county election office to preserve them by checking a box on a software window after turning on the machines. That's how simple it is.
But Republican Secretary of State John Merrill sought and won an emergency order the night before the vote from the Supreme Court of Alabama—to instruct local election officials not to save the images. Though the state's GOP didn't explicitly say so in public, it's clear that Alabama's red ruling class didn't want to help Democrat Doug Jones if there was a possible recount.
But there are bigger issues here. In Alabama, just as in Virginia, the citizenry and voters deserve accurate and verified counts no matter which party wins. The media, especially each state's newspapers of record and professional press associations, should join the fight to preserve and access these fundamental public documents—individual ballot images. But so far, they're absent.
In Alabama, Merrill's attorneys—from the state attorney general's office—argued in court that state law only referred to paper ballots, not the electronic images of each ballot.
"Neither election officials nor legislators understand the value and potential of ballot images," Sautter said. "That is the mindset we are trying to change with our lawsuit in Alabama and our efforts to require preservation of ballot images around the country. The next step after preservation is to use them."
Ironically, as Virginia is poised to determine its lower legislature chamber's partisan balance of power next week by drawing a name out of a hat, a bill was introduced in the U.S. Senate whose purpose was to guard against hacking of voting machinery, signaling that electronic machinery is here to stay.
"Lawmakers in the Senate introduced legislation today that would help states prevent cyberattacks on election infrastructure and enhance confidence in vote totals from electronic voting machines," read the Brennan Center for Justice at NYU Law School's press release touting this development.
The election transparency activists working with Sautter have repeatedly said the best hacking-proof measures depend on using digitized ballot images for random audits to verify the reported Election Night totals, and for recounts.
There's no telling what will unfold next Wednesday in Virginia, but surely turning to the digitized images to verify the count would inspire more public confidence than engaging in the equivalent of a 19th-century duel.
"Of course, the ballot images could show the recount to have been accurate, in which case they still need a method to resolve a tie election," Sautter said. "Perhaps a round of Jeopardy or Trivial Pursuits makes more sense?"