Wall Of Shame: Top 10 Climate Deniers In The Trump Administration
@AlterNet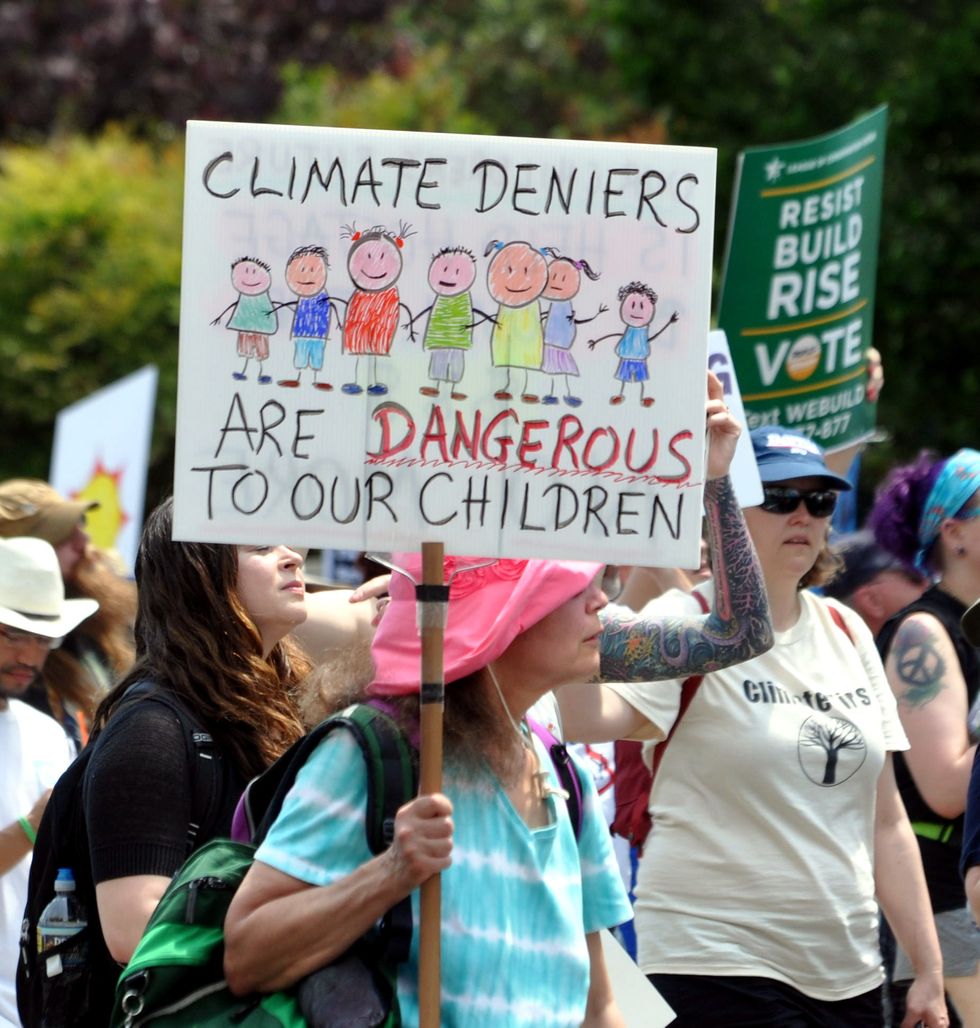 Reprinted with permission from AlterNet.
More than 97 percent of climate scientists agree the planet is warming and that human activity is largely responsible. For perspective, that's as conclusive as the link between cigarette smoking and lung cancer.
This scientific consensus is accepted by people and their governments in virtually every corner of the world, with one notable exception. In the United States, a small subset of the population continues to sow doubt about accepted climate science. This includes groups of so-called climate skeptics, think tanks largely funded by the fossil fuel industry, and yes, politicians.
From Republican Sen. James Inhofe's infamous snowball demonstration to House Science Committee Chairman Lamar Smith's claim that federal scientists falsified climate data, American politicians are among the leading voices spreading easily debunked misinformation about climate change. Rather than rallying with other countries in pursuit of a low-carbon economy, and devising ways to transition workers from dirty energy jobs to healthier and better-paying options, these individuals continue to perpetuate a nonexistent debate.
Protesters in Eugene, Oregon, take part in the Day Against Denial, a national day of protest against climate change denial in the Trump administration, in January 2017. (image: Wolfram Burner/Flickr)
Unfortunately for the American public, this trend has only accelerated in the Trump administration. Even as Americans become increasingly concerned about climate change, Trump stacked his administration with one climate denier after another. We've already seen the effects, from the U.S. pulling out of the Paris climate agreement to the dismantling of the Clean Power Plan, and the nominees are still coming in. Here are 10 for the wall of shame.
In office:
1. Scott Pruitt, Administrator of the Environmental Protection Agency
EPA Administrator Scott Pruitt speaks at the 2017 Conservative Political Action Conference. (image: Gage Skidmore/Flickr)
Scott Pruitt sued the EPA 14 times as Oklahoma attorney general, and now he's tasked with running it—though critics say he's running it into the ground.
In August, the New York Times described a covert effort to "roll back regulations, close offices and eliminate staff" at the agency. "Mr. Pruitt is taking extraordinary measures to conceal his actions," wrote Coral Davenport and Eric Lipton of the Times, citing interviews with more than 20 current and former agency employees.
While privately dismantling the EPA, Pruitt continues to publicly cast doubt on climate science. Most recently, he questioned whether the EPA had engaged in "a robust, meaningful discussion" before releasing a 2009 document linking manmade climate change to human health risks that now heavily influences U.S environmental policy.
2. Rick Perry, Secretary of the Energy Department
Energy Secretary Rick Perry, as governor of Texas, speaks at the 2011 Values Voter Summit in Washington, D.C. (image: Gage Skidmore/Flickr)
Perry consistently denied the existence of manmade climate change during his 15 years as governor of Texas. Some hoped he might have turned the corner when he acknowledged humanity's role in our changing climate during his Senate confirmation hearing, but it appears he will keep the same tone as head of the department he once vowed to eliminate.
In June, Perry told CNBC he does not believe carbon dioxide emissions are the main driver of climate change, instead putting the blame on "ocean waters." He has also continued his outspoken support for fossil fuels, arguing last week that they are the only way to electrify the developing world and even saying fossil fuels can help combat sexual assault (seriously).
3. Sonny Perdue, Secretary of the Agriculture Department
USDA Secretary Sonny Perdue (center) visits London in October 2017. (image: U.S. Embassy London/Flickr)
Perdue's USDA suggested that staffers find alternatives to the term "climate change," according to a string of emails obtained by the Guardian. The agency pushed back on these reports, saying: "These emails, sent in the first days of the new Administration to a small number of agency staff, did not reflect the direction of senior agency leadership."
But it seems Perdue didn't get the memo: He praised Trump's decision to exit the Paris climate agreement and supported the nomination of talk radio host and non-scientist Sam Clovis for the USDA's top science spot, before Clovis pulled out over ties to the Russia probe.
4. Ryan Zinke, Secretary of the Interior Department
Interior Secretary Ryan Zinke, then a Montana congressman, speaks at the 2016 Conservative Political Action Conference. (image: Gage Skidmore/Flickr)
Interior Secretary Zinke downplayed global temperature rise and its contribution to glacial melting during a budget hearing in June. When pressed by Sen. Al Franken about melting in his state's Glacier National Park, Zinke said it's a "consistent melt" that began "right after the end of the Ice Age"—adding that he watched glaciers melt while "eating lunch."
This bizarre conclusion flies in the face of data from the U.S. Geological Survey, which shows that the park's glaciers have shrunk by an average of 39 percent since 1966. A USGS research ecologist told the Huffington Post that the glaciers "are already at the point of no return" and will all but disappear "within 20 years." But Zinke appears unconcerned by such findings and later proposed reducing the size of several national monuments and opening them up to drilling and mining.
5. David Bernhardt, Deputy Administrator of the Interior Department
Deputy Secretary of the Interior David Bernhardt speaks in Santa Fe, New Mexico. (image: Bureau of Reclamation/Flickr)
Bernhardt drew criticism for his former lobbying work on behalf of energy interests, and senators drilled him on climate change during his confirmation hearing in June. While Bernhardt acknowledged the existence of climate change and said the contribution of science was "very significant," he noted that policy decisions would be made according to the administration's agenda as much as allowed under the law, Science magazine reported.
6: Jeff Sessions, Attorney General
Attorney General Jeff Sessions, then an Alabama senator, speaks at the 2011 Values Voter Summit in Washington, D.C. (image: Gage Skidmore/Flickr)
As attorney general, Sessions' duties include enforcing U.S. environmental laws. Too bad he called the scientific consensus behind manmade climate change "deliberate misinformation" and said carbon dioxide is "really not a pollutant" because it's "a plant food."
7. Rex Tillerson, Secretary of State
Secretary of State Rex Tillerson speaks at a press conference following the conclusion of the annual Australia-United States Ministerial consultations. (image: Chairman of the Joint Chiefs of Staff/Flickr)
As the CEO of ExxonMobil, Tillerson acknowledged man's role in climate change and even called for a carbon tax. But critics often point to his penchant for downplaying climate science and calling for a slower approach to reducing greenhouse gas emissions.
"[Tillerson] comes across as very responsible because he's not accusing scientists of cooking up a one-world government," Stephen Lewandowsky, a psychologist at the University of Bristol who has studied efforts to sow doubt on climate science, told InsideClimateNews. "People breathe a sigh of relief—'He's not crazy'—but people don't follow through to see what he's saying is complete nonsense."
On deck:
8. Jim Bridenstine, Nominee for NASA Administrator
Rep. Jim Bridenstein speaking at the Senate hearing for his nomination to NASA Administrator, November 2017 (image: Senate.gov)
If Republican Congressman Jim Bridenstine seems like an odd pick to head the National Aeronautics and Space Administration, that's because he is. Bridenstine is a former Navy pilot, but unlike prior administrators, he has no scientific background. He regularly denies basic climate science and even introduced legislation to scrap NASA's earth sciences division altogether. While Bridenstine tried to take a softer stance during his confirmation hearing last week, some senators appeared unconvinced.
9. Kathleen Hartnett White, Nominee for Chair of the Council on Environmental Quality
Kathleen Hartnett White speaking at a Senate Environment and Public Works Committee hearing for her nomination, November 2017. (image via Twitter)
The Council on Environmental Quality, a key White House office that coordinates policy approaches around energy and the environment, may soon be in the hands of Kathleen Hartnett White. White opposed regulating carbon dioxide as a pollutant in her role as chairman of the Texas Commission on Environmental Quality, calling CO2 "an odorless, invisible, beneficial and natural gas." She also takes issue with international climate panels convened by the United Nations, dismissing their findings as "not validated and politically corrupt."
10. Robert Phalen, nominee for EPA Scientific Advisory Board
Robert Phalen said "modern air is a little too clean for optimum health." (image via Twitter)
Earlier this month, EPA Administrator Scott Pruitt fired a handful of university researchers from the EPA's Scientific Advisory board and apparently forgot to tell them—at least two told the Huffington Post they learned about their dismissal from reporters. This came after Pruitt released new rules barring scientists who receive EPA research funding from sitting on the board and suggesting how their research be applied, opening the door for more industry-friendly advisers. University of Minnesota professor Deborah Swackhamer, a former chair of the board and one of those recently let go, called the move "scientific censorship."
The 17 new appointees named for the board include red-state regulators and industry representatives. Robert Phalen, one of the only academics nominated, frequently spoke in opposition to air pollution-related regulations as a researcher with the University of California, Irvine, and in 2012 asserted, "Modern air is a little too clean for optimum health."
Former Vice President Al Gore, one of the leading voices fighting for action on climate change, met with President Trump during the transition to try to influence his thinking. "I haven't had any conversations with [Trump] since his speech to withdraw from Paris," Gore told the Guardian last month. "I tried my best and thought he'd come to his senses but I've been proven wrong."
Mary Mazzoni is a freelance environmental journalist and editor based in Philadelphia. Her work has appeared on TriplePundit, Yahoo Travel, Budget Travel, and many other publications. Follow her on Twitter @mary_mazzoni.