Warning Of 'War On Republicans," Fox Stokes Next Insurrection
@johnknefel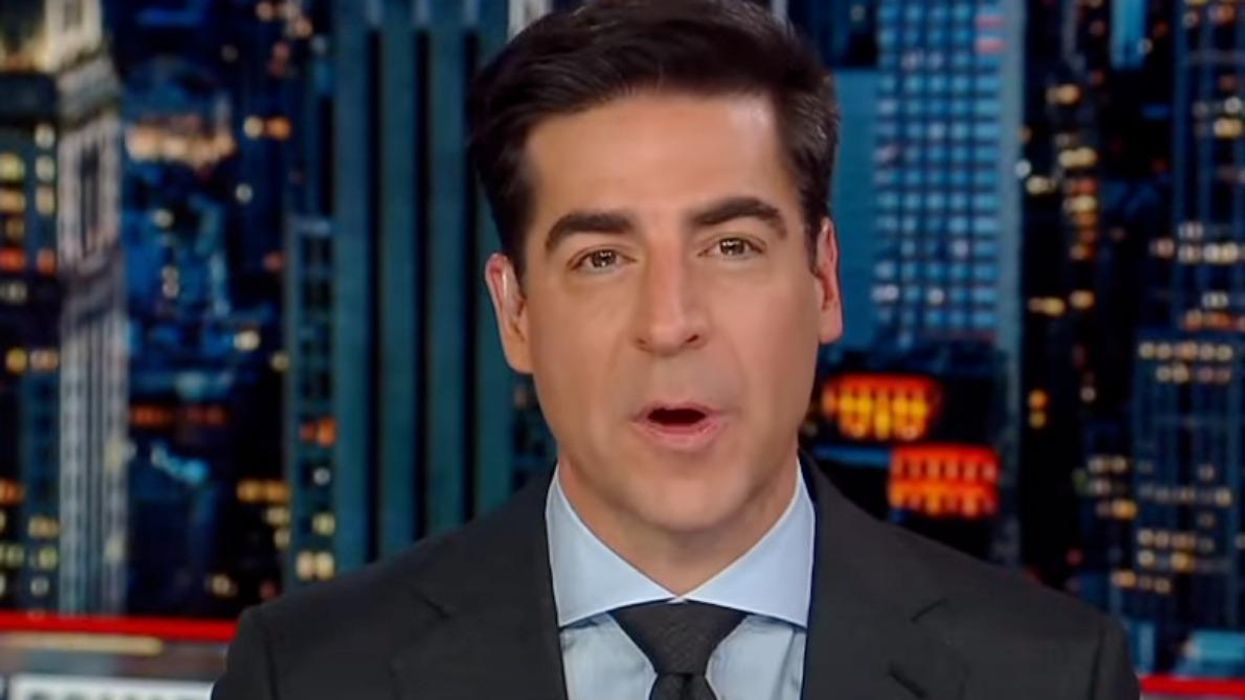 Jesse Watters
On Monday evening, Fox News stars Tucker Carlson and Jesse Watters each used the 21st anniversary of 9/11 to tell their millions of viewers that the Biden administration has declared war on conservatives for their political beliefs.
Carlson and Watters argued, as the network has for months, that President Joe Biden's Department of Justice is a tyrannical force bent on persecuting Fox News viewers, and that it's only a matter of time before Democrats criminalize all political dissent.
Both defended the election denialism that has become core to the Republican Party after Trump's loss in 2020, reinforcing the idea not only that the election was stolen, but also that those who say the election wasn't rigged are jackbooted authoritarians.
Carlson approached the topic by playing a clip of Chuck Todd's interview of Vice President Kamala Harris, in which she described how dangerous it is to have at least 11 election deniers running for secretary of state positions throughout the country. Typically the top statewide election official, the office is incredibly powerful, and those races have been flooded with cash as Republicans seek to install denialists to oversee upcoming elections.
Todd framed the interview, which was pegged to the anniversary of 9/11, as a discussion of how national security issues had evolved from external dangers to "the threat within."
"Who is this threat?" Carlson responded. "Well, of course, it's you and anyone else in the way of the Biden administration."
"And especially, as the vice president just said, and you saw it, anyone who questions the legitimacy of the last election," he continued.
Carlson then added his own election conspiracism, arguing without evidence that "there are reasons not to believe" the final vote count, and that if a conservative voices that belief, under Biden, "you need to be pursued by law enforcement."
Minutes later, Carlson brought up the Department of Justice issuance of roughly 40 subpoenas to top aides to former President Donald Trump, including white nationalist Stephen Miller.
Carlson argued that the Biden Department of Justice was trying to "suppress political dissent, to hobble an entire political party and to keep these people from ever participating in American politics again."
One hour earlier, Watters had made a similar point. "This war on Republicans -- it's a war of choice," he said. "It's a preemptive war so the Republican Party never wins another election. And that is the real threat to democracy."
Fox News' business model relies on stoking its viewers' fears, and Monday's segments come on the heels of months of similar coverage.
In late June, Carlson devoted an entire opening monologue to a lengthy mischaracterization of the legal cases of 14 conservatives, nearly all of whom were involved in some effort to overturn the 2020 election. "The signature tactic of the Biden administration … has been the criminalizing of American politics," Carlson said at the time.
Carlson and others at Fox also spent part of the summer pushing a preposterous theory that Biden was hiring 87,000 new IRS agents to act as a paramilitary force against conservatives. A Media Matters study found that the network had pushed the bogus theory more than 200 times by the end of August.
Following the search of Trump's residence and golf resort at Mar-a-Lago, Fox and other right-wing outlets and pundits characterized the DOJ's actions as additional evidence that Biden was persecuting regular conservatives. "But the real target of this investigation isn't Trump," Laura Ingraham said. "The real target of this investigation is you or anyone who dares to call out and take on the rank corruption of the D.C. establishment."
Watters responded to the search by arguing that any attempt to hold Trump accountable was in reality an attack on Fox viewers. "These are bloodthirsty savages who want to see you humiliated and violated," he said. "This is a threat to anybody who opposes them. Look what we can do to you. We can even storm into your president's home and take whatever we want."
"They don't need evidence," Watters said in July, speaking broadly about various DOJ investigations into Trump. "Their goal is to scare you into submission."
The overall implication of these arguments — that conservatives are being persecuted, and that the January 6 insurrection was really just about asking questions about vote totals — is not hard to understand. Fox News is laying the groundwork for future fascist violence, including but not limited to violence in response to elections won by Democrats.
Reprinted with permission from Media Matters.