WATCH: Democrats Slam Joni Ernst On Social Security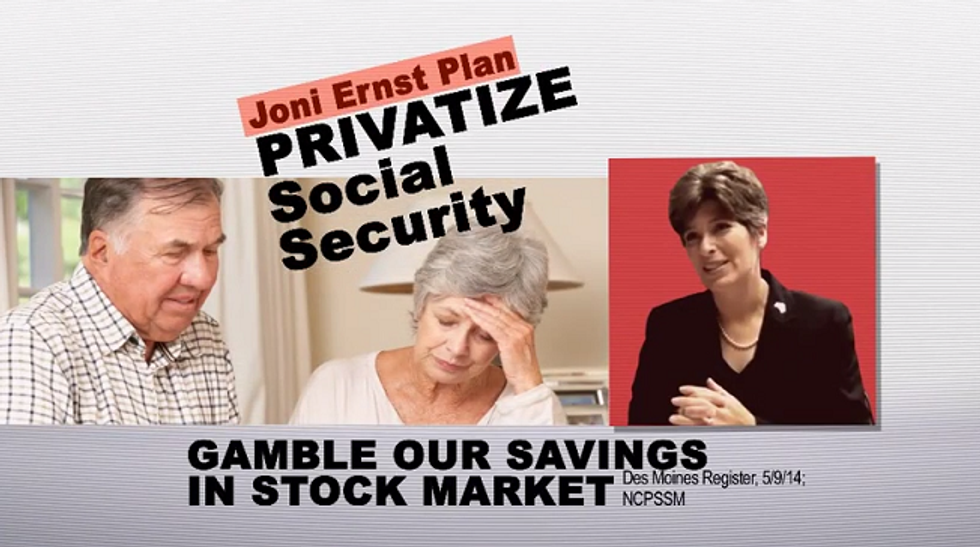 Democrats are ramping up their attacks against Senate candidate Joni Ernst, with a new ad campaign that accuses the Iowa Republican of trying to privatize Social Security.
"What does Joni Ernst stand for? She's proposed privatizing Social Security. Gambling our savings in the stock market," the ad's narrator says. "Experts say that could be a windfall for Wall Street, but a wipeout for us."
The ad concludes by warning voters that "Her ideas are just too extreme for Iowa."
The ad, which is reportedly backed by a more than $500,000 buy, is the second time this week that Democrats have targeted Ernst on Social Security. Throughout the campaign, Ernst has repeatedly suggested transitioning younger workers into a "personal savings account," which could be tied to the market. According to the Economic Policy Institute, such a plan could result in "considerably lower" benefits depending on market fluctuations, and introduce fees and management costs that are significantly higher than the administrative costs on traditional benefits.
The Ernst campaign has pushed back against the narrative; in a statement, Ernst spokeswoman Gretchen Hamel said that "Joni will protect Social Security for seniors like her parents, and ensure it's there for generations to come, like her daughters and grandchildren."
The ad is just the latest volley in what has become one of the most negative campaigns in the country. Since Ernst burst onto the scene with a threat to castrate Congress, Democrats have labeled her as the "Sarah Palin of Iowa," and accused her of extremism for pushing discredited United Nations conspiracy theories, and referring to President Obama as a "dictator," among other charges.
Ernst has fired back by accusing her Democratic opponent, U.S. Rep. Bruce Braley, of sexism, and has received extensive support from outside groups such as the Koch brothers-backed Americans for Prosperity, and Karl Rove's American Crossroads.
According to the Huffington Post'spoll average of the race, the crucial race is currently a pure toss-up.
Screenshot: dscclive/YouTube
Want more political news and analysis? Sign up for our daily email newsletter!