WATCH: Ernst Moves From Castration To Gunshots In New Campaign Ad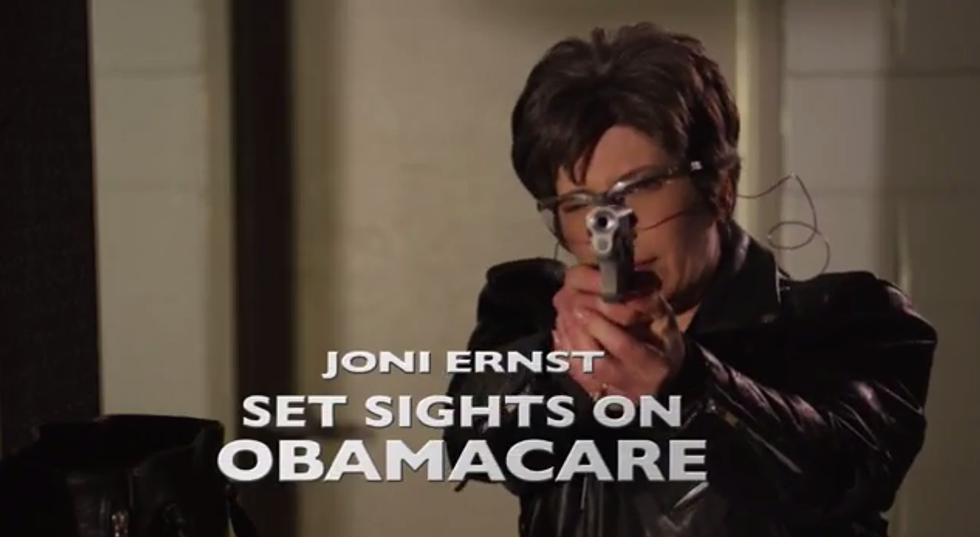 Iowa Senate candidate Joni Ernst (R) released her second ad of the campaign on Sunday, and it's almost as ridiculous as her first.
Ersnt, a Tea Party-backed state senator, earned national headlines in March when she cut an ad threatening to castrate congressmen who don't agree to reduce spending. But in her new ad, Ernst trades in her hog knife for a handgun:
"Conservative Joni Ernst: mom, farm girl, and a lieutenant colonel who carries more than just lipstick in her purse," a narrator says as a leather-clad Ernst rides a motorcycle to a shooting range. The candidate then loads her gun and fires six shots into a target.
"Once she sets her sights on Obamacare, Joni's going to unload," the narrator says. "Oh, and one more thing: Joni doesn't miss much."
If the ad gives you a strong Sarah Palin vibe, that's by design; the former Alaska governor has been one of Ernst's most prominent surrogates throughout the campaign, and Ernst has eagerly co-opted Palin's "mama grizzly" brand.
Ernst currently holds a narrow lead over energy executive Mark Jacobs in the Republican primary race. If no candidate wins 35 percent of the vote in the June 3 primary, then the nominee will be selected through a state convention two weeks later. Such conventions tend to favor more conservative candidates like Ernst. Whoever wins the Republican nomination will face U.S. Representative Bruce Braley (D) in the general election.
Screenshot: YouTube