WATCH: GOP Senate Candidate Would Consider Eradicating The Minimum Wage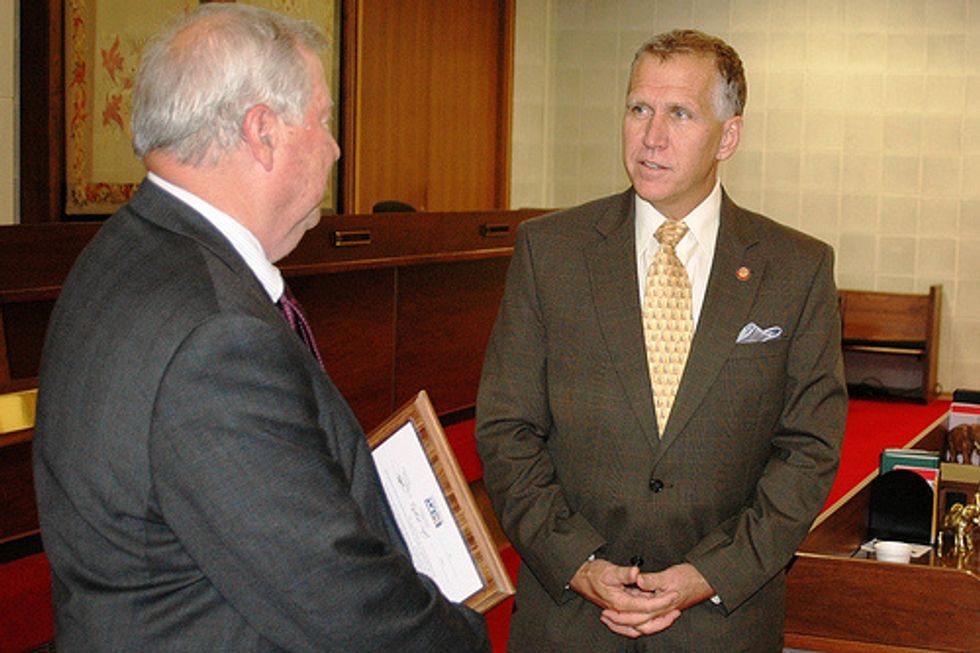 Thom Tillis, the frontrunner for the Republican nomination in North Carolina's 2014 Senate race, has a big minimum-wage problem.
Speaking to the Raleigh News & Observer this week, Tillis expressed his opposition to a Democratic plan to raise the federal minimum wage to $10.10 per hour. After calling it a "dangerous idea," Tillis explained, "I think for the most part the market needs to define that. I think when we create artificial thresholds then you run into a big problem."
Opposing a minimum-wage increase is hardly abnormal for a Republican Senate candidate. What Tillis said next, however, could cause major trouble for his campaign to unseat incumbent Democrat Kay Hagan.
When asked if he supports eliminating the minimum wage altogether, Tillis replied, "Yeah, I think you should consider anything that frees up the market, that creates more jobs."
"But the reality is, you can't unring that bell," he added. "You'd have to look at it, whether or not that creates destabilization in a market that is already destabilized."
A tracker for American Bridge captured the exchange on video:
Democrats immediately pounced on Tillis' statement.
"Thom Tillis let the special interests run wild in Raleigh, leaving North Carolina families hanging out to dry, and this is the latest sign he'll do the same in Washington," Hagan campaign spokesman Sadie Weiner said in a release. "Increasing the minimum wage would raise wages for over one million North Carolinians, but Tillis is so fringe he has suggested there shouldn't even be a minimum wage. Thom Tillis needs to stop granting face time based on who has the biggest checkbook and start listening to North Carolina."
Democrats — including Senator Hagan — have made no secret of their plans to make a $10.10 per hour minimum wage one of the centerpieces of their midterm campaigns, and North Carolinians appear to be quite receptive to the message. According to a recent Public Policy Polling survey, 56 percent of North Carolina voters support raising the minimum wage to $10 per hour, while just 33 percent oppose it. The results would presumably be even more skewed had PPP asked whether voters support eradicating the minimum wage altogether.
Tillis could be particularly vulnerable to charges of insensitivity towards his state's working class. As speaker of the North Carolina House of Representatives, Tillis has helped push for a slew of hard-right policies — most of which target the poor — that inspired the "Moral Mondays" protest movement.
Polls suggest that the North Carolina race, which could determine which party controls the Senate next year, will be among the closest in the nation. According to The Huffington Post'spoll tracker, Tillis leads Hagan 45 to 43 percent.
Photo: North Carolina National Guard via Flickr