WATCH: Hagan Pushes Moderate Record In New Ad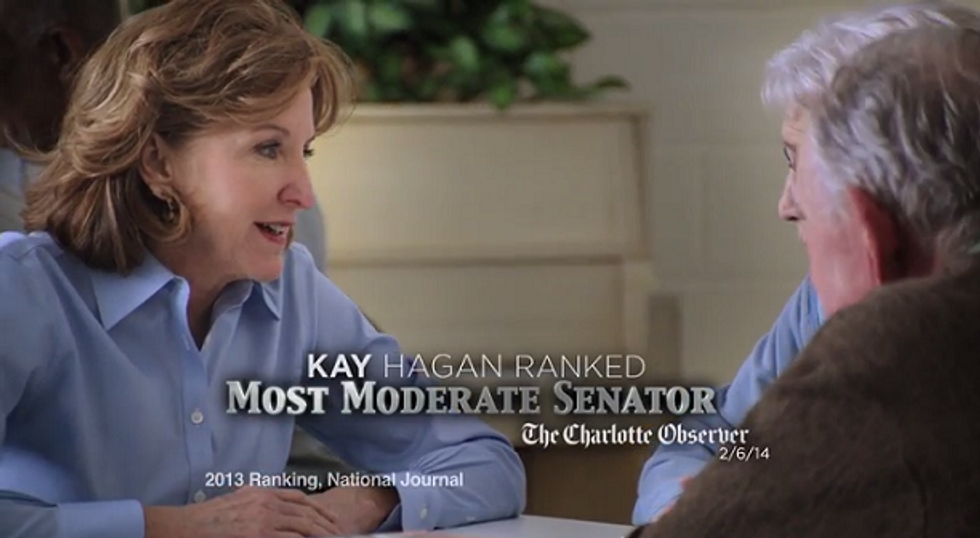 Senator Kay Hagan (D-NC) released a new ad on Tuesday, highlighting her moderate credentials and record of working across the aisle.
The ad, titled "Same Team," is a clear attempt to push back against months of attack ads that have painted her as a rubber stamp for President Barack Obama's agenda.
"One of the things I love about North Carolina is that unless you're talking basketball, you don't have to pick a team. That's how I get results for folks here at home," Hagan says in the 30-second spot. "Republican or Democrat, if an idea works for middle-class families, I am all for it."
"I approve this message because I was so proud when the nonpartisan National Journal ranked me the most moderate senator," she adds. "Not too far left, not too far right, just like North Carolina."
In addition to stressing Hagan's moderation, the ad is likely setting the table for the vulnerable incumbent's attempt to paint her Republican opponent, Thom Tillis, as a right-wing extremist. North Carolina's ultraconservative state House, of which Tillis serves as Speaker, is deeply unpopular; Tillis' poll numbers actually dip when it's in session. Hagan has more than $8 million in cash on hand, so expect many more ads highlighting this difference over the next three months.
The race is currently one of the closest in the nation; Hagan leads by 3 percent, according to The Huffington Post'spoll average.
Screenshot: Kay Hagan/YouTube
Want more political news and analysis? Sign up for our daily email newsletter!