Hillary Clinton Holds First Major Rally, Kicking Off Campaign's 'Next Phase'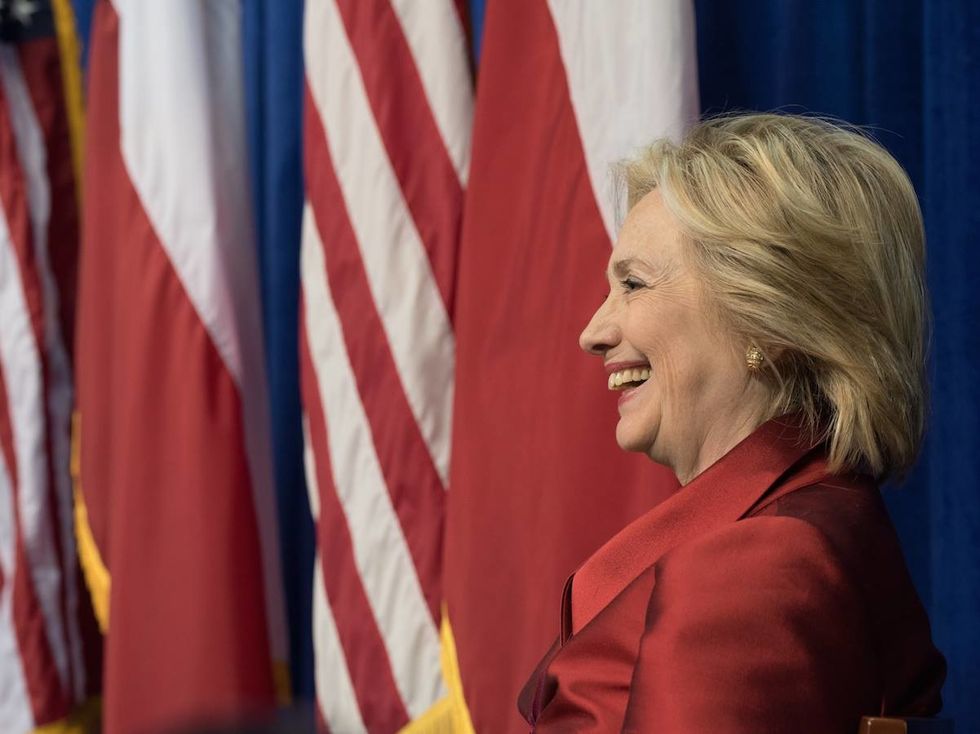 After a soft launch that began with a short video, and weeks of touring primary states to host small gatherings with supporters, Hillary Clinton kicked off what her campaign calls the "next phase" Saturday, with her first major rally on Roosevelt Island, New York.
Clinton nodded to the location of the rally, Franklin D. Roosevelt Four Freedoms Park, invoking the New Deal values that framed the speech.
"America's basic bargain," she said, means that "if you do your part, you ought to be able to get ahead. And when everyone does their part, America ought to be get ahead too."
"Lasting prosperity must be shared by all," she affirmed, along with a specific rebuke to "trickle-down" economics — which was met by passionate boos.
She spoke warmly of "President Bill Clinton," who stood smiling offstage in a red polo shirt. The 42nd president did not give a speech.
"America can't succeed unless you succeed," she said. "That is why I am running for President of the United States. Here on Roosevelt Island I believe we have a rendezvous with destiny."
"I'm not running for some Americans, but for all Americans," including innovators, small-business owners, those struggling with lower wages, working second jobs, veterans, and "everyone who's ever been knocked down but refused to be knocked out."
Referring to the crowded GOP field, Clinton said, "They're all singing the same old song — a song called 'Yesterday'" — an apparent dig at Marco Rubio who used the same word to describe Clinton's candidacy in his first campaign speech.
Clinton denounced Republicans' refusal to accept scientific data on climate change, policies favoring deregulation of Wall Street, inclination to "shame and blame" women, and what she characterized as backward stances on immigration, health care, and fundamental economic realities.
As widely predicted and indicated by a memo leaked by Clinton's campaign, biography played a central role in the speech. Clinton discussed the struggles and triumphs of her late mother, Dorothy Rodham, as well as her early legal career focusing on social issues.
Her speech crystalized around what she called the "four fights" — namely, to build an economy that benefited the most Americans, not only the super-rich; to strengthen families through a wide swath of social reforms; to defend the country and increase opportunities by investing in the nation's infrastructure and green energy technologies; and to "renew the promise of democracy," which included repealing the Citizens United Supreme Court decision.
Republicans have often positioned themselves as the party of "family issues," and so it was with deliberation that Clinton characterized a litany of liberal touchstones — immigration reform, equal pay, guaranteed health care, paid sick leave, reproductive rights, unequal incarceration rates, and LGBT equality — as being "family issues." She also outlined her goal to create universal pre-kindergarten child care.
Clinton asked supporters to connect via social media, text messages, and email to join her campaign and "make it your own."
"Everyday Americans need a champion. I want to be that champion," she said.
Photo: Hillary Clinton/Facebook.
This post has been updated.