WATCH: Mississippi Republicans Trade Attack Ads On Nursing Home Break-In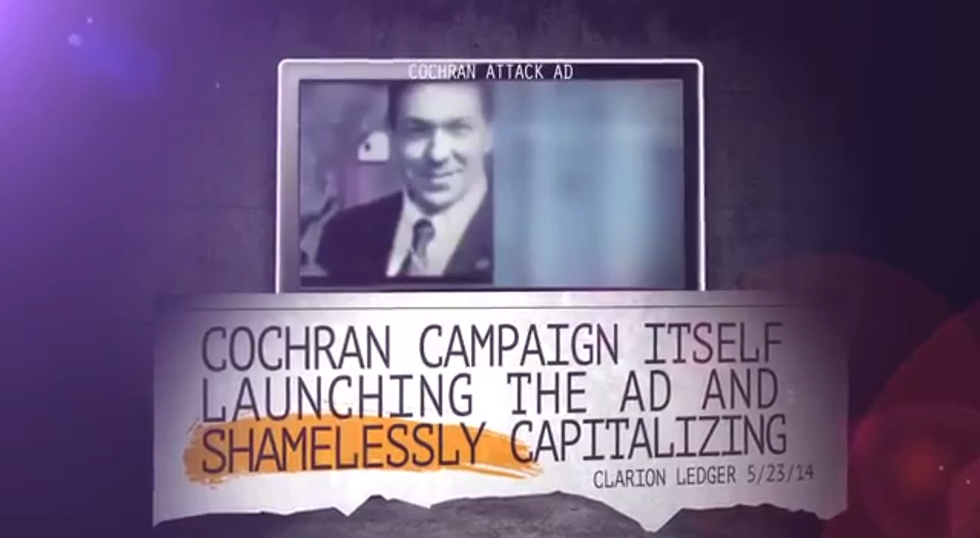 Mississippi's Republican primary for U.S. Senate is heating up in its final week, with incumbent Thad Cochran and his right-wing challenger Chris McDaniel trading attack ads centered on a nursing home break-in that has roiled the bitterly negative race.
The campaign's home stretch has been dominated by the arrest of Clayton Kelly, a right-wing blogger who supports McDaniel's Senate bid. Earlier in the month, Kelly was charged with exploitation of a vulnerable adult for allegedly breaking into the room of Cochran's bedridden wife, and taking photos of her that later appeared in a YouTube video on the campaign. McDaniel has denied any involvement with the incident, although his muddled answers on the topic have hardly blunted the political controversy.
"It's the worst," a narrator says in the Cochran campaign's spot. "A Chris McDaniel supporter charged with a felony for posting video of Senator Thad Cochran's wife in a nursing home. Had enough?"
"Rise up and say no to dirty politics," the ad concludes, "and yes to our strong conservative leader, Thad Cochran."
Not to be outdone, on Tuesday McDaniel released an ad calling Cochran's attack "outrageous."
"You've probably seen Thad Cochran's negative attack ads. Newspapers call them shameless. I call them outrageous," McDaniel says in the ad.
"Mississippians need a senator who will repeal Obamacare entirely, limit government spending, and stand up for working families," the state senator from Ellisville continues. "I'm asking for your vote so I can take our conservative Mississippi values to the U.S. Senate."
The ads are the latest salvos in what has become one of the most negative primary campaigns in the country. Although Cochran has outspent McDaniel by a 3-1 margin, he has failed to pull away in most polling of the race; the most recent survey, from the Citizens United Political Victory Fund — which supports McDaniel for Senate — found McDaniel leading Cochran by 4 percent.
McDaniel is generally considered to represent the Tea Party's best chance of knocking off a Republican incumbent in the 2014 primaries. As such, right-wing groups like Tea Party Patriots — which endorsed Tea Party candidates in Kentucky, North Carolina, and Nebraska, but hardly put any money behind them — are spending aggressively to back McDaniel in the campaign's final days.
Mississippi Republicans will head to the polls on Tuesday, June 3. The Republican nominee will face former U.S. Rep. Travis Childers (D-MS) in the general election.
Screenshot: YouTube
Want more midterm election news? Sign up for our daily email newsletter!