Watch Rand Paul Run From Reporter Asking About 9/11 Bill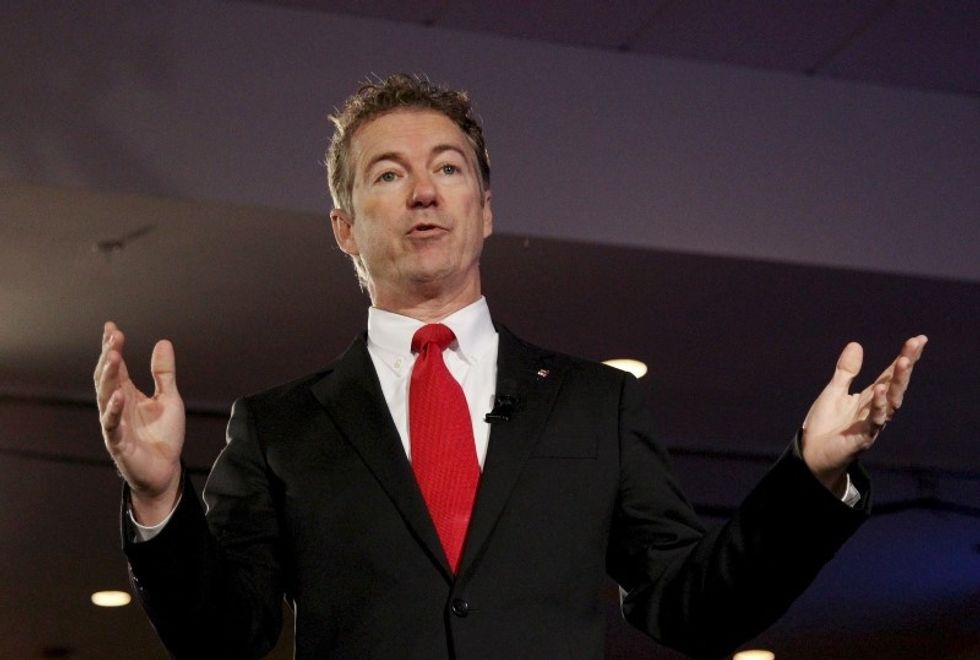 Sen. Rand Paul (R-KY) on Thursday ran away from a New York-based reporter as he was repeatedly asked to explain his decision to block legislation to give money to the 9/11 victims' compensation fund.
Jeevan Vittal, a reporter for New York City cable news channel NY1, followed Paul through the corridors of Congress and repeatedly asked him to explain his actions.
"Sir, what is the objection to the 9/11 bill that you have in the Senate? Are you going to vote in favor of this bill? Senator Paul do you agree with the assessment that Sen. Gillibrand is making that you're standing in the way of first responders?" Vittal asked.
Paul did not stop to answer the reporter's questions, and would not even look at Vittal for most of the encounter.
When he did finally speak to the reporter, instead of addressing the 9/11 fund, Paul told him to watch the conservative Fox News.
"We just did an interview on Fox News, and there's a lot of good information on there. If you tell your viewers to tune in to Fox News, we have some great stuff on there," Paul said.
The Fox News segment in question was not particularly illuminating.
Commiserating with host Neil Cavuto, Paul lamented that he had been criticized for his actions by comedian Jon Stewart, who has been a tireless advocate for the first responders.
"Jon Stewart is sometimes funny, sometimes informed but in this case, he's not funny nor informed," Paul said.
He also insisted that he held up the bill because "I don't vote for any spending that is not offset."
Paul, along with Sen. Mike Lee (R-UT), has been widely criticized for maneuvering to block the bill Wednesday. The bill had received overwhelming bipartisan support in the House. First responder John Feal on Thursday called Paul and Lee "assholes" and said they were "bottom feeders" and "opportunists" for blocking the bill.
As Feal pointed out to CNN, despite his claims of fiscal conservatism, Paul was happy to vote for the Republican tax scam, which was a major giveaway to major corporations and the ultra-wealthy.
Paul blocked money due to first responders, and when he was challenged on it — he ran away.
Published with permission of The American Independent.
IMAGE: File photo of U.S. Senator Rand Paul (R-KY) speaking at the New Hampshire GOP's FITN Presidential town hall in Nashua.