This Week In Crazy: Obama Is Brainwashing You With Psy-Ops, And The Rest Of The Worst Of The Right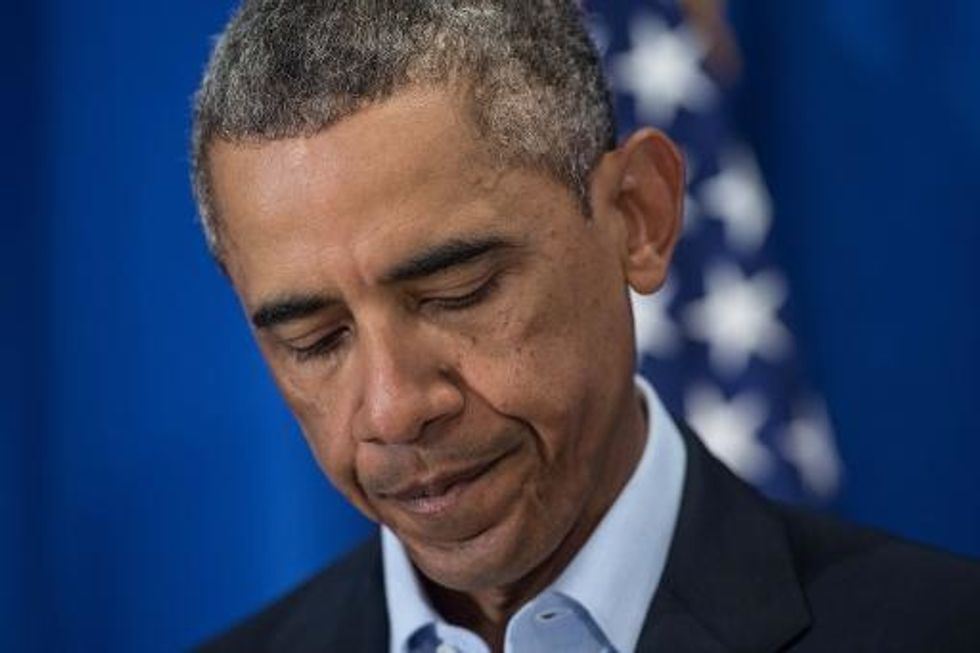 Welcome to "This Week In Crazy," The National Memo's weekly update on the wildest attacks, conspiracy theories, and other loony behavior from the increasingly unhinged right wing. Starting with number five:
5. Pat Robertson
On Wednesday, the U.S. Air Force announced that Airmen will now be allowed to omit the words "So help me God" from enlistment and officer appointment oaths, if they so choose.
It may not shock you to learn that Pat Robertson was not happy.
On the Thursday edition of his show, Robertson slammed the Air Force for giving in to the Military Religious Freedom Foundation's Mikey Weinstein, who advocated for the change.
"There is a left-wing radical named Mikey Weinstein who has gotten a group about 'people against religion' or whatever he calls it and he has just terrorized the Armed Forces," Robertson raged. "You think you're supposed to be tough, you're supposed to defend us, and you've got one little Jewish radical who is scaring the pants off of you. You want these guys flying airplanes to defend us when you've got one little guy terrorizing them?"
How did Weinstein even find time to terrorize the military when he has all those diamonds to polish?
4. Glenn Beck
On Thursday, Scotland voted to remain a part of the United Kingdom. But American prophet Glenn Beck couldn't wait that long to warn us about the horrible implications of an independent Scotland.
In a roundtable discussion featuring goofy graphics and bored staffers on Tuesday, Beck explained what Scottish independence would really have meant: "Civil war all over the world."
According to Beck, tyrants like Vladimir Putin were "licking their chops over this," because it would have give them an excuse to violate all manner of international norms.
"This is what my gut's been telling me," he said. "There's something wrong here. There's something really big … there's a really huge consequence to this. That's what it is. This leads to global destabilization."
Notably, even though Beck believes that Scottish independence would have led to global catastrophe, he still supported the movement.
3. Rush Limbaugh
Noted gender-relations expert Rush Limbaugh, who has claimed that "most women are actually intrigued" by sexual objectification, and that rape culture is "just the way of the world," weighed in on Ohio State University's new sexual assault policy during the Monday edition of his show.
After complaining that the new mandate, which requires affirmative consent for sex, "takes all the romance out of everything," Limbaugh got to the meat of his argument.
"How many of you guys, in your own experience with women, have learned that no means yes if you know how to spot it?" Limbaugh asked.
In fairness to Limbaugh, he probably has heard plenty of women say "no" to his advances.
Limbaugh's comments sparked immediate outrage and renewed calls to remove him from the air. They may have made an impact; by Thursday, Limbaugh had moved on to the much less controversial topic of domestic violence.
2. Gordon Klingenschmitt
It was another busy week for Colorado state House candidate and militant-gay fearer Gordon Klingenschmitt.
On Saturday, Klingenschmitt sent an email to members of his Pray in Jesus Name Project claiming that New York is "banning Christian worship," and making sure that Christians "cannot worship Christ during a wedding, unless they also worship and participate equally in sodomy in their own home."
On Sunday, he warned that by attempting to overturn the Supreme Court's Hobby Lobby ruling, "Democrats are literally trying to outlaw Christianity."
But he saved the main event for Wednesday, when he revealed who's really to blame for a federal appeals court's recent decision to uphold New Jersey's ban on sexual orientation conversion therapy.
You guessed it: Demons.
"There is a demonic spirit of persecution that is in some politicians," Klingenschmitt lamented. "I'm not saying that politicians are the Devil, but I'm saying the Devil is influencing them to persecute Christians, and they're using the courts to do it, they're using these laws to do it. They want to silence the prophets!"
Prophets? That's probably the nicest thing anyone has ever said about Marcus Bachmann.
1. Jerry Boykin
Although President Obama has obviously commited hundreds of impeachable offenses, there has never been any serious legislative attempt to hold him accountable for his treasonous actions. Thanks to this week's "winner," Family Research Council executive vice president Jerry Boykin, we now know why.
According to God's gun salesman, Obama — who is somehow simultaneously America's "first 'Red' president," and "a king" — is using "psy-ops" to get away with murder.
"First of all, the Islamists are running an influence campaign, trying to change our thinking," he explained during a Tuesday interview with fellow This Week In Crazy favorite Rick Wiles. "And look, you saw the evidence of that when the president stood up last week and said 'ISIS is not Islam.' You know, that's an influence campaign. That's influence, and that's brainwashing the American people."
"But you see that also with the Marxists," Boykin added, "and the LGBT lobby is doing the exact same thing. Bombarding us with this messaging that is really about changing the way we think."
One would think that if President Obama, ISIS, the LGBT lobby, and the Marxists were all brainwashing Americans, he might have a higher approval rating.
Check out previous editions of This Week In Crazy here. Think we missed something? Let us know in the comments!
Get This Week In Crazy delivered to your inbox every Friday, by signing up for our daily email newsletter.