This Week In Crazy: Ted Nugent Saves Independence Day, And The Rest Of The Worst Of The Right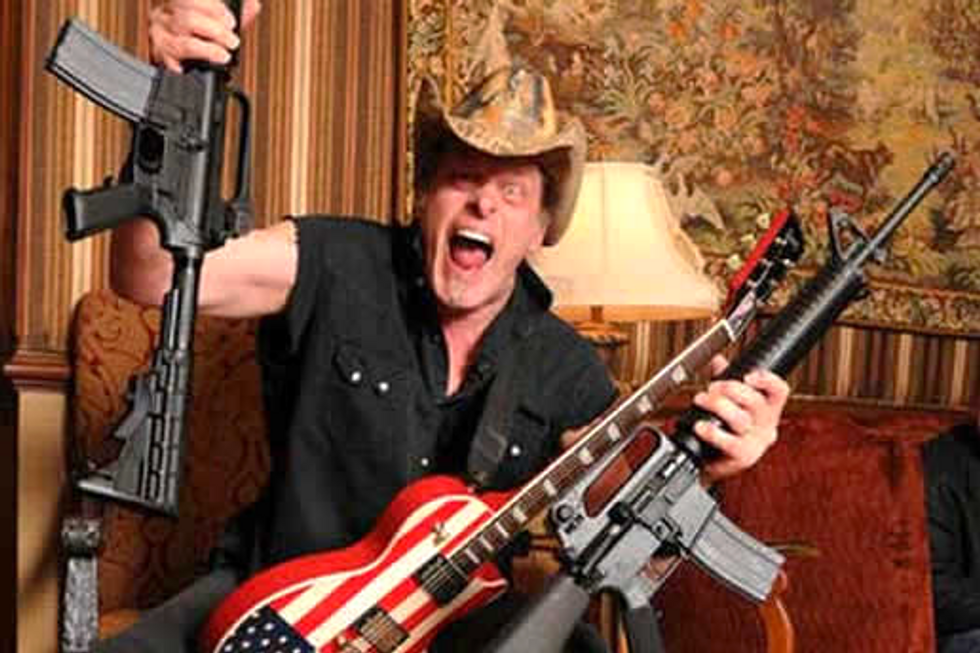 Welcome to "This Week In Crazy," The National Memo's weekly update on the wildest attacks, conspiracy theories, and other loony behavior from the increasingly unhinged right wing. Starting with number five:
5. Charles Payne
For years, Fox News has slammed President Barack Obama for presiding over a sluggish economic recovery that has featured stubbornly high unemployment. So the network must have been thrilled with Thursday's expectations-shattering jobs report, right?
Not so much.
As Media Matters for America points out, Fox News buried the happy story on its website, instead of prominently featuring it like its competitors did. Then, when discussing the report on air, the network chose to focus on the "real unemployment rate" of 12.1 percent, before quickly pivoting to a discussion of a recent poll suggesting that Americans wish that Mitt Romney were president.
But nobody on Fox was more bummed about the nation's robust job creation and declining unemployment rate than Fox Business host Charles Payne, who suggested that the new report is actually "too good."
Is the jobs number too good for the stock market…equity futures are drifting lower not sure how to react

— Charles V Payne (@cvpayne) July 3, 2014
If anyone knows what sends stock prices tumbling, it's this guy.
For those of you keeping score at home, the strong jobs report actually helped the Dow Jones Industrial Average hit an all-time high of 17,068. But fear not, Fox: Somewhere out there, Jack Welch is surely tracking down the real numbers.
4. Dennis Prager
Plenty of right-wing pundits have defended Washington Redskins owner Dan Snyder's right to name his football team with a racial slur, but few have done so in as clunky a way as Dennis Prager.
In a column in the National Review, Prager begins by (falsely) claiming that Native Americans don't actually have a problem with the name.
"The great majority of American Indians understandably just don't care," he writes. "Like heterosexual AIDS and so many other crises, this has been entirely manufactured by the Left."
Oddly enough, this isn't the first time that Prager has claimed that heterosexual AIDS is a myth (just like secondhand smoke and climate change!).
Prager goes on to make a five-point case for why whiny liberals should shut up about the Redskins. It basically goes as follows:
1."[T]he Left is far more concerned with attacking America — its alleged racism, sexism, homophobia, Islamophobia, and economic inequality — than with fighting Islamism."
2. "The Left today hates traditional America much more than it hates traditional Islamists. The Redskins name is a symbol of that hated America."
3. Liberals love the '60s, so "therefore getting the Redskins to change their name is a contemporary expression of working to give blacks full voting rights."
4. "[A]side from tearing down another American tradition, and showing how awful America was and remains, the motivating issue here is left-wing self-esteem."
5. The Left "is totalitarian at heart," and while today liberals are criticizing George Will and the Redskins, tomorrow it will be you.
First they came for Dan Snyder, and I did not speak out, because I was not a Republican multi-millionaire…
3. Ben Carson
Dr. Ben Carson is still dominating the "say crazy things to sell copies of your book" phase of his rise to prominence as a right-wing leader.
During a recent interview promoting Carson's book, DoveTV host Perry Atkinson suggested that if America bans abortion, then "it seems that all of the other things that God would be interested in helping us with would fall into alignment.
Carson agreed.
"It's interesting that we sit around and call other ancient civilizations 'heathen' because of human sacrifice," he mused, "but aren't we actually guilty of the same thing?"
In related news, the guy who thinks that abortion is the same thing as human sacrifice, and that gay marriage is a Marxist plot to impose a New World Order is surging in Republican presidential polls.
2. Gordon Klingenschmitt
It may not stun you to learn that Colorado state House candidate and self-proclaimed demon expert Gordon Klingenschmitt is not thrilled with the recent decision striking down Utah's ban on same-sex marriage. But he's not going to let it keep him down.
According to Klingenschmitt, he'll get the last laugh — when Jesus overrules the Supreme Court and sentences gay men to eternal damnation.
"OK, the U.S. Supreme Court didn't get this right…but then there's a higher court," Klingenschmitt explained. "Because after that, these two men will appear before this court, the Great White Throne of Judgment, where Jesus Christ himself is sitting on the throne."
"Jesus as the judge will overrule the Supreme Court," he continued, "and what will he do with these two men? It'll be printed in Heaven's newspaper in a hundred years that God throws them into Hell."
Klingenschmitt, who tends to stick to the more fire-and-brimstone-related sections of the Bible, clearly hasn't considered the possibility that Heaven's newspapers might also have a liberal bias.
Meanwhile, a few thousand voters in El Paso County haven't considered the possibility that Gordon Klingenschmitt could be their representative in the state legislature.
1. Ted Nugent
In honor of the Fourth of July, it's only fitting that this week's "winner" is a man who loves this country so much that he pooped his pants for a week to dodge the draft: Ted Nugent.
In his latest column for conspiracy repository WorldNetDaily, Nugent wishes "real" Americans a happy Independence Day. But he has a different message for all of the "bloodsuckers and scammers" who voted for President Obama.
"With the runaway fraud and deceit infesting the welfare scams, entitlement scams, unemployment benefit scams, food-stamp scams, fuel subsidy scams, transportation scams, child support scams, disability scams, the suicidal scams running amok here, there and everywhere, it actually appears a sure thing that a huge swath of Americans actually do celebrate 'Dependence Day' every day," Nugent writes.
"The dumbing down of America was necessary to de-soul America, and the Saul Alinsky gang infesting our government today rejoices that The Last Best Place is now plummeting downward at a high rate of speed, on course to be more 'equal' to all those lesser countries that are not allowed to have a Declaration of Independence," he continues.
"I'm thinking 'Orwellian' here, Planet of the Apes, Many Flew Over the Cuckoo's Nest, The Twilight Zone, Soylent Green," he adds, "but I'm sure hard-pressed to think 'land of the free home of the brave' much anymore when so many Americans have fallen for the anti-American scammasters."
What's a good patriot to do? Coincidentally, it turns out that the only way to save America is to buy a ticket to see Nugent's self-described "killer band," which he promises will "unleash a torrent of freedom soundtrack R&B&R&R."
"I suppose it is no coincidence that my new record and tour are titled SHUTUP&JAM!, for my 'we the people' hell-raising duties are so full-time and exasperating in the face of this crazy government and the sheep that follow them that more often than ever in my life I need to indeed shutup and jam just to cleanse my soul and escape this heartbreaking fundamental transformation insanity, thereby celebrating my rugged individual independence with like-minded independent Americans," he writes without any sense of modesty (or commas.)
Thanks for saving America, Ted Nugent! Just please finish the job before you end up dead or in jail.
Check out previous editions of This Week In Crazy here. Think we missed something? Let us know in the comments!
Get This Week In Crazy delivered to your inbox every Friday, by signing up for our daily email newsletter.