Weekend Reader: 'Give Us The Ballot: The Modern Struggle For Voting Rights In America'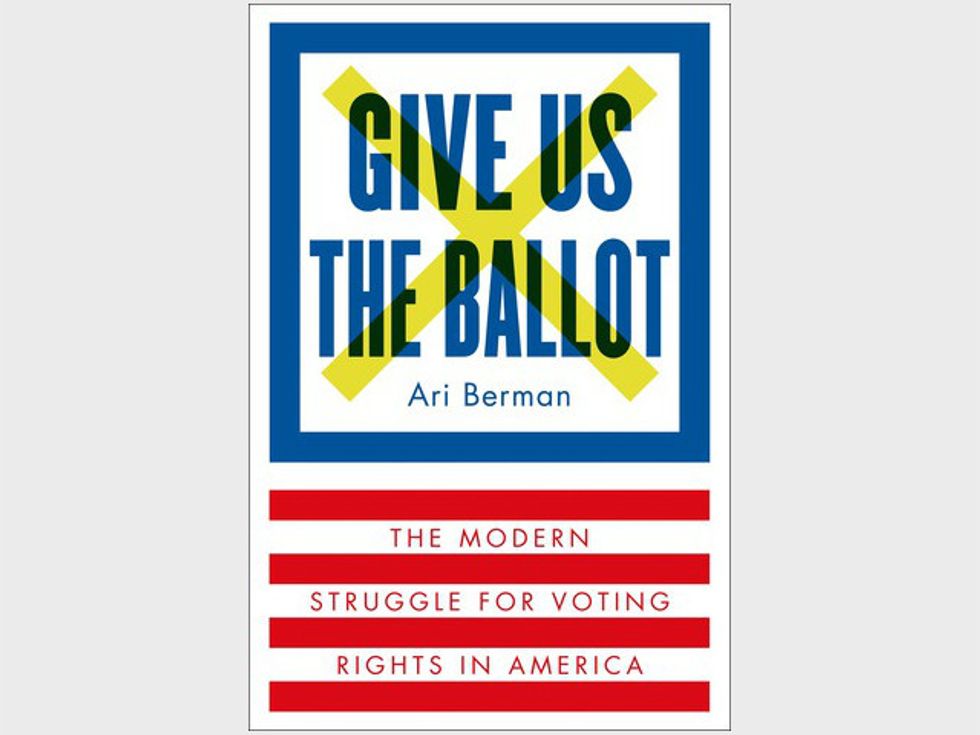 Fifty years after the passage of the Voting Rights Act — "the crown jewel of the civil rights movement" — and the most fundamental democratic exercise continues to come under attack.
Give Us The Ballotby The Nation contributing writer Ari Berman, is an exhaustive history of the triumphs and setbacks of the movement to expand and protect the rights of all Americans to vote — from the streets of 1960s Selma, Alabama to the courthouses of today.
You can read an excerpt below. The book is available for purchase here.
—
In December 1964, Lyndon Johnson was in a jubilant mood. He'd just routed Barry Goldwater by twenty-three points, winning 486 electoral votes to Goldwater's 52, the most lopsided victory in U.S. presidential history to date. Five months earlier, on his daughter Luci's seventeenth birthday, he'd signed the Civil Rights Act of 1964, a sweeping law that desegregated schools, restaurants, hotels, parks, and many other public places. When John F. Kennedy's advisers urged LBJ not to push the bill following the assassination, the new president replied, "Well, what the hell's the presidency for?"
Johnson's commitment to civil rights surprised his critics on the left and the right. He was the first southern president since the Civil War. His first vote in the House of Representatives in 1937 came against an antilynching law. His first major speech in the Senate was a defense of the filibuster, which had been used so often by southern Democrats to block civil rights legislation. He'd voted against every civil rights bill in Congress from 1937 to 1956. JFK put him on the ticket to win the southern segregationist vote.
Yet LBJ hadn't had a change of heart so much as a change of circumstances and constituency. He was no longer a congressman or senator from Texas, but the president of the United States. He was now free to say what he believed.
Johnson could be crude and manipulative, but he was also unexpectedly compassionate. After graduating from Texas State University–San Marcos, LBJ taught fifth through seventh grades at a segregated Mexican-American school in the south Texas town of Cotulla, where his students showed up barefoot because they were too poor to afford shoes. LBJ cried when he told the story. "It was a genuinely uncontrolled emotion," said Deputy Attorney General Ramsey Clark, a fellow Texan. "It was pretty deep and pretty impressive."
Now Johnson wanted to cement the civil rights revolution by giving African-Americans and other long-disenfranchised minority groups the right to vote, a goal that previous civil rights legislation in 1957, 1960, and 1964 had not accomplished. The ballot, the president believed, would give Mexican-Americans in Cotulla and blacks in Selma the power to change their circumstances. The vote was "the meat in the coconut," he liked to say.
"I want you to undertake the greatest midnight legislative drafting that has happened since Corcoran and Cohen wrote the Holding Company Act," the president instructed the acting attorney general, Nicholas Katzenbach, on December 14, 1964, referring to an obscure New Deal bill in 1935 regulating electric utilities that was written by two senior aides to Franklin Roosevelt. LBJ wanted "a simple, effective method of gettin' 'em registered." He urged Katzenbach and the top lawyers in the Justice Department to "scratch their tails" and "get me some things you'd be proud of, to show your boy, and say, 'Here is what your daddy put through in nineteen sixty-four, -five, -six, -seven.'"
Katzenbach, who'd succeeded Robert Kennedy as the nation's top law enforcement official after Johnson's archrival left to run for the U.S. Senate in New York in the summer of 1964, was not thrilled with the new assignment. He'd spent eight months on Capitol Hill lobbying for the Civil Rights Act, which endured a fifty-seven-day filibuster by southern Democrats, the longest in Senate history. The office of Senate Minority Leader Everett Dirksen of Illinois had practically become his second home. Strong voting rights provisions were stripped from the bill to win congressional support.
"The 1964 Civil Rights Act was exhausting," said Ramsey Clark. "It about expended our goodwill with the Senate and the House. President Johnson insisted we were going to have another round of civil rights legislation, this time on voting … There was no enthusiasm in the Justice Department, but Johnson insisted on it."
At the end of December, after consulting with lawyers from the Appeals and Research Section at the DOJ, Katzenbach sent LBJ three options, in order of preference, "to overcome voter apathy and discrimination." Katzenbach's top choice, a constitutional amendment prohibiting states from employing devices like literacy tests and poll taxes that disenfranchised minority voters, "would be the most drastic but probably the most effective of all the alternatives," he wrote. It was also the most "cumbersome," he admitted, because a constitutional amendment needed to be ratified by two-thirds of Congress and three-fourths of states. The second option would be to create a federal commission that would appoint federal officers to register voters for federal elections. The third option would be for the federal government "to assume direct control of registration for voting in both federal and state elections in any area where the percentage of potential Negro registrants actually registered is low."
Civil rights activists favored the last option. "This approach would quickly provide political power to Negroes in proportion to their actual numbers in areas in which they are now disenfranchised," Katzenbach wrote. "On the other hand, its effects on general voter apathy would be relatively minimal … Moreover, its constitutionality is more dubious than that of the preceding suggestion."
In his State of the Union address a week later, Johnson vowed to "eliminate every remaining obstacle to the right and the opportunity to vote." Inside the White House, a debate raged among Johnson's inner circle over how and when to push voting rights legislation. "Certainly I have absolutely no problem with the desirability of such legislation, but I do have a problem about the timing and the approach," Lee White, one of LBJ's top advisers on civil rights, wrote to the special assistant Bill Moyers on December 30, 1964. The Civil Rights Act was less than a year old, White argued, and the prospects for passing voting rights legislation did not look particularly favorable. White proposed that 1965 "be a year of test" on civil rights.
Horace Busby, a Johnson aide since 1946 from Texas, was less charitable. "To southern minds and mores," he wrote to White and Moyers, "the proposals of this message would represent a return to Reconstruction."
The mercurial Johnson wanted to keep his legislative options open. Four days after talking with Katzenbach, LBJ met at the White House with Martin Luther King, Jr., who'd been awarded the Nobel Peace Prize that week. King told Johnson that he would soon be launching a voting rights campaign in Selma, where only 2 percent of blacks were registered to vote. He asked the president for his support.
"Martin, you are right about that," Johnson replied. "I'm going to do it eventually, but I can't get voting rights through in this session of Congress." The president's ambitious Great Society agenda took priority. "I need the votes of the southern bloc to get these other things through," Johnson said. "And if I present a voting rights bill, they will block the whole program. So it's just not the wise and the politically expedient thing to do."
King left the meeting dispirited. His voter registration drive in Selma would be aimed as much at the federal government as at the segregated South. "I think we've got to find a way to get this president some power," King told Andrew Young as they departed the White House.
—
Excerpted from Give Us the Ballot by Ari Berman, published in August 2015 by Farrar, Straus and Giroux, LLC. Copyright © 2015 by Ari Berman. All rights reserved.
If you enjoyed this excerpt, purchase the full book here.