Welcome To Florida, Where The NRA Rules And We Proudly Stand Our Ground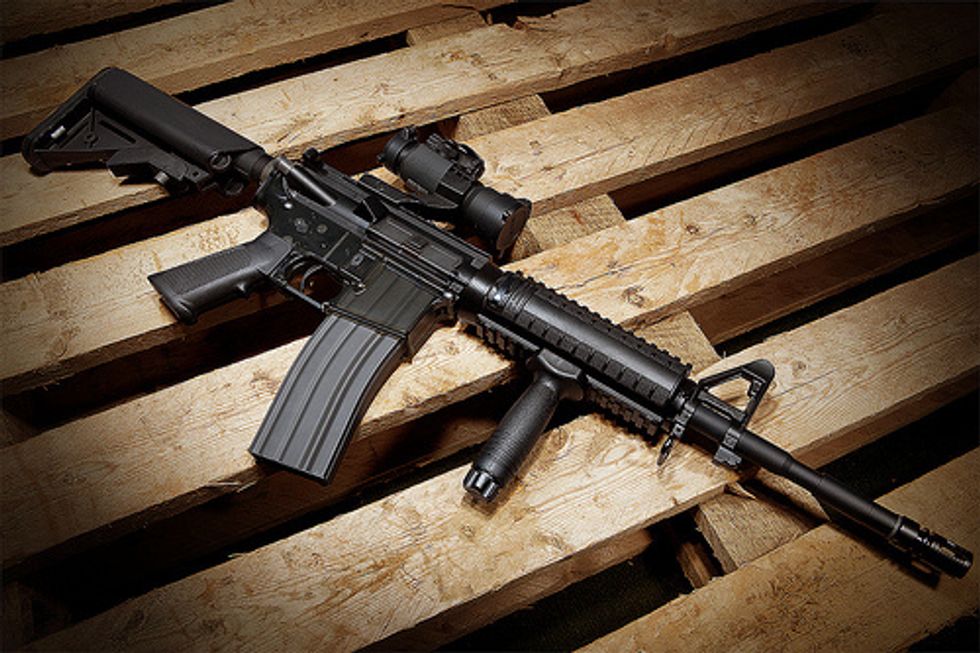 Don't hold your breath waiting for the state legislature to fix Florida's cockeyed Stand Your Ground law. The National Rifle Association owns too many of the Republican lawmakers who could end the madness.
Nothing will get done in Tallahassee as long as black kids are the ones getting shot by white guys claiming they acted in self-defense. What might eventually pressure politicians to change the law is when white guys start getting shot.
The jaw-dropping verdict in the Michael Dunn case in Jacksonville brought not a peep of outrage from GOP leaders in the House or Senate. The outcome shamefully underscored the lunacy of Stand Your Ground, and once again put Florida in the national spotlight as a gun-nut mecca.
Dunn, who is white, got into an argument over loud music with some black teenagers who were parked beside him at a gas-station convenience store. He pulled a handgun and fired into the teens' SUV, then crouched and continued shooting as it sped away.
In all, Dunn fired 10 times. Jordan Davis, age 17, was killed.
Oddly, Dunn didn't call the police. He checked into a motel with his girlfriend and ordered pizza. The next day he was arrested in Brevard County, where he lives.
At the trial, Dunn said he saw a shotgun being pointed at him from the SUV, and that he fired in self-defense. He also said Davis got out of the vehicle and threatened him.
No weapon was found in the SUV. Dunn's own girlfriend testified that, contrary to his account, he never once mentioned to her that he'd seen a shotgun. Moreover, a medical examiner said Davis' wounds indicated he'd been seated inside the vehicle, leaning back, when he was fatally struck by Dunn's bullets.
The jury voted unanimously to convict Dunn on three counts of attempted second-degree murder for continuing to blast away at the SUV as it raced off.
However, the panel deadlocked 10-2 on the first-degree murder charge, the majority favoring conviction. Then it was 9-3.
The sticking point was Florida's spongy self-defense law that essentially allows the use of lethal force if a person feels threatened.
True or not, practically anybody who shoots another person can say they feared for their lives, whether it's a barroom fight, a domestic brawl or a traffic altercation. Self-defense claims in homicides have skyrocketed since 2005, when Stand Your Ground was passed.
Gang members, in particular, are big fans of the law.
No verdict was reached on the killing of Jordan Davis, so Michael Dunn is going to prison for attempting to murder the three other occupants of the car. Try to figure that one out, especially if you're the parents of that dead teenager.
Coming less than a year after George Zimmerman was acquitted in the shooting of Trayvon Martin, another unarmed black youth, the Dunn case should have shamed legislators into action.
It hasn't, although there's another one looming that should bring more heat. This time the victim was white, a Navy veteran and the father of a young child.
Chad Oulson was shot to death in a Wesley Chapel movie theater by 71-year-old Curtis Reeves Jr., who'd become aggravated because Oulson was texting during previews.
The two men argued. Oulson stood up and turned around. Police said he threw popcorn at Reeves, who pulled a gun and shot Oulson in the chest. The bullet nicked the hand of Oulson's wife.
Reeves, a retired Tampa cop, has been charged with second-degree murder. He told police was he was scared "s—less" by Oulson, whom Reeves said had struck him with a fist or some other object.
No punches are visible on surveillance video from the movie theater, and even Reeves' wife said she didn't see Oulson hit her husband. Reeves' attorney said the video shows a small shiny object striking Reeves and falling to the floor.
After the popcorn was flung at him, he whipped out a .380 semiautomatic and fired point-blank. Then he sat back in his chair while Oulson died.
Oulson's wife said Reeves had taunted her husband about using his phone even after he'd put it away. She said Chad had been texting the family babysitter to check on their daughter, who wasn't feeling well.
This is life in Florida — guns everywhere, and laws that favor the trigger-happy. Shoot first, then cry self-defense.
Kids playing rap music too loud? Lock and load.
Some guy texting at the movies? Teach him some manners.
Don't walk away from an argument when you can end it with a bullet. Stand your ground and hope you get the right jury.
Welcome to Planet NRA.
(Carl Hiaasen is a columnist for The Miami Herald. Readers may write to him at: 1 Herald Plaza, Miami, Fla., 33132.)
Photo: brian.ch via Flickr