What Does Joe Biden Do Now?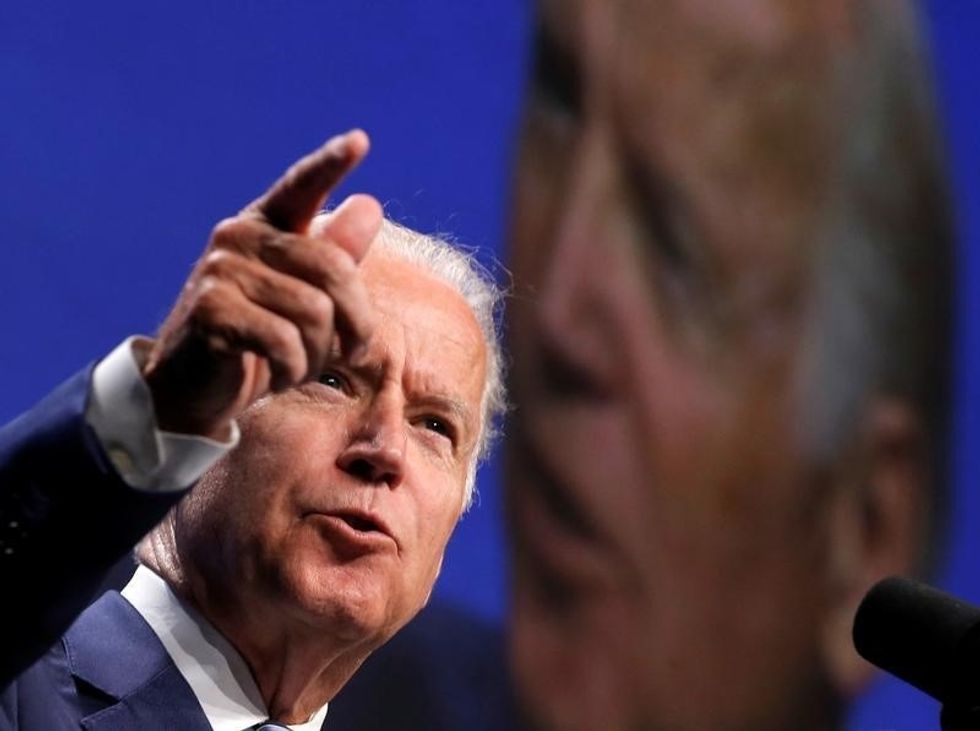 Just months ago, Joe Biden was seriously mulling a third and final run for the presidency. Today, the vice president is preparing for a more supportive role during the general election matchup between Hillary Clinton and Donald Trump.
It is clear that Biden, who will be leaving office at the end of this year, wants unity in the Democratic Party. To that end, he will undoubtedly follow President Obama's endorsement of Clinton with his own, though his support is likely to carry some reluctance due to his more progressive views on the economy and the pair's sometimes-complicated relationship dating back to 2008: Biden has criticized Clinton for her war hawkish stances and Clinton's camp reportedly was unhappy this year when Biden said she was "relatively new" to addressing economic inequality. 
His role on the campaign trail could be a downsized version of the one he had during the 2008 election when he was known for his ability to recruit working class voters — particularly men.
Sanders, who has praised Biden's work for the "well being of working families," may take the lead in swaying working class voters, especially considering his popularity with them this cycle, and his incentive to work together for the sake of his involvement under the probable future leadership of Senate Majority Leader Schumer. But Biden could be right behind him, and combined, the two could work to poach working class support from Trump in swing states such as Ohio, Pennsylvania, and Wisconsin.
Biden has been more receptive to the platform of Bernie Sanders throughout the election cycle than President Barack Obama, who finally endorsed Clinton on Thursday but has largely stayed further in the background while awaiting his chance to campaign in support of the Democratic nominee. While Clinton has often laughed off Sanders' proposals and branded them as unrealistic in an apparent effort to delegitimize the Vermont senator, Biden has called them as ambitious and representative of the values of the Democratic Party.
"I like the idea of saying, 'We can do much more,' because we can," Biden said of Sanders to the New York Times in April. "I don't think any Democrat's ever won saying, 'We can't think that big — we ought to really downsize here because it's not realistic.' C'mon man, this is the Democratic Party! I'm not part of the party that says, 'Well, we can't do it.'"
In January, marking a stark contrast to Clinton's dismissive claim that Sanders' proposals "don't add up," Biden said, "I think that Bernie is speaking to a yearning that is deep and real, and he has credibility on it. It's relatively new for Hillary to talk about that … No one questions Bernie's authenticity on those issues."
And just this week, perhaps in an effort to stay in line with the inevitability of Clinton's candidacy while remaining sympathetic to Sanders and his millions of supporters, Biden straddled the party line by acknowledging Clinton's nominee status while adding that Democrats should "be a little graceful and give [Sanders] the opportunity to decide on his own" when to formally drop out of the race."
Biden's support of Sanders and inevitable endorsement of Clinton could help broker a truce between the two rivals. Weeks before the final votes were cast in the Democratic primary race, Biden said he was confident that Bernie would support Clinton in the case that she were to become the nominee. "There's no fundamental split" in the party, he added.
Biden said earlier this year that he regrets his decision not to run in 2016 but admitted he plans to remain involved. His first campaign for president, in 1988, initially gained traction and at one point, ahead of the Iowa caucuses, he had raised more money overall than Michael Dukakis and Richard Gephardt. But Biden's campaign tanked when it was alleged that he plagiarized British politician Neil Kinnock.
Biden again briefly ran for president in 2008, prior to becoming President Obama's running mate. He focused on forging more diplomatic solutions to the War in Iraq and attacked Clinton's pro-war vote. He dropped out after earning only 1 percent of the vote in the Iowa caucus that year.
Photo: U.S. Vice President Joe Biden speaks at the American Society of Clinical Oncology Annual Meeting in Chicago, Illinois, U.S., June 6, 2016. REUTERS/Jim Young