What To Watch For On Election Day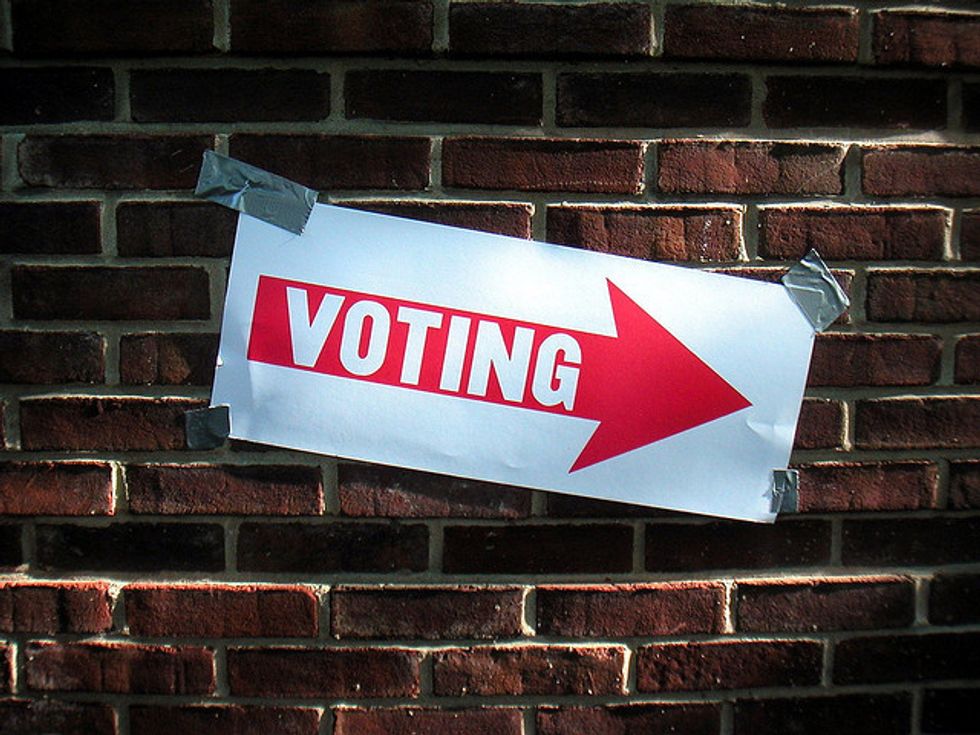 By Emily Cahn, Simone Pathe and Eli Yokley, CQ-Roll Call (TNS)
WASHINGTON — Voters in a handful of states across the country head to the polls Tuesday for a slate of elections that political handicappers use as an off-year election bellwether of what might happen in 2016.
And while no federal offices are on the table, results from these states will have implications for House and Senate contests in 2016.
Here's what to watch on Election Day 2015:
Full slate in Kentucky: The state's banner governor's race features Democratic Attorney General Jack Conway and Republican businessman Matt Bevin to replace outgoing Democratic Gov. Steven L. Beshear, who is term-limited. Throughout October, Conway held a slight lead in most polls.
The race has been a wild ride for Bevin, who at the beginning of the fall briefly lost the support of the Republican Governors Association, which disagreed with his campaign tactics. But in mid-October, the RGA returned to the state to compete with the Democratic Governors Association, which has provided money and support for Conway.
Conway has repeatedly criticized Bevin for his apparent inconsistencies when talking about repealing Medicaid expansion and his refusal to release his tax returns. Bevin, who has never before held elected office, has portrayed Conway as a career politician who would rubber-stamp President Barack Obama's agenda.
The race could also have implications for the Bluegrass State's Democratic bench.
Secretary of State Alison Lundergan Grimes — the Democrat who led an unsuccessful challenge to Republican Sen. Mitch McConnell — is using her re-election campaign to rebuild her popularity. Andy Beshear, the governor's son, is fighting for a win in the state's tight race for attorney general against Republican state Sen. Whitney Westerfield. And Adam Edelen, Kentucky's auditor of public accounts, is looking for strong numbers as he considers a campaign next year against Republican Sen. Rand Paul, who has faced criticism at home for his lagging presidential bid.
Last Democrat standing in Mississippi: The elections in Mississippi could mark a milestone for both parties: If Attorney General Jim Hood loses re-election, Republicans will hold every statewide elected office in the Magnolia State.
Hood's personality and politics fit the state, but it's unclear whether having an uppercase D next to his name on the ballot in a state that has gone solidly Republican will outweigh the goodwill he's built over his 10 years as the state's top law enforcement officer.
At the top of the ballot, Gov. Phil Bryant, a Republican, is expected to sail to re-election. He is being challenged by Democrat Robert Gray, a truck driver who won the August primary without spending a penny.
Also on the ballot are dueling measures dealing with education funding. Initiative 42 would give courts more power to enforce funding requirements under the state's education foundation formula. The measure is opposed by Bryant and a large number of trade organizations. Republicans in the Legislature have placed Initiative 42A, which will appear alongside Initiative 42, on the ballot. The counter initiative would prohibit courts from being involved in education funding.
Local New York race with 2016 House implications: Mike Hein, the Ulster County executive, is on the ballot for re-election, and if victorious, he could make a decision soon on whether to run for Congress in New York's 19th District.
If he does decide to run, Hein would likely be a top-tier candidate in the Tossup race for this open seat held currently by Rep. Chris Gibson, a Republican who is not seeking re-election.
Excess weed revenue in Colorado: What to do with the $66 million in excess tax revenue generated from the sale of recreational marijuana? An existing state law requires excess tax revenue to be returned to taxpayers. A statewide initiative on the ballot asks voters to make an exception, and instead direct the tax revenue from marijuana sales toward public education and drug-prevention programs.
Tipping the scales in Virginia: Democrats must net two seats to win control of the state Senate. Netting one seat would allow Democratic Lt. Gov. Ralph Northam to break a tie.
A Democratic Senate could help Gov. Terry McAuliffe push Medicaid expansion, but with the House of Delegates expected to remain in GOP hands, McAuliffe's priorities aren't likely to go very far.
Both sides are hoping that winning control of the Senate, and the ground operation built in the process, will foreshadow a presidential victory for their respective nominees.
Control of the General Assembly aside, the electoral success (or failure) of Democratic state legislature candidates could push some of them to jump into Virginia's congressional races, with the 10th District currently the most competitive .
Several districts in the Old Dominion State could become more competitive depending on how a three-judge court redraws the state's congressional map. (A court dismissed a similar challenge to its legislative districts on Oct. 22.) Democratic recruitment at the congressional level has been slow since state-level Democrats are waiting to see what the federal map will look like.
A very short redemption story in Michigan: Two tea-party-backed former lawmakers who had an affair, and then attempted to cover it up with a hoax letter about a male prostitute, are hoping for a second chance in the Legislature.
Ex-Rep. Todd Courser, who resigned in September, and ex-Rep. Cindy Gamrat, who was expelled, have filed to run in the special primary to fill the seats that they lost.
But with low turnout and multiple conservatives running in each primary, it would be a surprise if the disgraced former lawmakers advanced to the special general election in March.
(c)2015 CQ-Roll Call, Inc., All Rights Reserved. Distributed by Tribune Content Agency, LLC.
Photo: Keith Ivey via Flickr